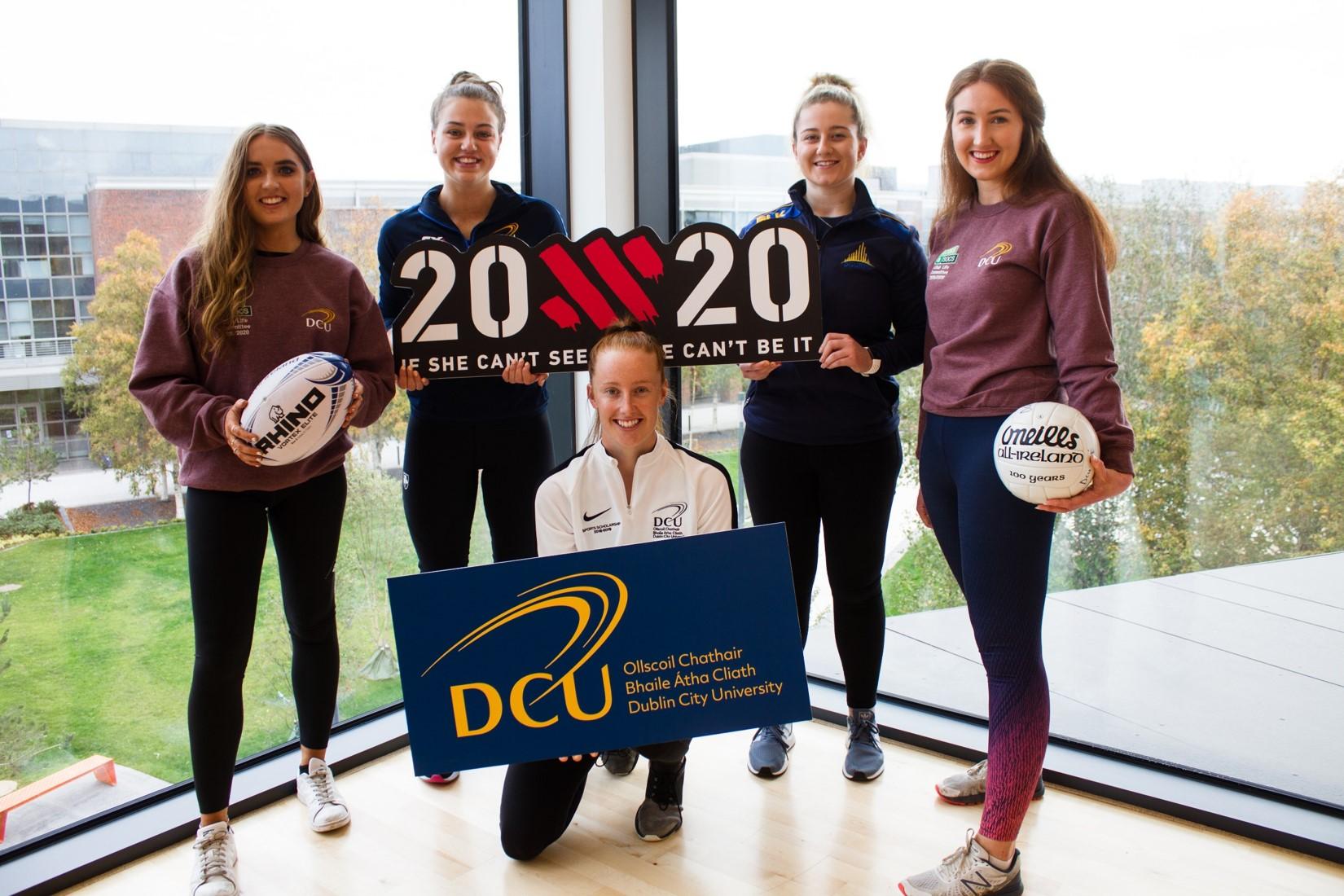 DCU signs 20x20 Third Level Charter to support national women in sport movement
Dublin City University declared their commitment to women in sport by becoming a 20x20 third level member today. DCU is one of 24 Colleges and Universities across the island of Ireland that signed the 20x20 Charter pledging to support the national women in sport movement. 20x20 is a national movement, presented by the Federation of Irish Sport that aims to create a real and tangible shift in Irish society. It aims to remove the barriers to women and girls getting involved and to empower Irish society to show their stripes and pledge one small action to increase participation and visibility of women's sport.
DCU has chosen to commit to increase media coverage of women's sport and female participation at all levels by 20% by September 2020. The 20x20 Charter was signed by DCU President Brian MacCraith, SU president Christine Farrell and DCU Director of Sports & Wellbeing, James Galvin and was supported by student role models Sophie Becker (Athletics), Emma Hooban (Rugby) and Ashling Moloney (GAA) and student champions from DCU Club Life Committee, Louise McCleery and Aine McParland.
Yvonne McGowan, DCU Senior Sports Development Officer and 20x20 Staff Champion said 'Irish Sports Monitor Research shows that the sharpest decrease in females' sports participation occurs during the transition from late adolescence to early adulthood. Women are also less likely to volunteer, attend sporting events and be a member of a sports club. 20x20 represents an opportunity for Dublin City University to work collaboratively with Student Sport Ireland, 20x20, and the Colleges and Universities sector to tackle this issue, and to make a positive impact on female physical activity and overall health during third level education and beyond'. Throughout the day, DCU along with 24 colleges and universities institutions used their social media channels to signal their intent to participate by posting photos and videos using the hashtags #CantSeeCantBe and #SSI20x20.