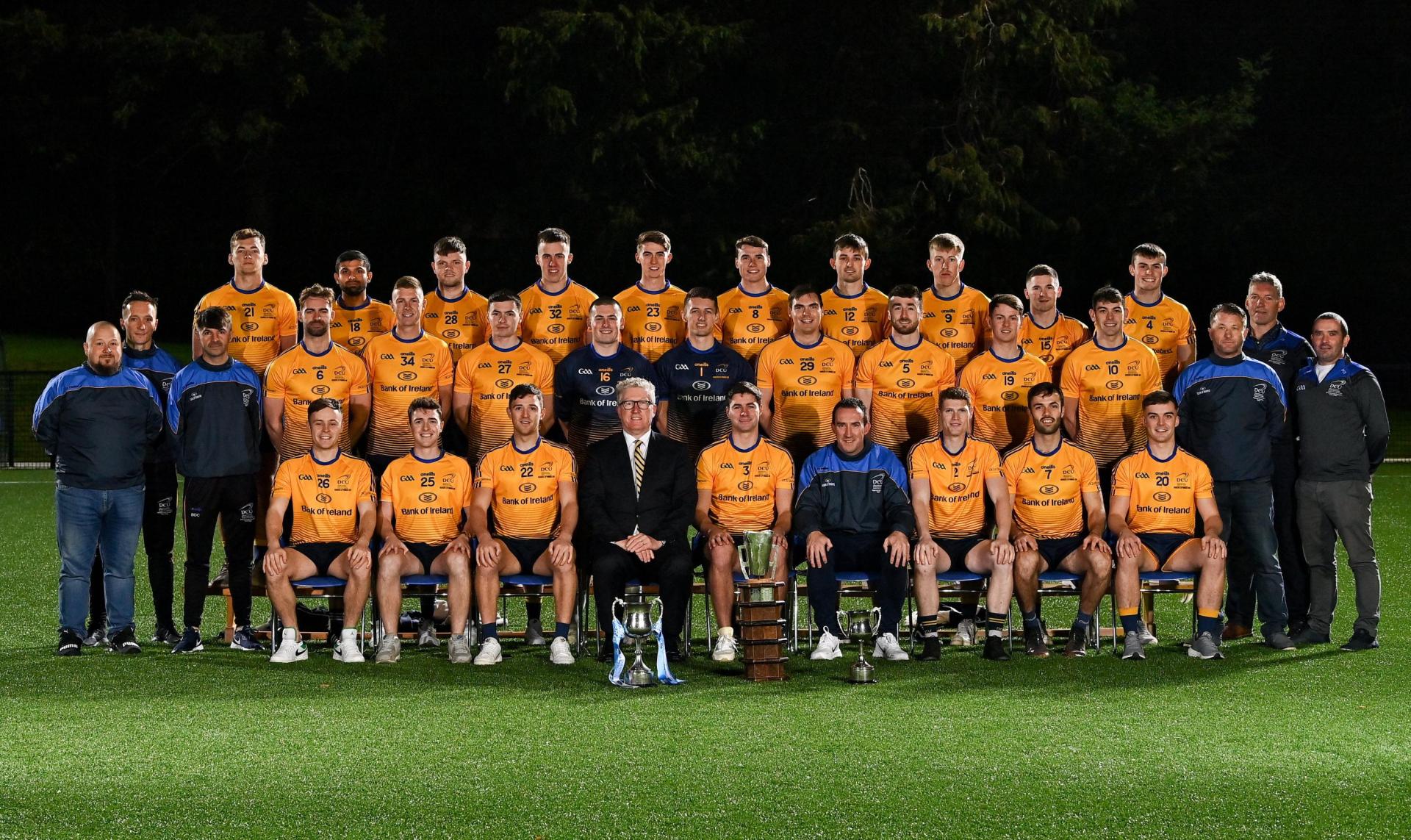 Sigerson Cup Medal Presentation
On Friday evening last we finally got the opportunity to celebrate and mark the 2020 DCU winning Sigerson Cup team. It was 21 months since they were crowned the winners back in January 2020.
The players, led by captain Brendan McCole were presented with their medals in an intimate function and a team picture was taken to capture this huge achievement for the future.
Pictured in team photo from L-R (back row)
Karl Lynch Bissett, Shehroz Akram, Tom Fox, Paul Tolan, Conor Hickey, Jordan Morrissey, Brian Stack, Sean Bugler, David Garland, Daniel Corcoran, David Sweeney (Games Development Officer)
Middle row (Krzysztof Jendrulok, Kevin Leahy, Brian O'Connor, Sean MacMahon, Shane Carthy, Owen McDonnell, Dean McDermott, Evan Comerford, Nathan Gavigan, Kevin Flynn, Mark Curran, Mark Barry, Brian O Leary, Paul O'Brien (Head of Gaelic Games)
Front row Shane Tierney, Stephen Smith, David McEntee, Prof Daire Keogh (President), Brendan McCole (Captain), Paddy Christie (Manager), Conor Morrison, Declan Monaghan, Neil Matthews
Missing from photograph-
Players- Michéal Bannigan, Thomas Ed Donohoe, Paddy Small, Kieran Dwyer, Cian McKeown, Mikey Gordon, Luke Gilmartin, Jamie Walshe, Mark Plunkett, Pearce Dolan, Billy Mannion.
Management- Davy Byrne, Gerry Seaver, Dave Powers, Andy McManus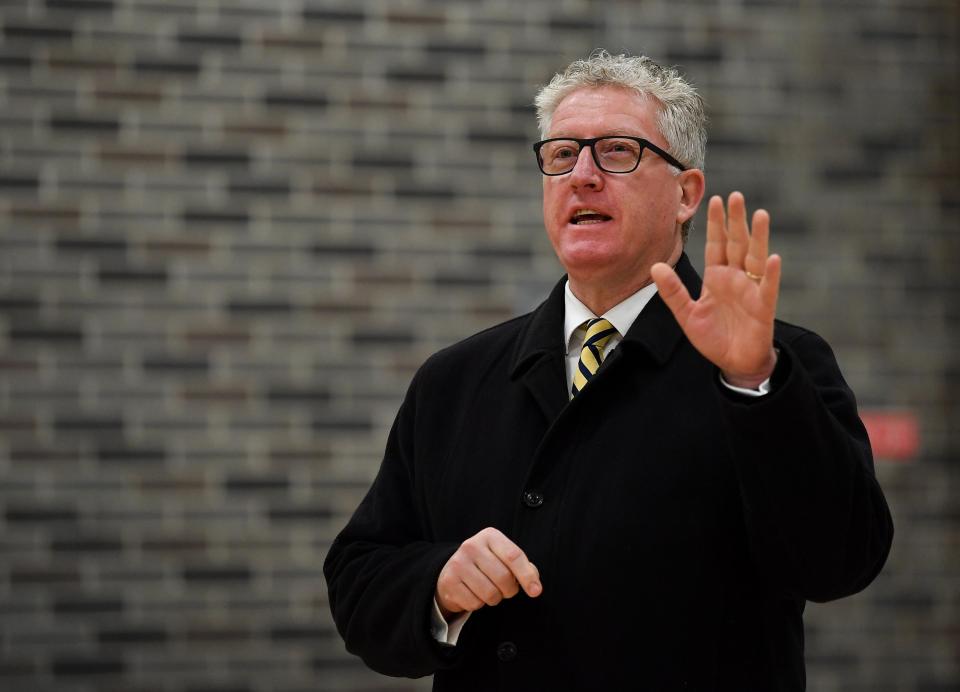 On the night President of the University Daire Keogh spoke about the success and also about the strong culture within the group who have contributed massively to the DCU community and their own communities across the country.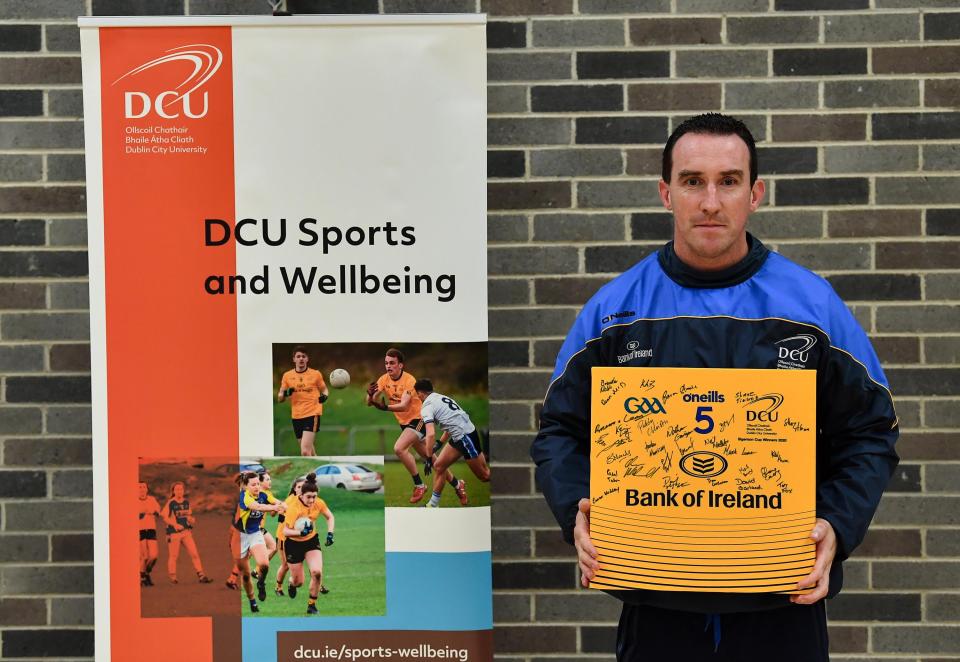 Team manager Paddy Christie outlined and shared stories of the season and how he looked back on it with great pride.
Head of Gaelic Games, Paul O'Brien thanked the many people involved in ensuring the hosting of the Higher Education Championships from the student committee and to all the stakeholders involved in running the competition so positively. There were also presentations of signed jerseys as a keepsake made to the management team present of the night and to DCU Sport staff Martin and Johnny for all their help and support.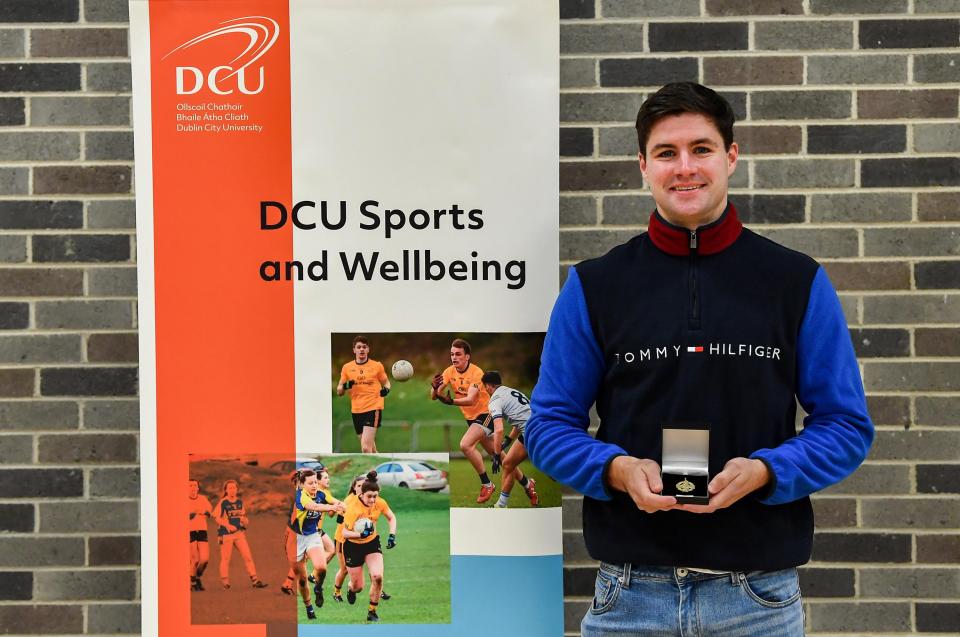 Team Captain Brendan McCole receiving his Sigerson Medal. 
It was wonderful to be able to mark the occasion and give the players and management an opportunity to get together and recall the memories of the season.