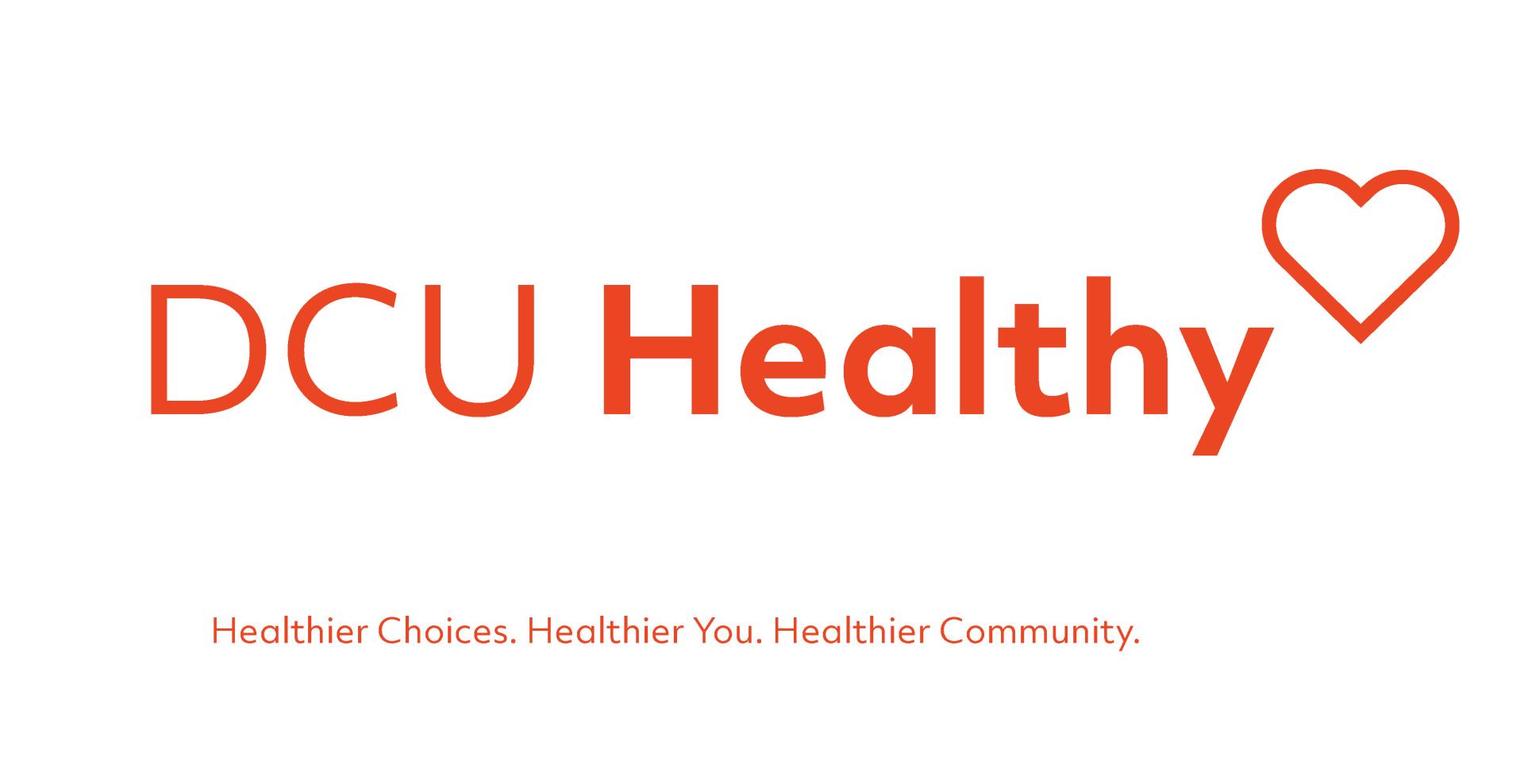 What is DCU Healthy?
DCU Healthy
DCU Healthy is our whole campus initiative to support the health and wellbeing of the whole community, including students and staff. We are already doing lots to support wellbeing but bringing this altogether and strengthening this work is the focus of DCU Healthy. We know that healthy students and staff have greater academic achievements and report greater feelings of happiness during their time at university or work. Are there lifestyle choices you are making that are preventing you from being as healthy as you could? DCU Healthy believes health is everybody's responsibility.
We aim to develop a culture and learning environment that has health and wellbeing at the core, encourage collaboration, empower individual responsibility, promote healthy lifestyle choices and develop best practice to inspire healthy behaviours. We believe the healthier choice should be the easier choice and are committed to creating a healthy culture.
On these pages you will find information and supports on mental health and wellbeing, healthy eating, physical activity, smoking and alcohol and other drugs.
Follow us on Twitter and Instragram, you can also subscribe to our monthly newsletter here!
Healthy Ireland
We are working closely with Healthy Ireland and the HSE to gain accreditation as a 'Healthy Campus'. Healthy Ireland is a government led-initiative aimed at improving the health and wellbeing of everyone living in Ireland.
Click here for more information on initiatives happening under the Healthy Ireland agenda.
Why is a Healthy Campus Important?
The establishment of DCU as a healthy campus contributes to a better student experience and academic success. For staff it can contribute to greater satisfaction, productivity and a place of work enabling individuals to thrive and reach their full potential. It places health and wellbeing at the core of the university and provides knowledge and skills for individuals to make healthy life choices all areas of their lives. DCU Healthy works towards the university being a health promoting university as endorsed by the Okanagan Charter on Health Promoting Universities (2015) which defines :
'Health promoting universities and colleges infuse health into everyday operations, business practices and academic mandates. By doing so, health promoting universities and colleges enhance the success of our institutions; create campus cultures of compassion, well-being, equity and social justice; improve the health of the people who live, learn, work, play and love on our campuses; and strengthen the ecological, social and economic sustainability of our communities and wider society'.
What do we mean by Health & Wellbeing?

Health is defined as a "state of complete physical, mental and social well-being and not merely the absence of disease" (WHO, 1948). Well-being is an integral part of health and refers to quality of life, coping skills, working productively and being happy and comfortable.
How is DCU Promoting Health & Wellbeing
To establish DCU as a Health Promoting University we aim to:
Understand the current health and wellbeing provision on campus
Identify the health and wellbeing needs of the DCU community
Increase awareness of health & wellbeing and inspire personal responsibility
Engage stakeholders, collaborate and take action to improve health & wellness for the campus community
Vision, Strategy & Action Areas
Our Vision
By 2022 DCU will be recognised as a university that champions and promotes the health and wellbeing of its shared community.
Strategy

A DCU Healthy Campus strategic plan is currently being developed by a Universite wide Steering Committee. An audit of all health and wellbeing activity is also being conducted to inform the strategy and to identify gaps in service provision.
Strategic Alignment

The DCU Healthy initiative aligns with:
- DCU Transforming Lives & Society Strategic plan, 2012-2017
- Healthy Ireland A Framework for Improved Health and Wellbeing, 2012-2025
- HSE's Health Promotion Strategic Framework (2011)
- Okanagan Charter: An International Charter for Health Promoting Universities and Colleges, 2015
- Ottawa Charter for Health Promotion, WHO 1986
Action Areas
DCU Healthy has identified priority action areas. These areas are distinct, yet complimentary and have working groups that develop initiatives and influence strategy using a range of individual, social and environmental actions.
Think Healthy | Mental Health & Wellbeing
Eat Healthy | Healthy Eating
Move Healthy | Physical Activity
Breathe Healthy | Smoking
Live Healthy | Alcohol and Other Drugs
Feel Healthy | Sexual Health and Wellbeing
Get Involved
Are you a DCU student or staff member interested in health & wellbeing? We'd love to hear from you! You can be involved with by DCU Healthy by:
Becoming a member of a working group
Organising a health & wellbeing initiative
Please get in touch with DCU Healthy Health Promotion Officer, Caroline Mahon on E: caroline.mahon@dcu.ie T: 01 700 6416
Click here to subscribe to our monthly newsletter. We will be sharing important news and events relating to health and wellbeing across campuses.