Assessment in Healthcare EducAtion goes Digital
PR 5 Video-based AI Assessment
Introduction
Within PR 5 learners are engaging in a video-based assessment for hand washing. The Artificial Intelligence technology used in the video-based assessment empowers students to learn independently, as they can practice the skill as many times as they wish before submitting the final version for assessment. A green light and a red light flash indicating correct / incorrect hand washing procedure. A digital badge is issued upon successful completion of the skill. Hand washing is a
fundamental professional skill required across all participating partner organisations.
Curricula content review
Each AHEAD partner reviewed their curriculum content on hand washing. The following key
questions guided the review:
1. What year is hand washing taught in your School and for which programme?
2. How many students per year are taught hand washing?
3. How is it taught / what format is currently in use? 
4. How is hand washing currently assessed? / Is there an assessment grid / procedure – how
does it work?
5. What model is used for hand washing assessment?
6. Are there refreshers for hand washing / is the skill updated during the programme?
A summary of all partners' responses to the content review is provided in Annex 1.
Existing literature and skills video scoping exercise
The lead organisation (DCU) and their Associate partner also scoped existing literature and skills videos for recommendation on hand washing techniques, and shared findings with the larger AHEAD group. Based on the curricular content review, existing literature and skills video scoping, the team reaffirmed that hand washing is a suitable skill assessment. The AI technology developed in this project will be based on the WHO guidelines on 'Hand Hygiene
Technique with Soap and Water' such as
An additional hand washing step, wrist washing, will be added as this is common procedure at all partner sites and as it is in line with some recommendations.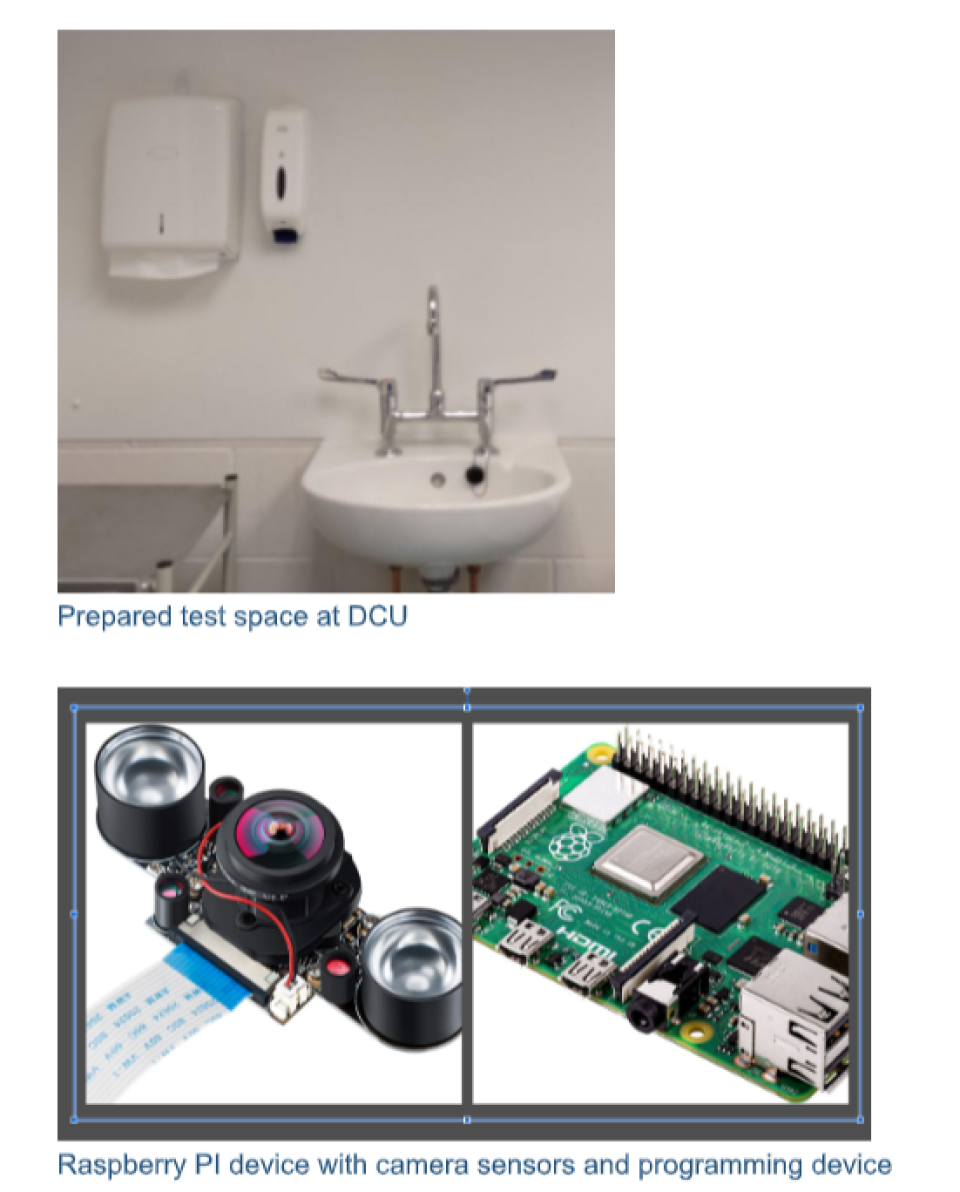 Artificial Intelligence (AI) device development
Experts within DCU (lead) from the School of Computing focus on AI device development such as developing the Raspberry Pi device with camera sensors and to programme this using Python to deploy the trained and up-datable model. The first set of Raspberry PI cameras and sticks have been delivered and the area for testing has been prepared in DCU including a suitable sink and installation of plugs and cable boards in the ceiling. Soap and paper hand towel dispensers have been moved to the side to allow for the camera being positioned in the centre above participants' hands.
Next steps involve programming of the device based on WHO guidelines. The process will be carried out until the end of the year. Further Raspberry PI cameras will be installed at project partner site and testing will commence throughout the next year.
Conclusion
IO5 is well on the way with a curricular content review, literature and existing skills video scoping exercise completed. Experts from within the lead organisation (DCU) have completed all technical preparations at the home site. The IO is ready for programming and testing, as per AHEAD protocol.