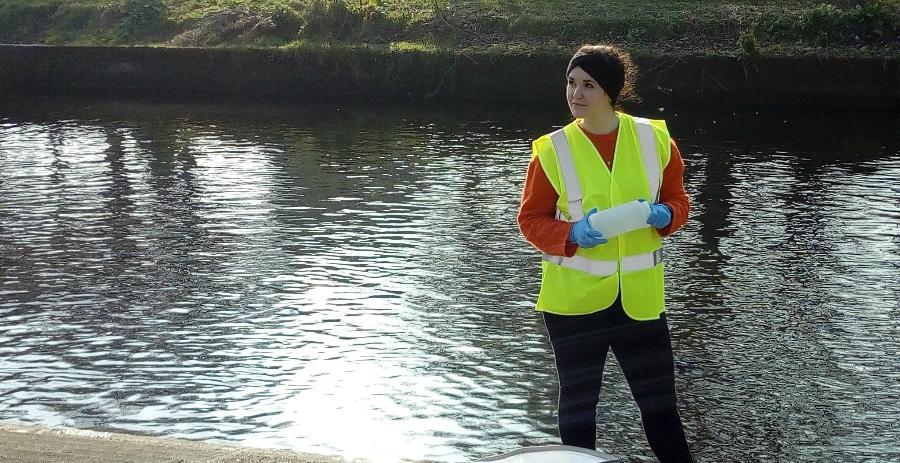 Below Image
DCU Researcher Wins ESAI Postgraduate of the Year 2019
The Environment Sciences Association of Ireland have selected their Postgraduate Researcher of the Year, and the honour goes to Molly-Ann Williams of the Parle-McDermott Group based in the School of Biotechnology.
Every year the Environment Sciences Association of Ireland (ESAI) award to a student who has demonstrated scientific excellence and originality in the field of environmental research. Attracting the interest of early-career environmental researchers across the island of Ireland, Molly-Ann was selected from a burgeoning category based on the impact of her incredibly novel PhD work; 'Development of a Novel Biosensor for the Detection of Specific Species using Environmental DNA'.
Under the guidance of Prof. Anne Parle-McDermott (School of Biotechnology) and Prof. Fiona Regan (Director of DCU Water Institute/School of Chemical Sciences), Molly-Ann's research aims to exploit environmental DNA; genetic material naturally shed by aquatic organisms into their environment, as a means to monitor biodiversity and in turn track endangered or invasive species.
'The urgency of biodiversity monitoring is at an all-time high due to the increasing threat of climate change to global ecosystems', explains Molly-Ann, 'and improvements on traditional methods such as PCR are being sought to make them not only quicker and more efficient, but also capable of transport in the field and operational outside of the laboratory'.
'We've developed a novel, alternative method measuring eDNA via CRISPR-Cas detection methods which upon deployment has demonstrated its sensitivity and accuracy by monitoring Atlantic salmon at a site at the Burrishoole Catchment in County Mayo. The success of our approach represents a milestone in simplifying biosensor design, but it is also the first application of CRISPR-Cas technology for eDNA detection which we are incredibly proud of'.
Originally, the award was to be bestowed on Molly-Ann at ENVIRON 2020; the 30th meeting of the longest running and largest forum for environmental researchers in Ireland which was to be hosted by the ESAI and Water Institute at Dublin City University this spring. Whilst current events resulted in this conference being rescheduled to Autumn, it did not stop the ESAI awarding Molly-Ann the prestigious title, along with an invitation to present at Environ 2021, and €500 prize money.
When asked how she was going to spend her prize money; 'It's gone into a savings account for now, but hopefully when there are less restrictions it will fund a trip to see some of the world!'.
From all here in the School of Biotechnology we extend our congratulations to Molly-Ann, and her supervisors, on this fantastic achievement.
For those interested, Molly's work was recently featured on the cover of Molecular Ecology Resources which can be found here, and for the official release on this result, more information can be found here.