Fully Funded PhD positions in Biotherapeutics  -  Now Open for Applications.
An exciting new initiative of the School of Biotechnology and DCU, designed to give students the opportunity to study and gain valuable experience under expert supervision and support in the following biotherapeutic areas:
Immunology
Infection Biology
Neurobiology
Vascular Biology
Cancer Biology
Bioprocessing 
Protein Engineering
Computational Biology
Theranostics
How to Apply:  Suitably qualified graduates (i.e. with a 1st class honours degree and/or M.Sc in a biological science-related discipline) are encouraged to submit an academic CV and a 2-page expression of interest letter.  
The letter must clearly state: 
1. The area of biotherapeutics of your interest 
2. The emerging trends in the field of biotherapeutics of interest
3. Why do you want to complete a PhD at DCU
For details on how to apply please visit: https://www.findaphd.com/phds/project/phd-scholarship-programme-in-biotherapeutics-at-dublin-city-university-dcu/?p160318
Welcome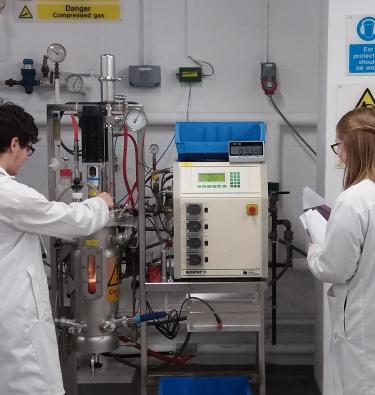 As a strategic unit located within the Faculty of Science and Health at Dublin City University, the School of Biotechnology boasts state-of-the-art teaching, research, and pilot plant facilities. The School is unique in having established expertise across a broad range of scientific disciplines contained within a single departmental unit, thereby encouraging innovative approaches to teaching and research. Areas of expertise include Bioprocess Engineering, Biochemistry, Microbiology, Genetics, Bioinformatics, Immunology, Microbiology and Molecular Cell Biology.
The School is an active centre of basic and applied research. Members of staff have collaborative links with national and international research laboratories, and also work in close collaboration with centres of excellence based at DCU, such as the National Institute for Cellular Biotechnology (NICB), the National Centre for Sensor Research (NCSR), and the Biomedical Diagnostics Institute (BDI). Academic School members are also involved in teaching at both undergraduate and postgraduate level in various undergraduate degree and graduate training programmes.
Take a virtual tour of our School laboratories.