A recent study from the Parle-McDermott Group has been selected to feature on the front cover of Molecular Ecology Resources; a leading journal in the area of ecology, evolution, behaviour and conservation.
Under a Marine Institute-funded project (Beyond 2020), Assoc. Prof. Anne Parle-McDermott and her PhD student Molly-Ann Williams in the School of Biotechnology were challenged by their chemistry collaborator, Prof. Fiona Regan; Director of the DCU Water Institute and of the School of Chemical Sciences, to design an assay that could be adapted to a simple and rapid species monitoring device.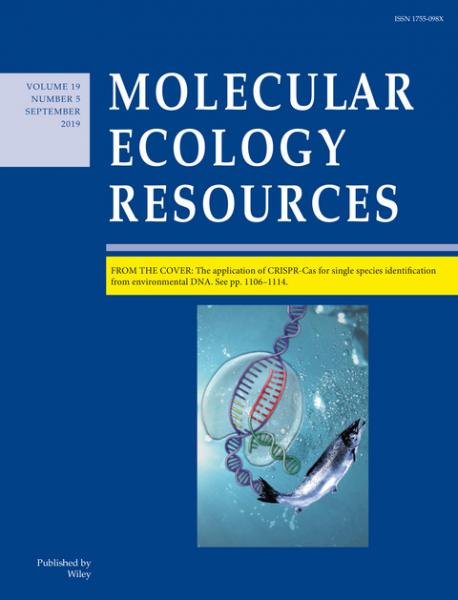 "The urgency of biodiversity monitoring is at an all-time high due to the increasing threat of climate change to the world's ecosystems" says Molly-Ann; first author of the featured study, "Traditional methods for species monitoring require visual detection and counting which are expensive, time consuming and can lead to harm of the organism of interest. There is subsequently as unmet need for improved methods of detection in this sector which we are hoping to address".
To overcome this, Anne and Molly-Ann decided to apply CRISPR-Cas technology, commonly associated with genome editing, to environmental DNA (eDNA), which can be extracted directly from an environmental sample. This is the first application of CRISPR-Cas technology to environmental monitoring and not only simplifies the challenge of developing an on-site species monitoring system, but also increases the specificity of eDNA monitoring.
This novel methodology has been applied to the detection of Atlantic salmon from samples collected in Irish rivers, where presence or absence had been previously confirmed using conventional field sampling. The study has been published as a "From the Cover" article in a recent issue of Molecular Ecology Resources.
"This innovation in eDNA technology could only have happened in a University research setting like that at DCU,'' says Assoc. Prof. Anne Parle-McDermott. "We were pushing ourselves to develop a relatively simple and inexpensive solution for on-site testing. The beauty of this advance is that it can be applied to any species in the environment and we are excited for others in the field to adapt it to their own species of expertise. This is timely given the biodiversity crisis that the world is now facing".
For those interested in the article, it can be found here at the journal website.