DCU Centre for Climate & Society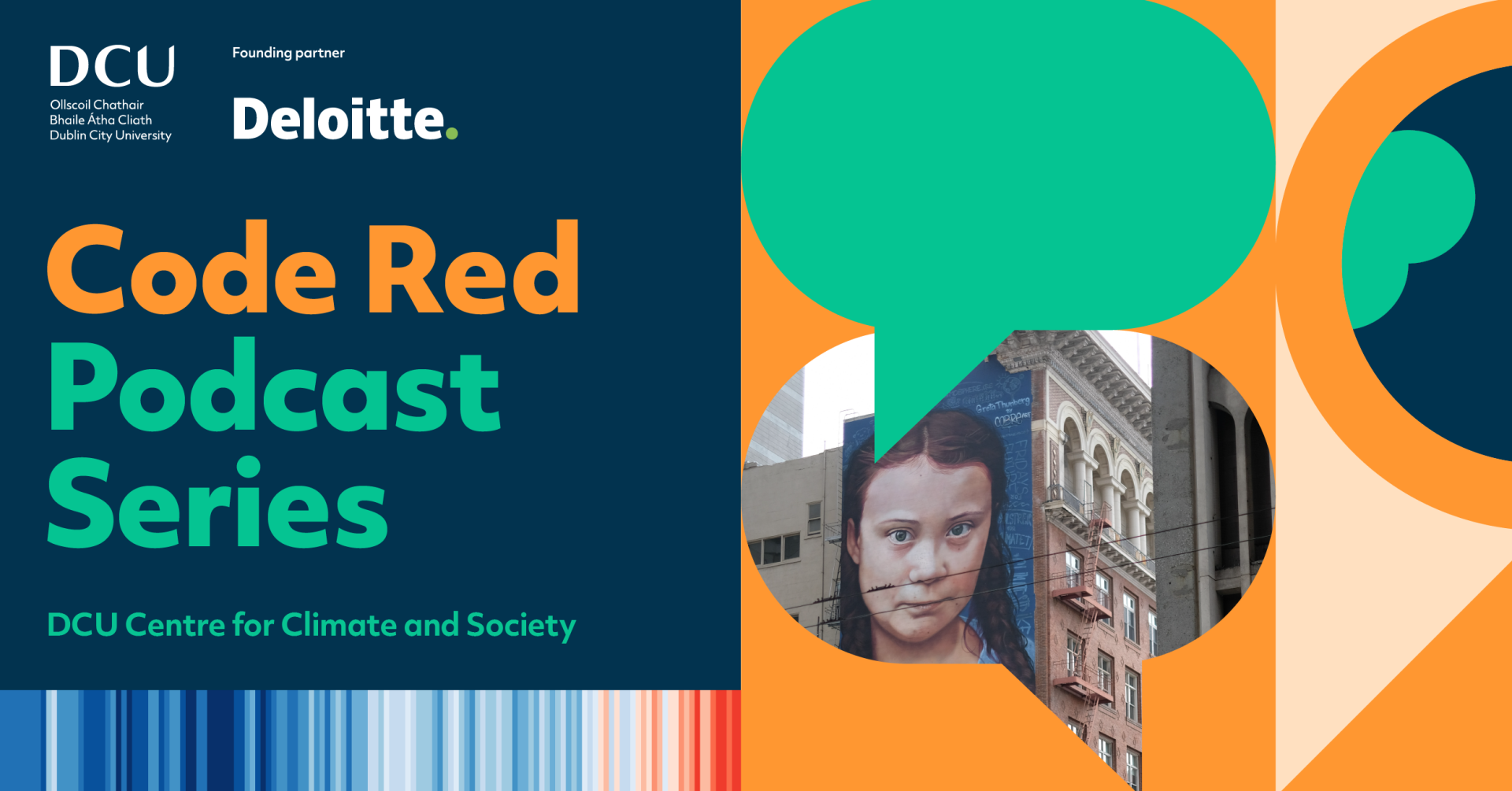 Code Red Podcast Series
Code Red is a climate change podcast from the DCU Centre for Climate and Society. The Code Red series looks at how the worlds of policy, politics, the media, the arts, and other sectors have responded to climate breakdown and biodiversity loss. Code Red features an interesting and diverse mix of guests from academia, policy, the cultural industries and civil society.
Series host: Dr Dave Robbins
Series producer: Monica Hayes
Sound: Eoin Campbell, Damien Hickey
With thanks to Deloitte Ireland and the School of Communications at DCU.
Can movies help us understand climate change?
Film has a unique ability to engage and move people. It is an ideal medium to inform and motivate audiences around climate action. But can movies with an environmental theme also discourage audiences by lecturing them? 
The role of eco-cinema is explored in this episode, and the influences of movies such as An Inconvenient Truth and Don't Look Up! are discussed. 
Host: Dr Dave Robbins
Guests: Eco-cinema researcher Prof Pat Brereton, documentary expert Dr Eileen Culloty, and filmmaker Tom Burke, all of DCU School of Communications.
The humanities and social sciences have an important role to play in helping us find different ways to think and talk about climate change, and to engage with the defining issue of our times. In this podcast, we look at the differences between the humanities and the social sciences and speak to our guests about how their expertise and research in film studies and policy studies can help to bring about climate action.  
Host: Dr. Dave Robbins
Guests: 
- Prof Janet Walker, Professor of Film and Media Studies at the University of California, Santa Barbara
- Prof Pat Brereton, Professor in the School of Communications, DCU
- Dr Diarmuid Torney, Associate Professor in the School of Law and Government, DCU
The economic system, the energy system, the agriculture system - all of society's systems - need to change in response to climate breakdown. But just how difficult is it to change systems especially when they are supported by policy and the status quo. What will systems change look like and will it bring a better quality of life for all? These are some of the questions we tackle in this episode 'A Systems Response to Climate Change'.
Host: Dr Dave Robbins
Guests:
- Deirdre Duff, Head of Communications at Friends of the Earth
- Dr Patrick Bresnihan, author and lecturer in the Department of Geography at Maynooth University
In this episode of the Code Red climate podcast, we speak to three Irish nature writers about the recent boom in environmental literature.
What motivated them to write about the environment? Have our perceptions of what constitutes a wild landscape changed? What is the state of wild nature in Ireland?
Host: Dr. Dave Robbins
Guests:
- Mary Reynolds, reformed landscape designer, author of We Are The Ark: Returning Our Gardens to their True Nature with Acts of Restorative Kindness, and founder of the global rewilding movement We are the Ark
- Pádraic Fogarty, campaigns officer with the Irish Wildlife Trust, editor of Irish Wildlife magazine and author of Whittled Away: Ireland's Vanishing Nature
- Eoghan Daltun, sculptor, rewilder, and author of the best-selling An Irish Atlantic Rainforest: A Personal Journey into the Magic of Rewilding
In this episode, we explore corporate responses to the climate and biodiversity emergencies.  We examine the new reporting obligations that corporations are facing in terms of their sustainability, discuss greenwashing, debate the power of consumers, investors, and regulators in pressuring corporations to become more sustainable, and examine terms such as net zero and scope 1, 2 and 3 emissions.
Host: Dr. Dave Robbins 
Guests: 
- Aoife Connaughton, Sustainability Strategy and Risk Lead for Deloitte Ireland
- Dr Fabiola Schneider, an Assistant Professor in DCU Business School with a research interest in Sustainable Finance
- Dr Aideen O'Dochartaigh, an Assistant Professor in DCU Business School with a research focus on Sustainability Accounting and Responsible Business