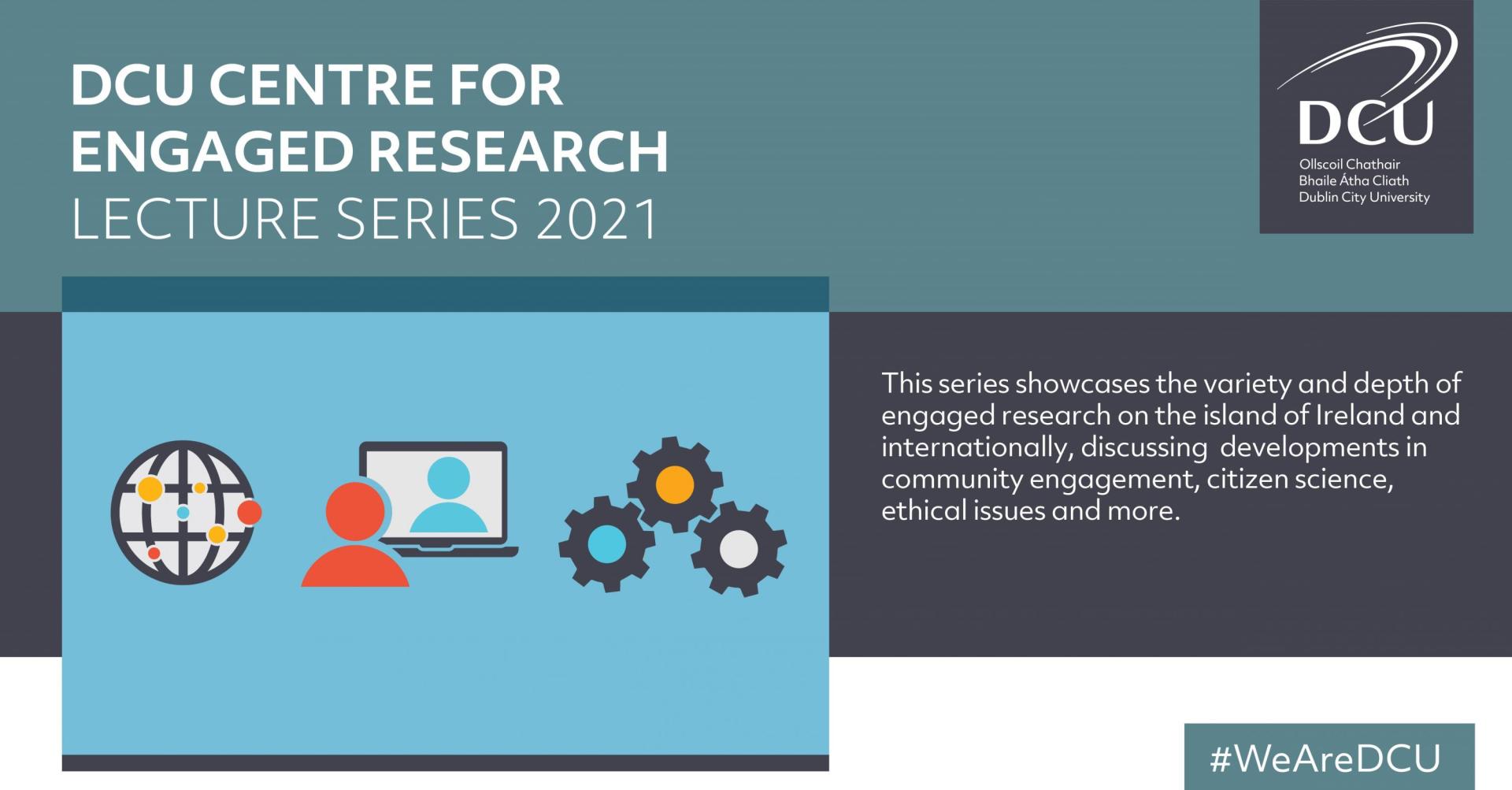 Citizen science and community engagement among the topics at the Engaged Research Autumn lecture series
to
Target Audience
All Welcome
Is registration required?
Yes
Free of charge or ticket price
Free of charge
For more information contact
mariana.colman@dcu.ie
Beginning on September 15th, Dublin City University will begin its Engaged Research Autumn Lecture Series. 
Drawing from a wide diversity of fields and disciplines, the series showcases the variety and depth of engaged research on the island of Ireland and internationally. This series will discuss developments with regard to community engagement, citizen science, ethical issues and will help answer the question of 'what is engaged research?'
Speaking about the series, Prof. Ronnie Munck, Head of Civic Engagement in Dublin City University said

"The main mission of engaged research is to be collaborative and change oriented, positioning the community as a full participant in shaping the research question, analysing the data and developing effective knowledge dissemination strategies. It seeks to empower communities and local stakeholders through knowledge and to promote democratic values for positive social transformation. 

This series will also show how engaged research is also a key element in the impact agenda of the engaged university."
Lectures
15th September 2021 Claire Mulrone & Emma McKenna
Engaged Research in Northern Ireland: The Science Shop Model
Register here.
13th October 2021 Maura Adshead 
The Development of the Engaged Research Agenda in Ireland: What Is to Be Done? 
Register here.
20th October 2021 Ahmed Bawa 
Engaged Research and The Politics of Transformation: South Africa
Register here.
27th October 2021 Rajesh Tandon 
Engaged Research and New Forms of Knowledge
Register here.
17th November 2021 Eamon O'Shea
Citizen's Assemblies: Influencing Dementia Policy. 
Register here.
25th November 2021 Vincent Blok
The ethics of stakeholder engagement in responsible research and innovation
Register here.
 All the seminars will be at 12.30 to 13.45 on Zoom and attendance is free.
Speaker biographies 
Claire Mulrone & Emma McKenna
Dr Emma McKenna co-ordinates The Science Shop in Queen's University Belfast. The Science Shop is a community engaged research initiative, facilitating students to work on curriculum-based research projects generated from the needs of community partners. In this role she works with a wide range of community organisations across Northern Ireland and with students and academic staff across all faculties. She is a leading member of the Living Knowledge International Science Shop Network. 
She was Workpackage coordinator for curriculum and policy engagement on the Public Engagement with Research and Research Engagement with Society project (PERARES) between 2010-2014 and acted as Deputy Coordinator and Policy Lead on the H2020-funded Enhancing Responsible Research and Innovation through Curricula in Higher Education (EnRRICH) project between 2015-2018. She is currently co-ordinating the Erasmus+ CIRCLET project which aims to support educators to rethink their curricula to support community engagement. She has mentored Science Shops across the world, including in Canada, India, Hungary, France and Spain. She is Associate Editor for the NCCPE's Research For All journal. Her current main interest is redesigning and reimagining curricula to underpin student research engagement with communities.
Claire Mulrone is the Community Engagement Manager and Co-Director of the Social Justice Hub at Ulster University. Claire has responsibility for Community Engagement activities supporting both adamic staff and students to undertake a range of engaged research projects sharing their knowledge and expertise with community and voluntary partners across Northern Ireland. The Northern Ireland Science Shop, a joint collaboration between Queen's University Belfast and Ulster University celebrating its 30th Anniversary 2018. 
Claire established the second Science Shop office at Ulster University's Magee campus in 1995, ensuring a regional approach to supporting community and voluntary partners. Claire is also Co-Director of the Social Justice Hub at Ulster's Magee campus, set up in 2018, in partnership with the School of Law. The Hub was established to provide specialist legal support for community and voluntary partners, as well as providing real world connected learning opportunities for students exploring social justice in practice.
Ahmed Bawa is a theoretical physicist. He currently holds the position of Chief Executive Officer of Universities South Africa (USAf). Until the end of April 2016, he was Vice-Chancellor and Principal of Durban University of Technology. Until August 2010 he was a faculty member at Hunter College in the City University of New York where he was a member of the Department of Physics and Astronomy. He was also a member of the doctoral faculty at the Graduate Center, also of the City University of New York.
During this period he was also Associate Provost for Curriculum Development at Hunter College. He had previously held the position of Deputy Vice-Chancellor at the University of Natal and then at the University of KwaZulu-Natal. He has served as the Program Officer for Higher Education in Africa with the Ford Foundation and during this time led and coordinated the Foundation's African Higher Education Initiative. He worked closely with the Association of African Universities, the Council for the Development of Social Research in Africa and so on.
He served on a number of policy development teams in the post-1994 period and was an inaugural member of the National Advisory Council on Innovation till 2002. He is a Fellow of the Royal Society of South Africa as well as the Academy of Science of South Africa of which he was one of the inaugural vice-presidents.
Maura Adshead, BA, MA (Limerick), Phd (Liverpool) is Associate Professor in Politics and Public Administration at the Department of Politics and Public Administration, and Head of UL Engagement.  
She is currently co-convenor of the national Campus Engage Working Group on Engaged Research and responsible for promoting and supporting national policy on Engaged Research. Whilst her research interests focus on Irish and European politics and public policy, she has been involved in a number of community oriented research projects at local, regional and international levels. Prior to her appointment in Limerick, she carried out research and taught in the universities of Dundee, Liverpool, Essex, Galway and Dublin. 
She is the author of Developing European Regions?, co-author (with Jonathon Tonge) of Politics in Ireland, and co-editor (with Michelle Millar) of Public Administration and Public Policy in Ireland: theory and methods, Contesting the State: lessons from the Irish case (with Peadar Kirby and Michelle Millar)  and Ireland and the Freedom of Information Act (with Tom Felle). She has published a variety of articles on aspects of Irish politics and public policy and has carried out commissioned research for Combat Poverty, the Health Service Executive, the National Economic and Social Forum, and the Department of Public Expenditure and Reform.
Rajesh Tandon, founder-President, Participatory Research in Asia (PRIA), New Delhi; UNESCO Chair in Community Based Research and Social Responsibility in Higher Education. 
Dr. Tandon is an internationally acclaimed leader and practitioner of participatory research and development. He is Founder-President of Participatory Research in Asia (PRIA), global centre for participatory research & training since 1982. He has been appointed Co-Chair of the prestigious UNESCO Chair on Community Based Research and Social Responsibility in Higher Education for three terms, beginning in 2012 and running through to 2024. An electronics engineer from IIT, Kanpur, MBA from IIM.
Eamon O'Shea is a Personal Professor in the School of Business & Economics and was inaugural Director of the Irish Centre for Social Gerontology (ICSG) at the National University of Ireland, Galway. He is currently Director of the National Centre for Social Research on Dementia at NUI Galway. He holds an M.A. from University College Dublin, an M.Sc. from the University of York and a Ph.D from the University of Leicester. He has published over 100  scientific papers in refereed journals, including publications in top-ranked journals such as the Journal of Health Economics, Social Science and Medicine, Age and Ageing, Ageing and Society, Health Policy and  the International Journal of Geriatric Psychiatry. Professor O'Shea has authored/co-authored 15 books and monographs, mainly in the field of ageing, dementia  and social policy. 
His work has been influential in setting the agenda for  the reform of services and policies for people with dementia  in Ireland. He was Chair of the National Economic and Social Forum Expert Group on Care of the Elderly in 2005/06 and co-authored the influential Creating Excellence in Dementia Care report in 2012. He is currently a member  of  the Implementation Group for the Irish National Dementia Strategy.
Vincent Blok is associate professor in Philosophy of Technology and Responsible Innovation at the Philosophy Group, Wageningen University in the Netherlands). In 2005 he received his PhD degree in philosophy at Leiden University with a specialization in philosophy of technology. 
Together with four PhD candidates and three Post-docs, he is involved in several (European) research projects in the field of philosophy of technology, biobased & circular economy and responsible innovation. His books include Ernst Jünger's Philosophy of Technology. Heidegger and the Poetics of the Anthropocene, Heidegger's Concept of philosophical Method and The Critique of Management. Toward a Philosophy and Ethics of Business Management. Blok published over hundred articles in high ranked philosophy journals like Environmental Values, Business Ethics Quarterly, Synthese and Philosophy & Technology, and in multi-disciplinary journals like Science, Journal of Cleaner Production, Public understanding of Science and Journal of Responsible Innovation.