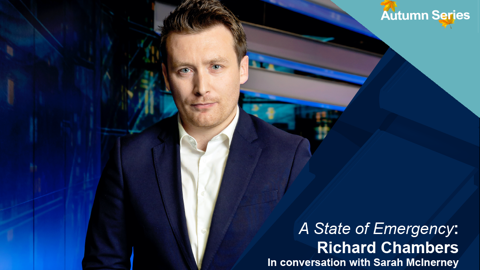 A State of Emergency: Richard Chambers in conversation with Sarah McInerney
to
Venue
Solas Room, The U Building
Target Audience
All Welcome
Is registration required?
Yes
Free of charge or ticket price
€5 (live stream) €10 (in person attendance)
For more information contact
info@dublinbookfestival.com
The inside story of Ireland's struggle to contain Covid-19.
From one of Ireland's most recognisable journalists comes a book that delves into the behind the scenes of Ireland's fight against Covid-19. Journalists and news presenter Richard Chambers became a recognised voice in living rooms across Ireland during the Covid-19 pandemic. The trusted journalist is now telling the behind the scenes story of Ireland's struggle against the Covid-19 pandemic in his first book, A State of Emergency (Harper Collins).
Join Dublin Book Festival to celebrate the release of A State of Emergency. Richard Chambers joins radio and TV presenter Sarah McInerney to discuss this insider account of Ireland's response to the largest public health emergency in living memory. 
In partnership with Dublin City University and Eason.
Ticket options include Live Audience Tickets, Livestream Tickets, and the option to include a SIGNED copy of A State of Emergency delivered to your door.