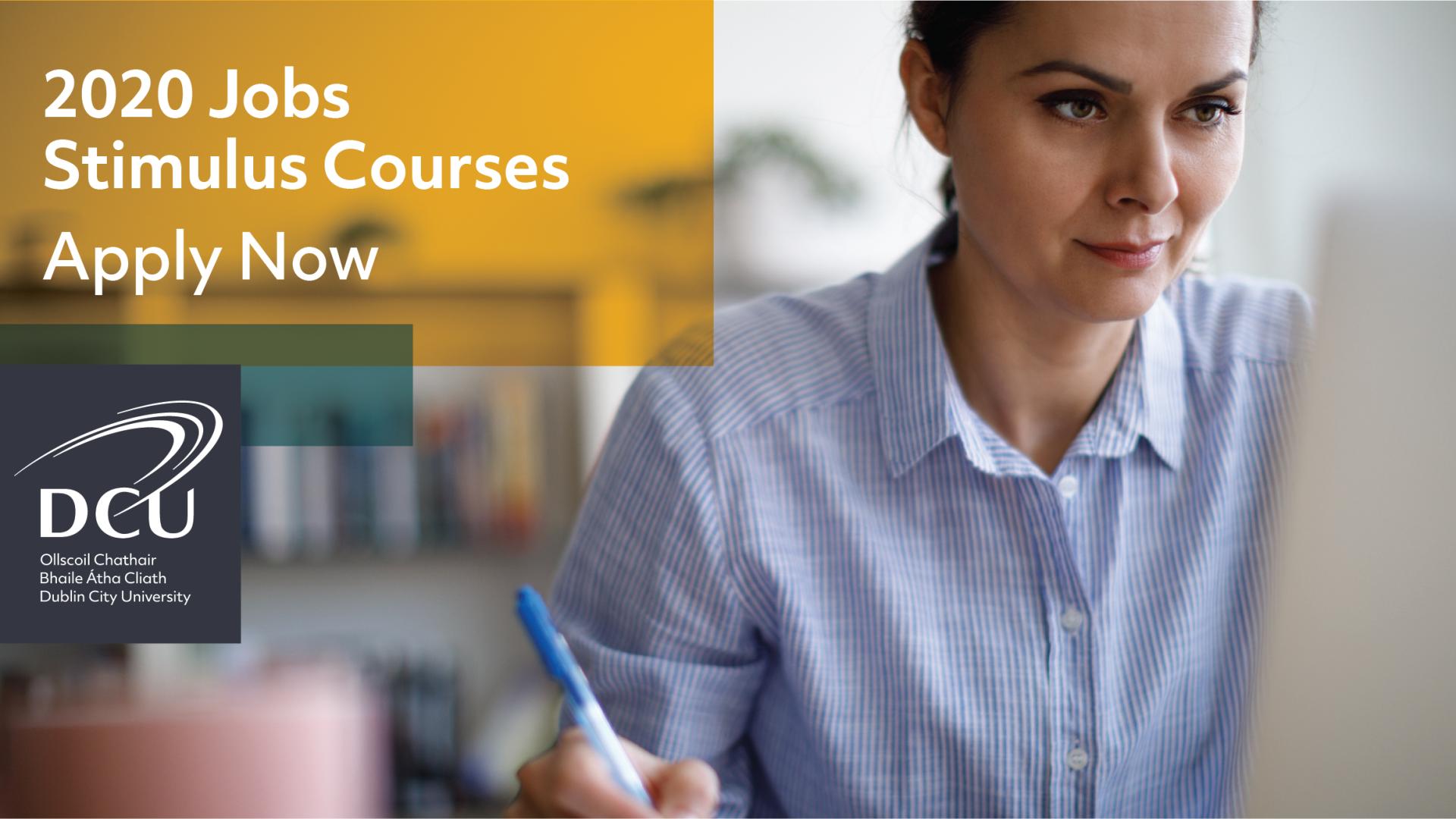 DCU announces over 700 places in postgraduate courses funded under the Jobs Stimulus initiative
Dublin City University has today announced over 700 places in postgraduate courses funded under the Government of Ireland July Stimulus package. Under this scheme, eligible candidates can be fully funded or 90% subsidised to undertake postgraduate study in Masters, Graduate Certificates and single modules beginning in January 2021. The suite of single modules offers a new opportunity for participants to learn while continuing to work with minimal disruption. Most courses will be delivered online, enabling people based anywhere in Ireland to participate.
140 places will be funded in Masters and Graduate Certificate programmes while 585 places will be funded in single modules at postgraduate level. The courses are offered in diverse areas such as IT, Management, Education, Law and Science and are designed to upskill and re-skill diverse groups, such as returners to work, the unemployed including people in receipt of the Pandemic Unemployment Payment, recent graduates and people in employment. People in employment can be 90% funded under this scheme, while people who are unemployed can be fully funded.
DCU will begin to accept applications under this initiative on today and will continue to accept applications on a first come first served basis until December 1st. 
Billy Kelly, Deputy Registrar & Dean of Teaching and Learning said
"Provision of accredited modules through the Jobs Stimulus is an exciting new development and will enable participants to upskill in focused and specialist areas where there are known gaps in workforce expertise and skill shortages.  An additional benefit to participants is that the modules offered are components of larger university awards and can be used as building blocks towards these full awards at a future date.

 The full-time programmes offered are designed to equip graduates with industry-relevant know-how and will allow them to make a significant contribution to our continuing economic development."
Prof. Daire Keogh, President of DCU, said
"Through its engaged research and world-class expertise, DCU has played a key role in the national effort to deal with the many challenges presented by COVID-19. With the provision of these postgraduate places, the university is setting the groundwork for our country's post-pandemic future, in which our prosperity will rely more than ever on ensuring Ireland's workforce has the skills and knowledge required to adapt and thrive. 

I welcome the major government investment that has allowed DCU to offer these places. It means that hundreds more people across Ireland will gain access to high quality, relevant and potentially life-changing educational opportunities." 
The full list of courses, applicant information and detail on eligibility criteria can be found at www.dcu.ie/jobs-stimulus