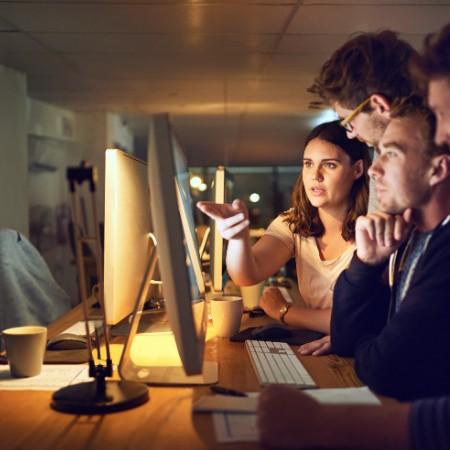 Placements on DCU's STEM Teacher Internship Programme (STInt) triple in 2021
Places on DCU's STEM (science, technology, engineering, mathematics) Teacher Internship Programme (STInt) have tripled this year, a development influenced by the pivot to remote working and learning due to the COVID-19 pandemic.
46 paid internships have been  offered to pre-service STEM teachers from DCU and higher education partners Maynooth University and UCD by 26 leading companies. Last year, 16 internships were available across eight companies. By the time this year's internships are complete, a total of 115 students will have benefited from the STInt programme with 34 companies supporting this unique initiative over the past six years.
DCU together with the 30% Club and Accenture developed the first pilot programme in 2016 and provided five DCU pre-service STEM teachers with the opportunity of a paid-internship experience in Accenture .
The programme  is led by Associate Professor Eilish McLoughlin, Director CASTel/School of Physical Sciences and Professor Deirdre Butler, School of STEM Education, Innovation and Global Studies.
It was originally devised as an in-person/on-site internship at host companies but adapted to the global pandemic and provided remote working internships in 2020.
This year's participants will continue to work as part of remote teams developing key skills in technology, communications and collaboration, which will support them in their future teaching career to deliver a blended learning approach to STEM education in primary and post-primary schools. 
The initiative has received strategic partnership funding from Science Foundation Ireland's Discover programme which enabled it to expand to include new host organisations and institutional partners in 2021.
Professor Daire Keogh President of Dublin City University,
"STInt is a first-of-its-kind programme that takes a novel and highly effective approach to the challenge of increasing diversity in STEM disciplines. By offering pre-service teachers 'real world' experience in these vital areas, it creates champions for STEM in the classroom and delivers on the programme's mission to 'inspire innovative learning'. The success of this approach is shown by the welcome addition of UCD and Maynooth University students to this year's cohort of STInt participants."
Gillian Harford, Country Executive of 30% Club Ireland,
"The role of teachers in encouraging next generations to understand and appreciate the value of STEM is critical to building our pipeline of future talent.  At the 30% Club we are very proud to support this great example of business and education working in partnership for change."
Associate Professor Eilish McLoughlin, STInt Programme Director said,
"The impact of this programme is such that it extends and deepens participating teachers' competences and knowledge of STEM and promotes innovation and creativity in the teaching and learning of STEM in their classrooms/schools. After graduation, STInt Interns will teach STEM subjects in Irish schools  and inspire generations of primary and second level students during their teaching careers."
Professor Deirdre Butler, STInt Programme Director said, 
"Engagement in such partnerships is critical as what teachers know and can do is the most important influence on what students learn. The importance of developing teachers' STEM competences cannot be emphasised enough, especially as teacher quality, not funding, is the determinant factor among conditions that support the performance of the world's best education systems." 
******************************************
This year's participating companies are AbbVie, Accenture,  AIB, Alexion, APC, Astellas, Avanade, BiOrbic, BT Ireland, Citibank,  Deloitte, DIAS at Dunsink Observatory, EirGrid, Ericsson, ESB, EY, Fidelity Investments, IBM, Intel, Microsoft, MSD, PwC, SSE Airtricity, VistaMilk, Vodafone, Xilinx. 
Participating pre-service teachers are students from DCU's primary and post-primary teacher education programmes - including BSc Science Education, BSc Physical Education with Biology/Mathematics, BEd (Primary), Professional Masters in Education (PME) primary/post-primary, as well as Maynooth University BSc/MSc Science (with education) and UCD MSc Mathematics & Science Education programmes.