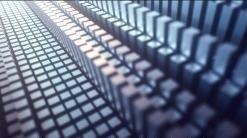 Encyclopedia of composite materials an invaluable reference for engineers, architects and scientists
The first ever encyclopedia of composite materials has just been published online.
Led by Professor Dermot Brabazon from DCU's School of Mechanical and Manufacturing Engineering, the encyclopedia features 171 articles from 337 international co-authors and will be an invaluable reference for engineers, architects, scientists, and policy makers.
Composite materials fabricated from metal, polymer and ceramics have become increasingly important and more widely available over the recent decades due to the many advantages that they can provide over single monolithic materials. This includes improvements in the properties such as the physical, electrical, chemical, optical and magnetic properties which can be achieved by combining two or more materials.
Assessing the properties of composite materials thereby enabling their application is a crucial aspect of composite materials development and usage.
In todays' composite materials market, engineers, architects, and policy makers need reference literature where to find definitions, concepts and state-of-the-art knowledge. This encyclopedia was prepared with this in mind – to be an accessible central source of background knowledge for both academic and industrial researchers or for anyone working with composites.
Speaking at the launch, Prof Dermot Brabazon said:
"Each section contains articles written by world experts in their area and I would like to take this opportunity to thank the 337 authors from across the world who have contributed. It has been encouraging to see their expertise, interest and desire to help others. With the many co-authored articles, there has been extensive collaboration which has resulted in a more informed and well-presented content for the reader.

I am indebted also to the team of Section Editors who have iterated on the articles with the authors and team at Elsevier who have also worked many long hours over the last couple of years to produce this important new materials science and engineering reference resource." 
'Encyclopedia of Materials: Composites' is published by Elsevier it is available via ScienceDirect.com