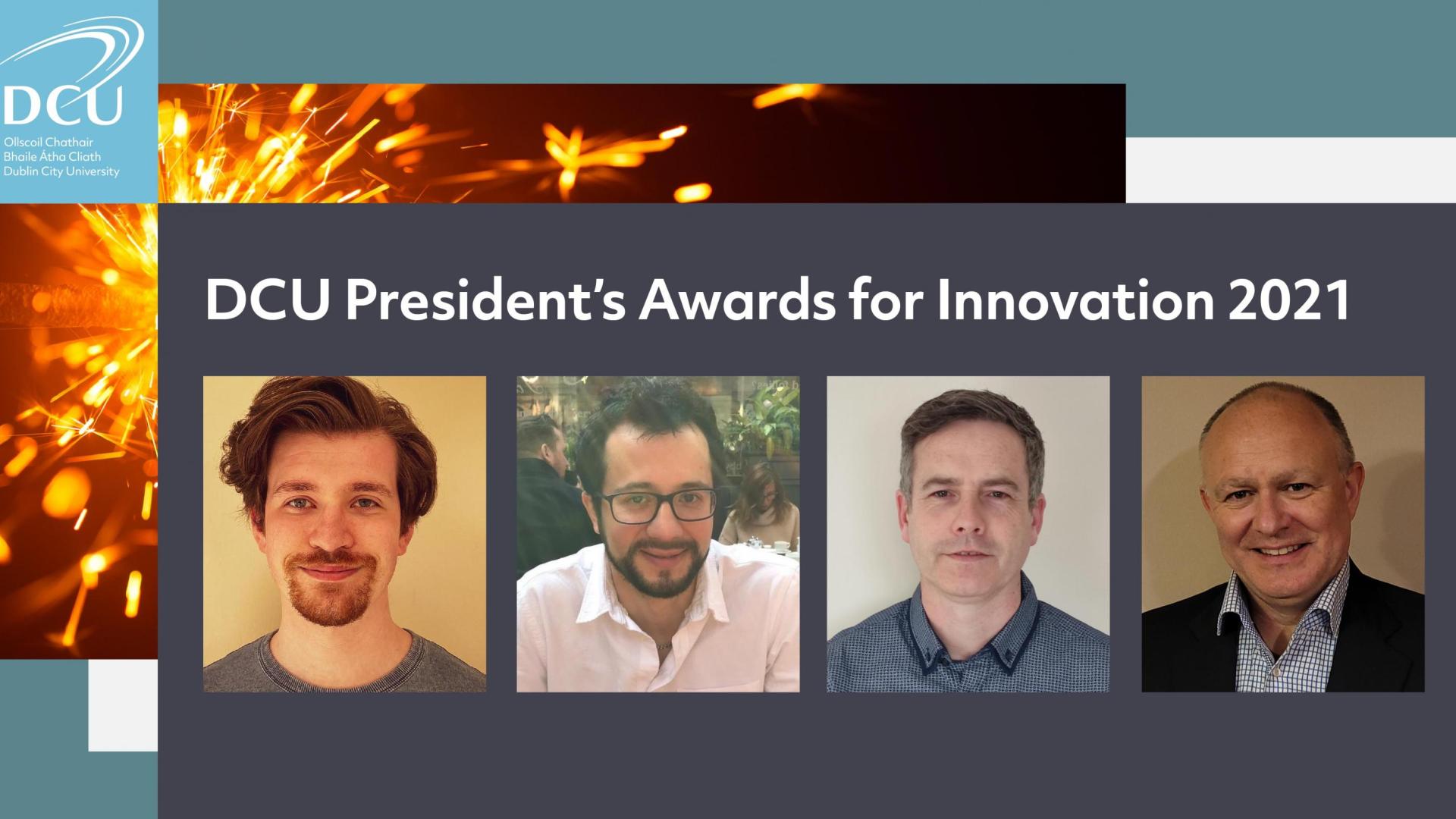 Projects focussed on sustainability, academic accuracy, equine nutrition and artificial intelligence honoured at President's Awards for Innovation
A digital tool that tracks and analyses the nutritional diet of horses, a software application that flags incorrect citations in academic publications, a new energy management system and a sensor that detects unusual patterns in security, maintenance and monitoring applications were the stand-out winners at the 2021 President's Awards for Innovation. 
The awards which encourage and recognise innovative and impactful achievements by DCU students, staff and researchers, were presented by Professor Daire Keogh, President of DCU, at a virtual ceremony today (Wed, May 12th) which was addressed by the Minister for Community Development and Charities, Joe O'Brien. 
Speaking about the awards Minister O'Brien said, 
"Innovation is a talent but I think it is also a set of skills. And it's clear from the awardees under this category that both talent and skills are in abundance. The student winners give me great encouragement for the future but it's also impressive to see the spirit of innovation imbued through DCU as an institution with the impressive examples of staff innovation."
The 2021 recipients of the President's Awards for Innovation: 
Student-Undergraduate - Seán Fradl
Seán Fradl, a fourth year Computer Applications student is the creator of Equine App - a cloud-based equine diet planning and reporting tool.The project combined the agricultural science of equine nutrition with modern web technologies.The application stores information surrounding nutrients in various different horse feeds and supplements and allows equine nutritionists to prepare diet reports for various different types of horses in different stages of their life cycles. 
The reports are branded to meet company requirements and digital copies are available to send immediately to customers. The development of the application was supported by Connolly's Red Mills through the validation of scientific calculations that the application performs. Further developments are now underway, in close collaboration with Connolly's Red Mills, who have also purchased the first annual license.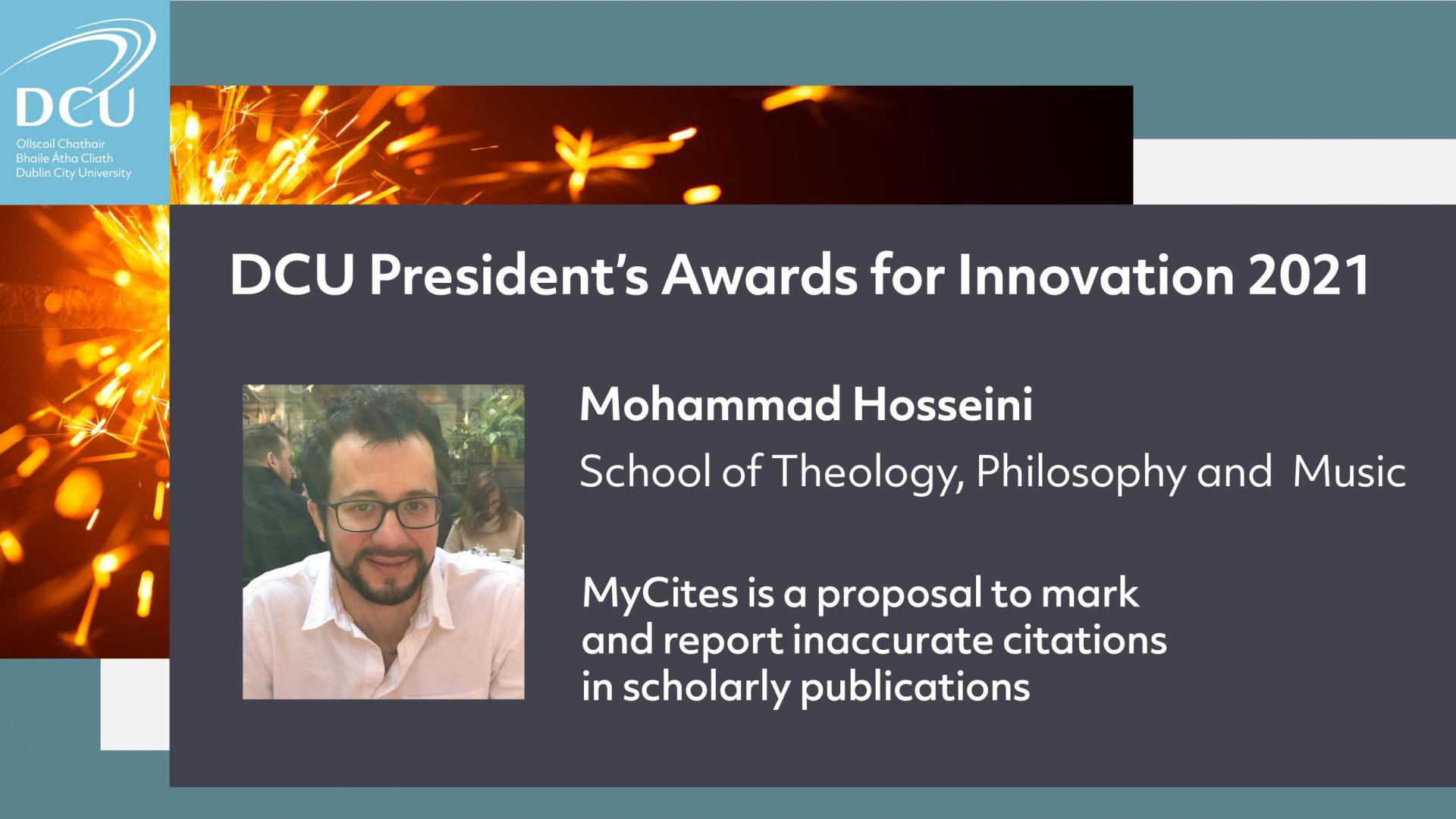 Student-Postgraduate - Mohammad Hosseini 
Mohammad Hosseini from the School of Theology, Philosophy and Music created MyCites, a digital tool that uses online annotation capability to mark and map inaccurate citations. It then creates a feedback loop to inform various stakeholders about citation inaccuracies. 
The project started with an observation by Mohammad that many citations in academic literature are inaccurate. Following his own research and analysis, the conclusion was that 11.9% of citations have major errors and an additional 11.5% have minor errors. 
MyCites allows users of ORCID to make assertions about inaccurate citations, explaining why they are inaccurate and to what degree. These assertions then travel with the digital version of the document and are visible on all websites that host peer-reviewed articles.
MyCites automatically emails various subscribed parties about inaccurate citations such as authors of the cited and citing articles, editors of journals where inaccurate citations are published and future readers of journal articles.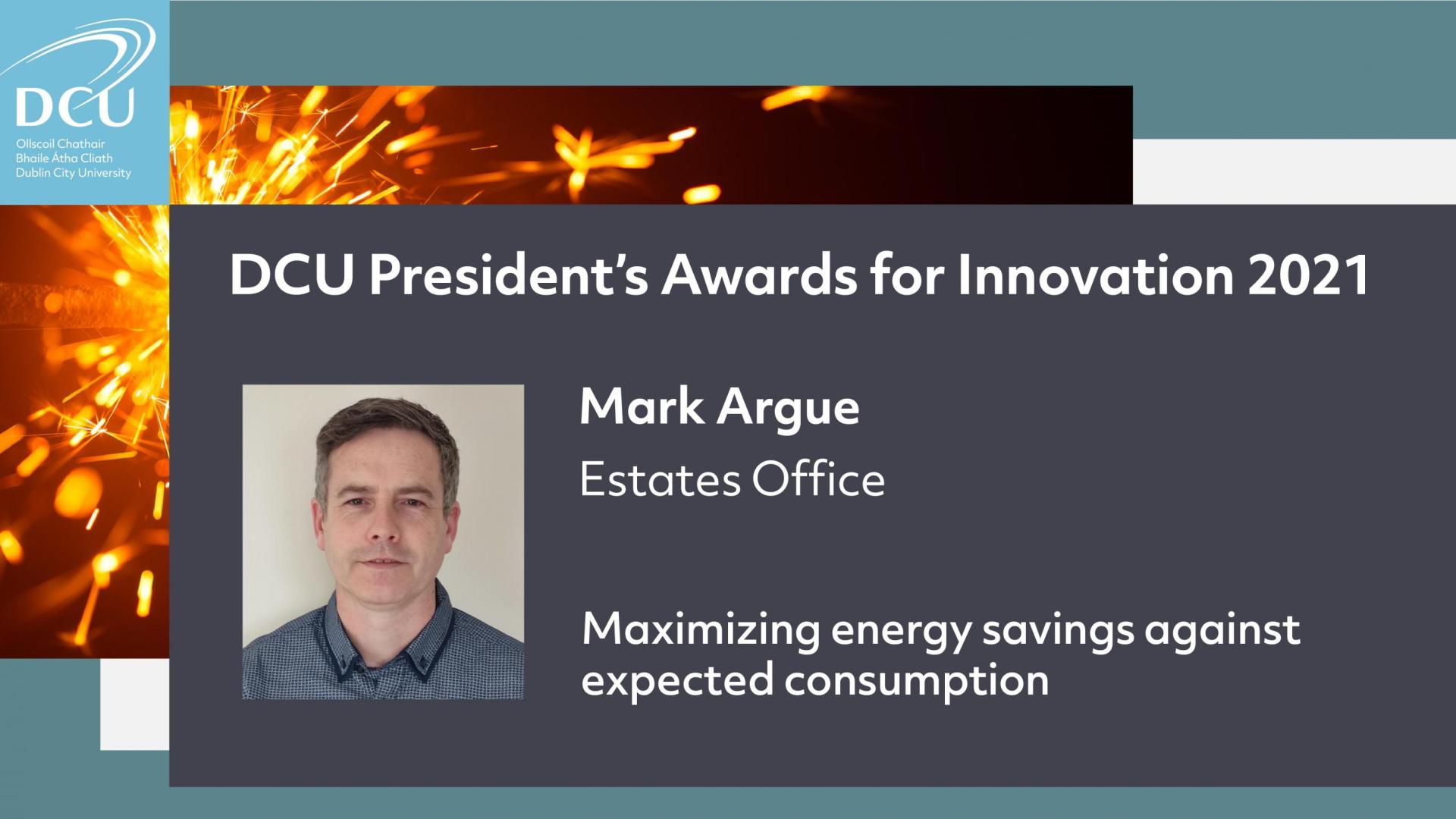 Administrative & Support Staff - Mark Argue, DCU Estates
Mark Argue from DCU's Estates Office was responsible for devising and implementing a system to maximise energy savings against expected consumption. 
The system works on assessing expected future energy performance up to a year in advance and allows more ambitious and aggressive energy targets to be set. The strategy uses weather forecasting data, optimised building system information and historical information to predict the environmental conditions needed to ensure comfort levels which then allows a target to be set. 
It has enabled DCU to make significant yearly annual reductions on energy expenditure and contributed to reducing carbon emissions by over 25% between 2016-19. As a result of the new innovations, DCU's energy performance, registering at 46.8% is well in-excess of the public sector target of 33%, a development which has contributed to DCU's status as the top performing university in this area in the public sector.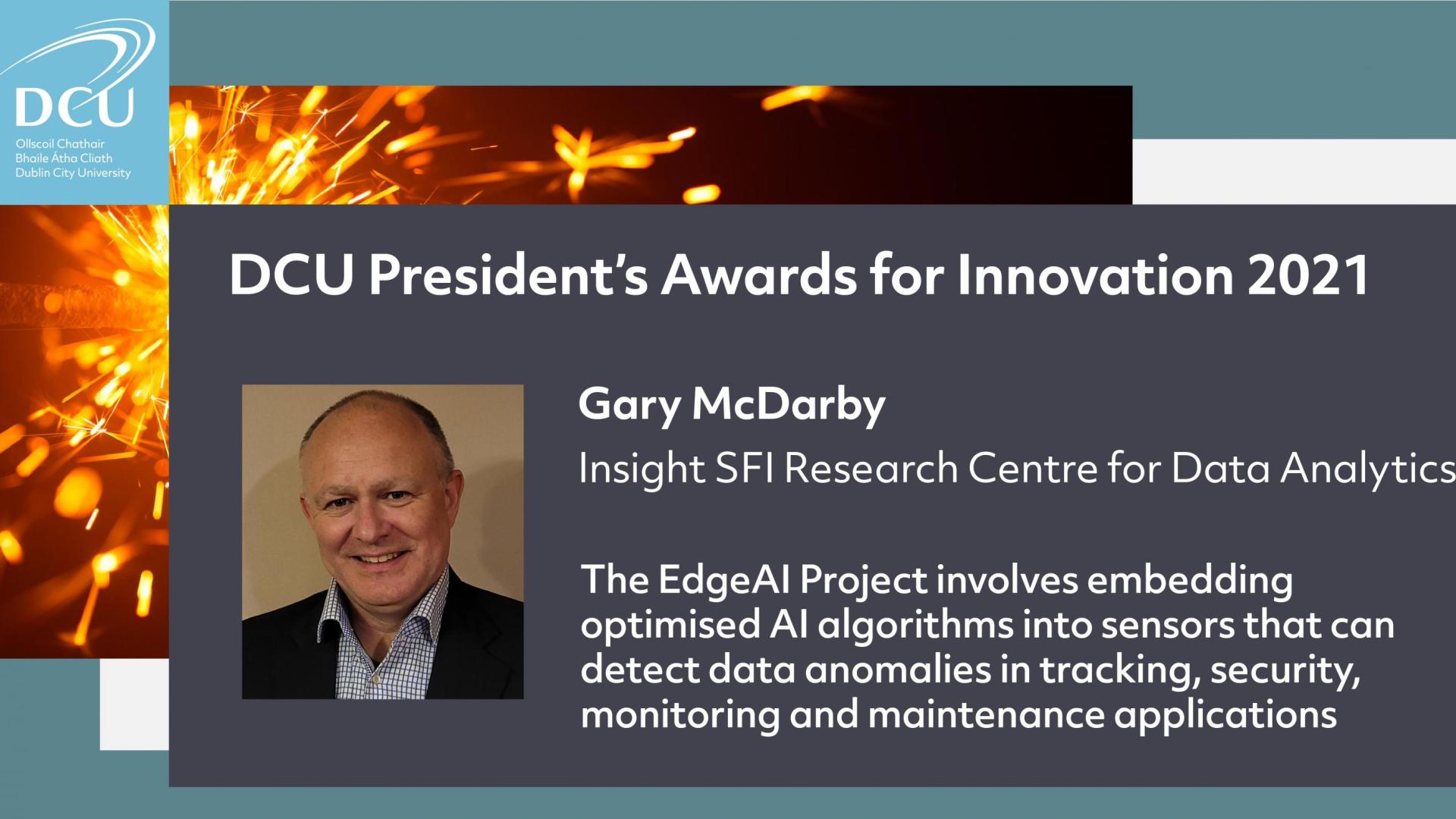 Academic & Research Staff - Dr Gary McDarby, Insight SFI Research Centre for Data Analytics
Dr Gary McDarby created the EdgeAI Project, a state of the art, low power IoT sensor for detecting anomalies in tracking, security monitoring and maintenance applications. 
It involves embedding optimised AI (Artificial Intelligence) algorithms into sensors in tracking, security, monitoring and maintenance applications. The device learns "normal" behaviour without any training and then sends an alarm when unusual events occur. 
The software algorithms, developed by Gary, have been designed to be simple and energy efficient due to battery and processor restrictions, and are connected through an IoT network. The application can be used for tracking assets, remote biomedical monitoring, vehicle security, predictive maintenance for remote sites, smart energy monitoring and many others. 
Speaking at the awards the President of DCU Professor Daire Keogh said, 
"Innovation is a core element of DCU's DNA. These awards are intended to highlight and foster the culture of innovation across everything we do at the university. The awards also recognise that innovation goes way beyond science and technology and is a way of thinking and looking at the world in the humanities, social science and education."