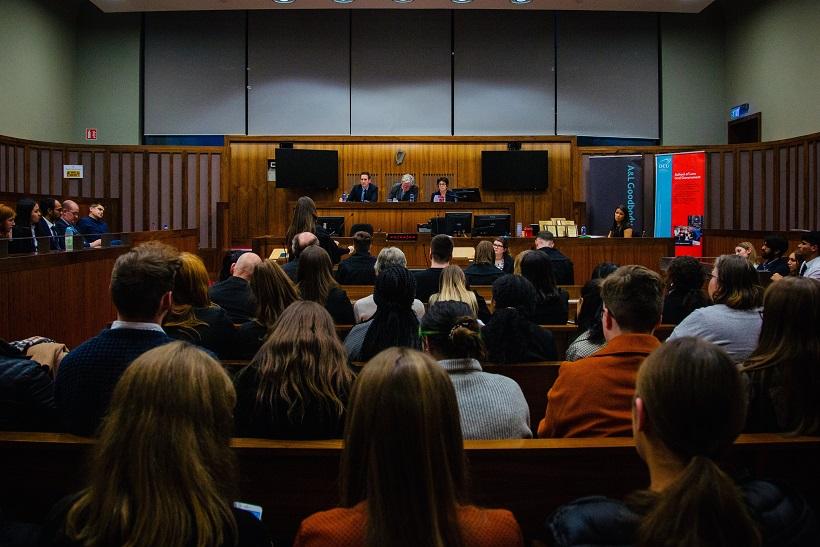 DCU prepares to host 12th National Moot Court Competition 2021
DCU is preparing to host the 12th National Moot Court Competition next month and is calling on law students across Ireland and the UK to register before 5pm on Monday 25 October.
Sponsored by A&L Goodbody, the National Moot Court Competition is an annual inter-law school event designed to give law students an opportunity to put their study into practice. Competitors are given the opportunity to demonstrate their skills before prominent members of the legal profession, including the Supreme Court Judge. 
A total of 40 teams took part last year with entrants from universities across Ireland and the UK. The event will be held virtually again this year, and it is anticipated to be the largest competition to date.
Speaking about the competition, Dr Aisling De Paor, DCU School of Law and Government said:
"We are very proud to host the National Moot Court Competition, which is now the largest mooting competition in Ireland. The virtual format of the event this year will provide a unique legal and advocacy experience, and allow wider participation from law students all over Ireland and further afield. We are delighted to open the competition up to students from outside of Ireland, which will further develop students' learning and development in clinical legal education, while also facilitating cross-collaboration and networking between students studying across Ireland, the UK and elsewhere.

The benefit and impact for students is significant - participation in this competition develops practical skills in advocacy, oral argument and legal thinking - all essential skills for future lawyers. Such experiential learning activities also fosters valuable transferable skills such as team work, communication and confidence that students will use in all aspects of their lives. It is also a very enjoyable way for students to experience law in action, to gain an insight into the practical legal environment and to have the opportunity to engage with the judiciary and wider legal profession."
This year's competition revolves around the tort of passing off. Students are required to prepare written submissions for the Plaintiff/Appellant and written submissions for the Defendant/ Respondent. Students will deliver oral arguments at the live final on Saturday 20th November. 
For further information about the competition visit DCU Law and Government or email nationalmoot@gmail.com