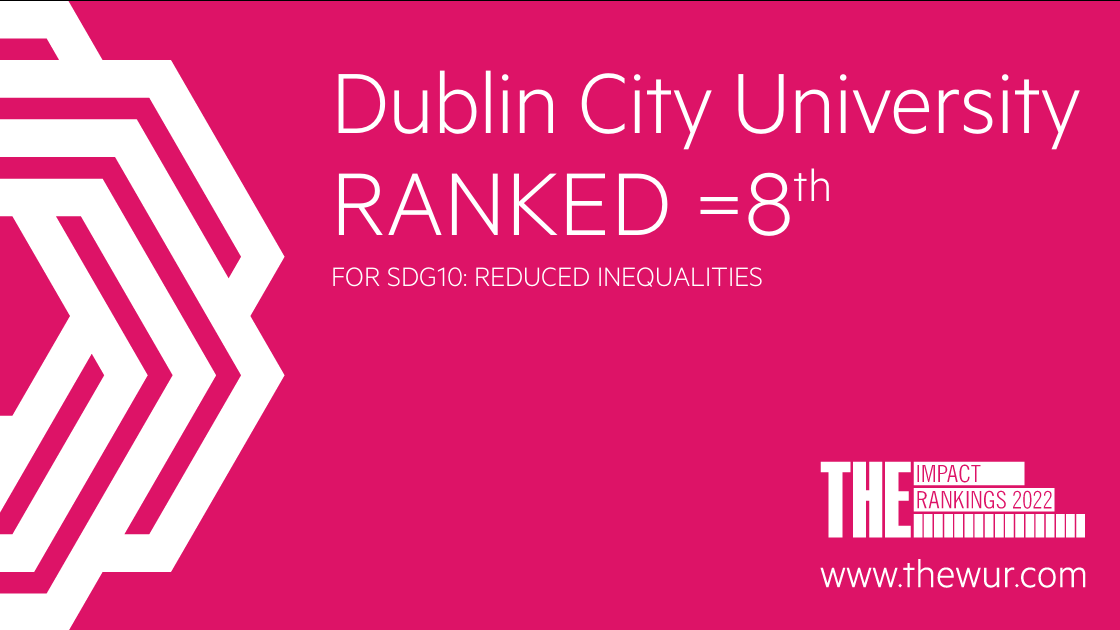 DCU ranked among world's top 10 universities for its impact in reducing inequality
Dublin City University has been ranked the 8th best university in the world for its commitment to the UN Sustainable Development Goal of "Reduced Inequalities".
These results are part of the Times Higher Education Impact Rankings 2022, released today, which capture universities' impact on society and are based on institutions' success in delivering the United Nations' Sustainable Development Goals (UN SDGs).
The top-10 ranking recognised the diversity of the DCU student body, and acknowledged DCU's pioneering work in being recognised as the world's first Autism-Friendly University. The University also scored highly on its research in addressing societal inequality and its commitment to equality, diversity and inclusion, as reflected in its establishment of the DCU Centre for Excellence in Diversity and Inclusion – the first of its kind – which is driving change in the workplace. 
DCU was also the first Irish university designated a "University of Sanctuary" in 2016 in recognition of its commitment to welcome people seeking asylum and refugees into the university community and to foster a culture of inclusion for all. DCU provides 15 academic scholarships annually to applicants who are currently living in Direct Provision in Ireland, either as International Protection applicants or refugees.
The University was also ranked 20th globally for gender equality, reflecting its commitment to achieving equality, diversity and inclusion for staff and students. DCU's score recognised the progress made by the institution to date in addressing gender inequality in senior academic positions, its Women in Leadership suite of initiatives, and the impact of its research in the area of gender equality. 
The Rankings examined research, outreach, stewardship and teaching in a total of 1,406 institutions worldwide. DCU was ranked in 15 of the overall 17 SDGs, and achieved an overall ranking of 88.  
Speaking about the rankings, President of Dublin City University, Professor Daire Keogh, said: 
"These rankings are hugely encouraging and affirm DCU's ambition as Ireland's University of Impact. They are also a welcome recognition of the tremendous work of staff and students in delivering on the University's mission to 'transform lives and societies'. In particular, our ranking in the world's Top Ten with regard to reducing inequalities shows the positive impact the University has achieved by putting our 'People First' values of Equality, Diversity and Inclusion into action."
In addition to the above, DCU ranked 26th globally for Reduced Poverty (SDG 1), 47th for Responsible Consumption and Production (SGD12) and 53rd for its impact in addressing UN Sustainable Development Goal 8, Decent Work and Economic Growth.