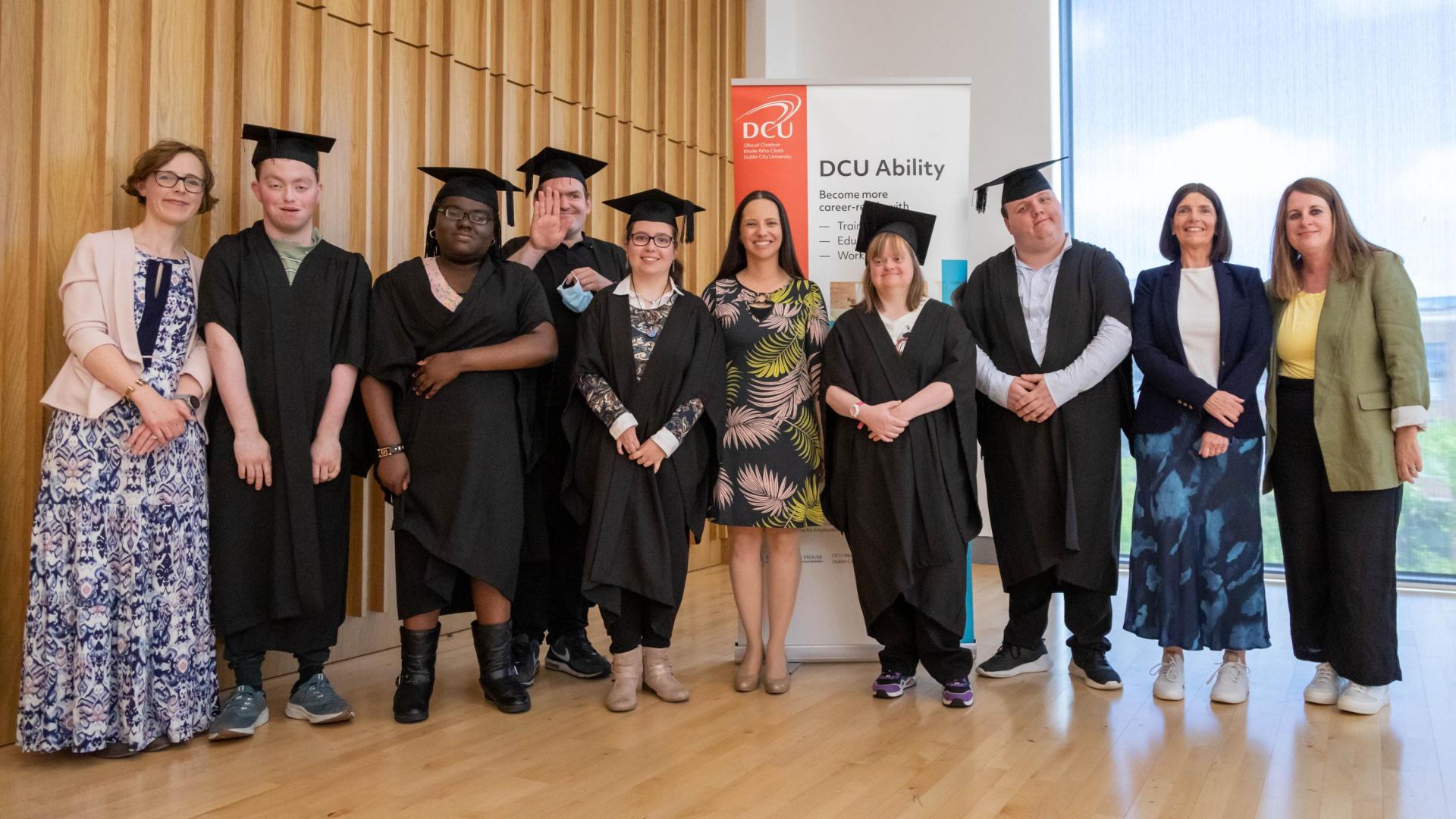 DCU Ability's first in-person graduation celebration
Seven students joined their family and friends today to graduate from DCU Ability's 'Works for Me' course - a project that offers practical and learner-centred interventions to enable people with Intellectual disabilities move towards their employment and education goals.
Graduates Ann Marie Condron, Brian Morgan, Bryan Mc Loughlin, Conor O'Brien, Diana Pavel, Elizabeth Durowoju and Peter Walsh all took part in the campus-based course for 14 weeks, including a 6-week part-time work placement with a DCU campus employer.
The overall aim of the 'Works for Me' campus course is to build upon learners' understanding of work and to support them to explore ideas for their own working future. 
This term's graduates worked in the O'Reilly Library, the Equality, Diversity and Inclusion Unit, the Sports Centre, the Restaurant, DCU Rooms, the Londis on Glasnevin Campus and the Interfaith Centre at DCU. 
DCU Ability presented the DCU employers who supported this group with their new Inclusive Employer Badges and certificates during the event as an acknowledgement of their support - these employers provide placements to participants to give them an experience of work, a key component of the programme. 
The badges act an acknowledgement of this vital support by current, past and future DCU employers.
Speaking about the course, graduate Bryan McLoughlin said:
"This work experience course was the best I have ever done because this was actually the first. It was very good to get work experience for a person that has never tried to get work experience, or has tried but has failed to do so. You will get step-by-step information on doing your course when you're doing it. I had a very good time on my work experience - my boss was a very good boss, and my co-workers were very good and nice to me. I also had a lovely time in DCU. DCU is a wonderful place. If you ever come, come, and you're going to love it. There's no way that you're not going to love DCU. It was the greatest course that I have ever been on so far. I would give it two thumbs up and another two thumbs up."
Ahead of the graduation, members of the DCU Ability team Iara Synnott, Mary Petrie and Schira Reddy acknowledged the support of inclusive employers on DCU's campus, and said they were looking forward to welcoming a new cohort of learners in September.
DCU Ability works in partnership with a wide range of service providers harnessing their joint expertise, resources and facilities to address barriers to employment. For more information, visit dcu.ie/ability.