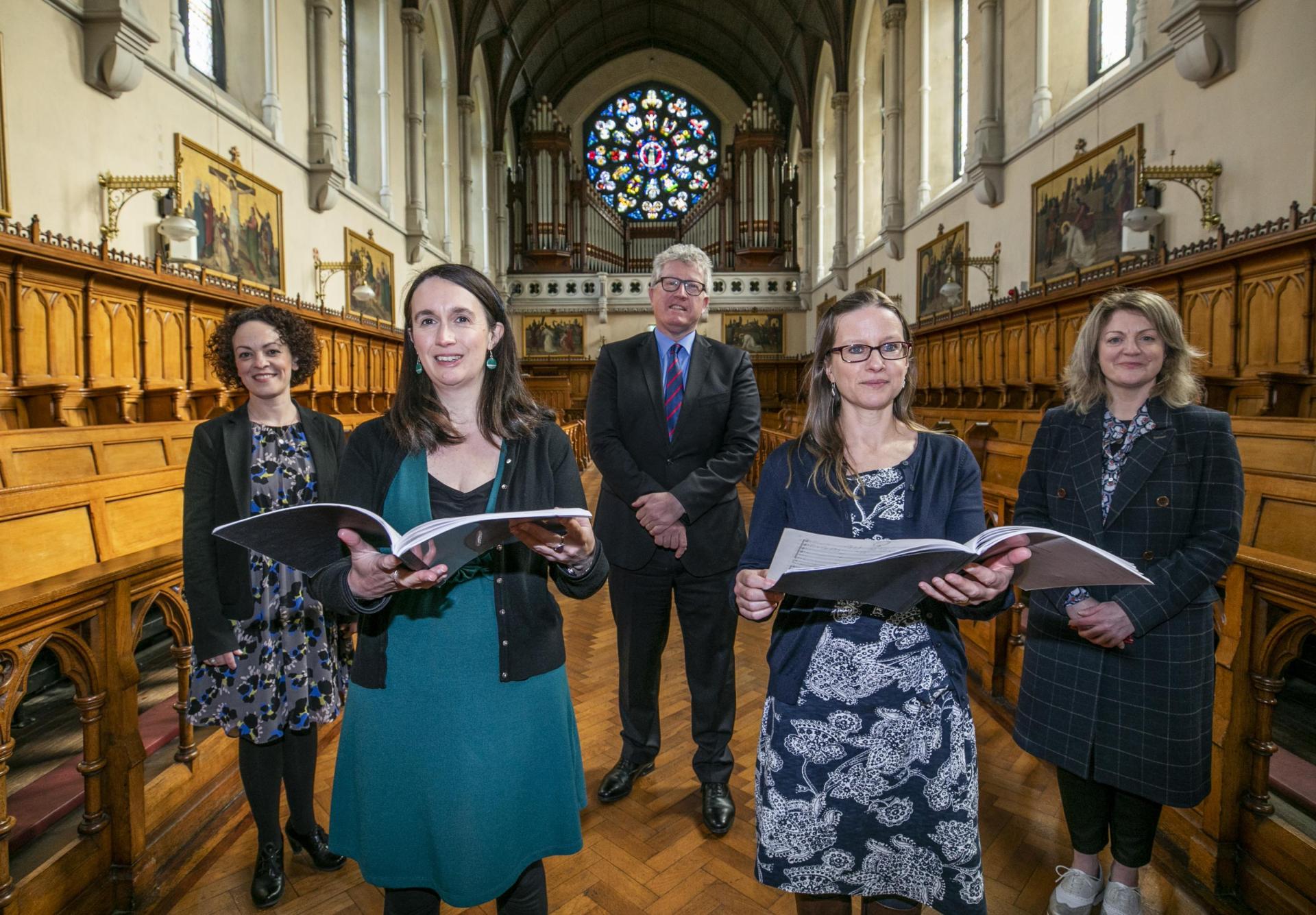 Chamber Choir Ireland strengthens partnership with Dublin City University
Dublin City University and Chamber Choir Ireland have signed an Memorandum of Understanding (MOU) that sees the national chamber choir formalise its Associate Artist position with the university.
As Associate Artists, the choir will continue to perform in All Hallows Chapel and will explore new connections with DCU's Choral Music academic programmes. The collaboration will also focus on broadening access and engagement with choral music, particularly in the context of Equality, Diversity and Inclusion. It builds on a twenty eight year relationship between both organisations. 
This agreement reflects DCU's strategic intent, as outlined in the University's Arts and Culture Plan 2020-2022, to integrate Arts and Culture into the life and future of the university through the establishment of key strategic partnerships with national arts and cultural institutions.
Among one of the first projects that have begun as a result of the partnership is a review of Chamber Choir Ireland's concerts through the lens of DCU staff and students with autism. This project is being led by Fiona Earley, Autism Friendly University Coordinator in DCU, with guidance from global experts in this field.
Speaking about the partnership, Prof Daire Keogh, President of Dublin City University said
"I warmly welcome this new chapter in DCU's long association with Chamber Choir Ireland. Our collaboration with this world class choir will have numerous benefits for our students and staff at the university. The agreement adds to DCU's growing range of arts initiatives, collaborations with cultural organisations and supports for individual artists."
Marcella Bannon, Cultural Arts Officer for Dublin City University said
"This new agreement builds on a longstanding relationship between DCU and Chamber Choir Ireland. It will act as a catalyst through which to develop a meaningful collaboration for years to come, committed to broadening access and inclusion and exploring deeper connections in education and research."
Majella Hollywood, CEO of Chamber Choir Ireland said
"We are delighted to formalise the next phase of Chamber Choir Ireland's relationship with DCU, which dates from the choir's earliest days. Our organisational strategies align together with that of Chamber Choir Ireland's principal funder, the Arts Council / An Chomhairle Ealaíon, to embed arts and culture as central to civic life as we focus on public engagement with choral music, developing and improving accessibility for all both within and to the wider DCU community. 

We look forward to working with the DCU Arts and Culture Office in developing meaningful engagement with the broad performance and participatory work of Chamber Choir Ireland."
About Chamber Choir Ireland
Garnering a strong reputation for its unique approach to creative commissioning, recording and programming, Chamber Choir Ireland is the country's flagship choral ensemble and national chamber choir under the Artistic Direction of the multi-award-winning conductor, Paul Hillier. 
The Choir's programmes span from early renaissance to the present day, incorporating established choral classics with cutting edge commissions, and a style of performance that incorporates versatility, dynamism and often vocal pyrotechnics.