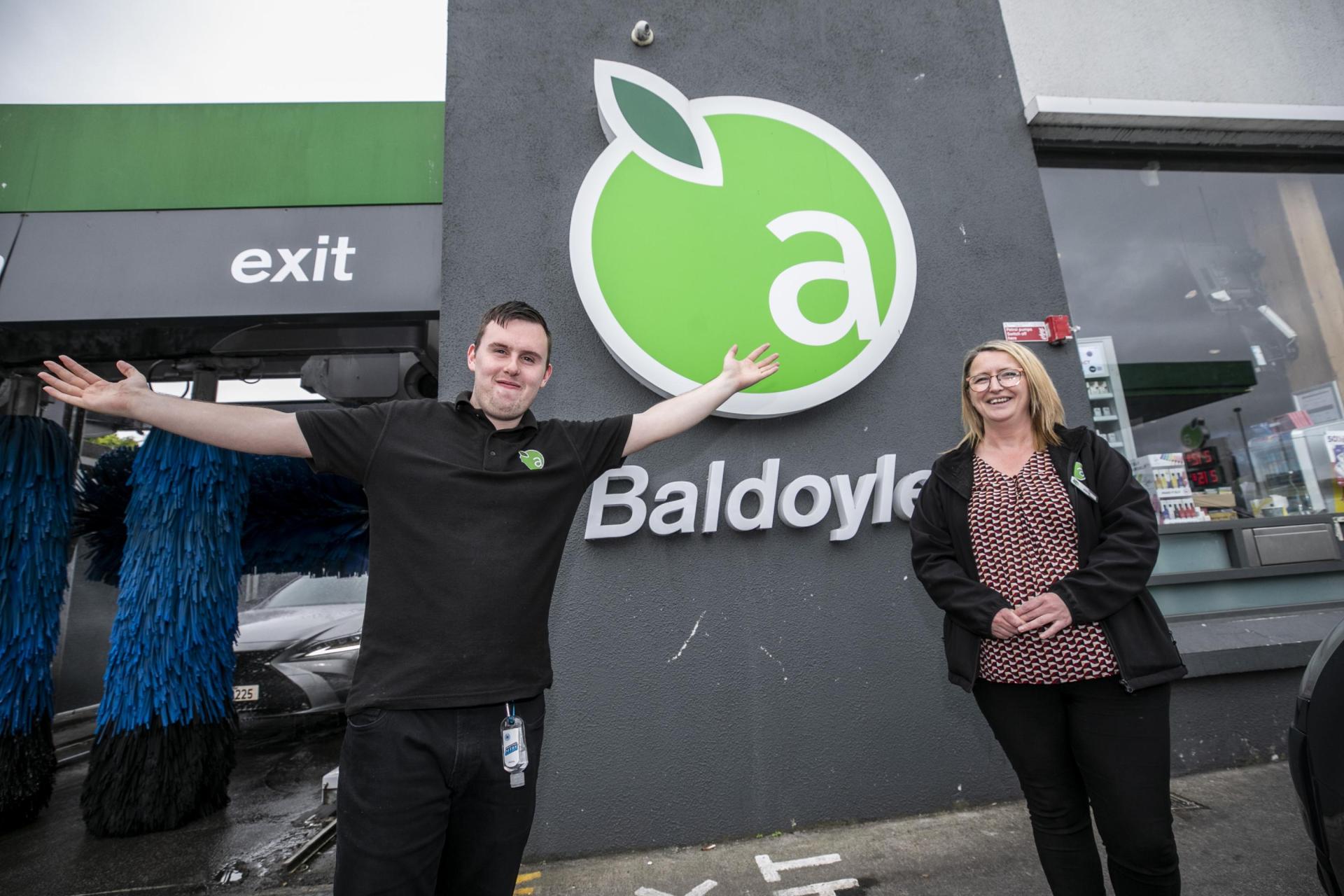 DCU Ability graduate Luke Kelly takes up employment with Applegreen
Luke Kelly, a graduate of DCU Ability's online Introduction to Work course, has been offered a contract with Applegreen following his successful completion of a 12-week work placement.
Luke expressed interest in the placement offered by the Ability team, in conjunction with Applegreen, having completed the DCU Ability programme in 2020. Following a successful interview process, Luke was offered the placement in Applegreen Baldoyle. Support was provided throughout this placement by Luke's own service, Gheel Autism, and DCU Ability. Training and mentoring was provided by Applegreen Baldoyle store manager, Colette Murphy, and her staff.
Luke received positive feedback on completion of his placement and was offered a contract to become part of the team at Applegreen.
Speaking about his experience, Luke said:
"I'm enjoying working at Applegreen. The store is very nice and the staff is polite, kind, and great to work with. I was keeping my fingers crossed at the end of the Internship. Was I going to get the job? I was nervous but then I was very happy to find out I was offered a contract."
Shauna Halpin, Luke's key worker at Gheel Autism, said:
"DCU Ability were great at working alongside the support person to ensure Luke had the best support possible. The team provided Luke with extra support to encourage him to focus through the course. DCU Ability worked alongside Luke, his support person and the store manager to ensure a positive outcome."
Colette Murphy, Applegreen Baldoyle Store Manager
"Luke has come on in leaps and bounds since joining us here in Applegreen Baldoyle. It is a pleasure to have him here with us on site, he brings a smile to everyone's face and has really settled in as part of our amazing team. In fact, I think he is already plotting to take my job from under my nose!"
Jean Marten, Head of Human Resources, Applegreen, said:
"From the first day I met Luke for interview he showed a great deal of interest and independence for a role with Applegreen. A very friendly character who has blended in very well with the team. While it was new on both sides, he took feedback and critique on board and showed willingness and drive which resulted in a permanent role following on from the placement. We look forward to watching Luke's progression and journey with the Baldoyle team, as Colette has been a very positive mentor and  DCU are a wonderful support along with Luke's own service, Gheel Autism."
Deirdre Corby, Project Lead DCU Ability, said:
"Luke's achievement and success in securing a paid contract with Applegreen reflects his determination and willingness to learn, and is a credit to Luke, his family and Gheel Autism. Luke has availed of the support that DCU Ability offers and has achieved his aim of securing permanent employment. As Project Lead I want to congratulate Luke and thank the DCU Ability team who understand and expect that everyone can work towards employment."
DCU Ability supports adults with intellectual disabilities by offering a range of practical and learner-centred interventions to enable them to move towards their work and education goals. The programme offers structured training courses, supported work placements, internships, and employment support resources. 
DCU Ability works in partnership with a wide range of service providers such as Gheel Autism and St. Michael's House,  harnessing their joint expertise, resources and facilities to address barriers to employment. For more information, visit dcu.ie/ability.