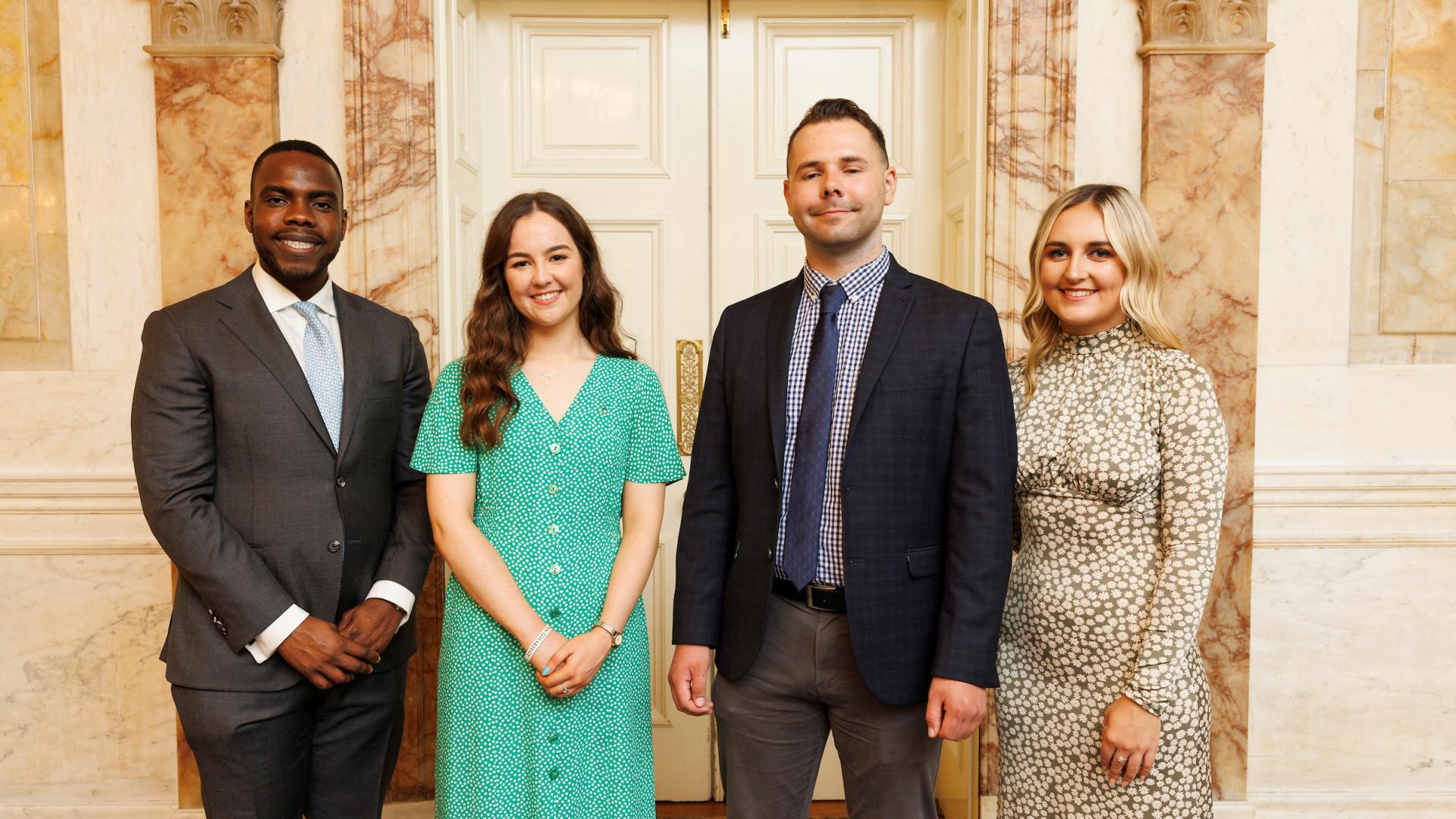 Four Dublin City University students selected for Fulbright award
Four prestigious Fulbright scholarships have been awarded to Dublin City University students and graduates. The awards will enable them to travel to the USA to take up roles at some of the top universities and institutions.
The four awardees from DCU are among 40 Fulbright Irish Awardees for 2022-2023. Who will undertake research, teaching and study in the USA spanning many disciplines. They will address pressing societal issues, engage with U.S. society, and share their knowledge when they return home.
The 2022/ 2023 DCU awardees are from diciplines spanning teacher education, public policy and sports journalism.
Raphael Onwunali holds a B.A. in Law & International Languages from DCU. Raphael is a Visual Artist and recently founded The Leonardo da Vinci Initiative which focuses on mentoring and coaching. As the inaugural recipient of the Fulbright-Frederick and Anna Douglass Award, Raphael intends to enhance his civic engagement. He will pursue a Master of Public Policy (M.P.P.) degree at The University of Chicago and focus on topics including regulatory capture, effective supervision and governance, strategy and CSR.
Aaron Gallagher is a PhD student at Dublin City University's School of Communications. His PhD investigates the relationship between sporting organisations, athletes and the media. As a Fulbright Awardee at the Shirley Povich Center for Sports Journalism at the University of Maryland, College Park, he will compare sports communications strategies between Europe and the United States, looking at how sport is covered by American journalists and media professionals. 
Emer Maguire is a Primary School Teacher in Ardee, Louth and holds Bachelor of Education degree from DCU's Institute of Education. She is a founding member and Chairperson of a branch of Conradh na Gaeilge in Drogheda. She also sits on the executive committee of Conradh na Gaeilge as a representative for the East & Mid-Ulster. She is an Irish dancer and a keen musician, playing whistle and piano. She is the Irish Language Officer with the Drogheda Branch and the Louth County Board of Comhaltas Ceoltóirí Éireann. She will be a Fulbright Foreign Language Teaching Assistants (FLTA) to Elms College, Chicopee.
Niamh Murray also holds a Bachelor of Education from DCU. She is a primary school teacher in Dublin and has always had a passion for instilling a love for the Irish language in students. An esteemed singer songwriter and musician, she has appeared in Hot Press and performed at festivals such as Electric Picnic and Vantastival. She uses her music platform to promote Irish language and Irish Culture. She holds a Distinction in Grade 8 Musical Theatre Performance with the Royal Irish Academy of Music. She will go on her Fulbright FLTA Award to Davidson Community College.
Speaking about this year's awardees, Joe Hackett, Secretary General of the Department of the Foreign Affairs said:
"I extend my warmest congratulations to the Irish Fulbright Awardees for 2022–2023. Fulbright scholarships provide a transformational experience for individuals and play a crucial role in sustaining the close relationship that Ireland and the United States share. Every year, Fulbright recipients have the exciting opportunity to study, work, and experience life in the U.S., and to represent the best of Ireland. I wish this year's Awardees every success for their time in the U.S."
DCU Fulbright Ambassador, Elizabeth Mathews, Assistant Professor with the School of Inclusive and Special Education, DCU Institute of Education, said:
"I am delighted to see such success for DCU in this year's Fulbright awards.  My experience on a Fulbright scholarship back in 2004 was immensely formative at the start of my career.  I am sure the awardees will benefit from the professional and personal growth that a Fulbright experience offers and I wish them the very best on their journeys".
The Fulbright Program has served to strengthen international relations for seventy-five years. The Fulbright Commission in Ireland's vision of inspiring minds to create a global culture of understanding is more important than ever in today's increasingly polarised world. Since its formation, over 2,500 postgraduate students, scholars, professionals, and teachers across all disciplines have participated in the programme between the U.S. and Ireland. The Commission is supported by the U.S. Department of State and the Irish Government's Department of Foreign Affairs. It is also a registered charity.
The next round of applications for Fulbright Irish Awards will open on 31st August 2022, interested candidates should visit www.fulbright.ie for more information.