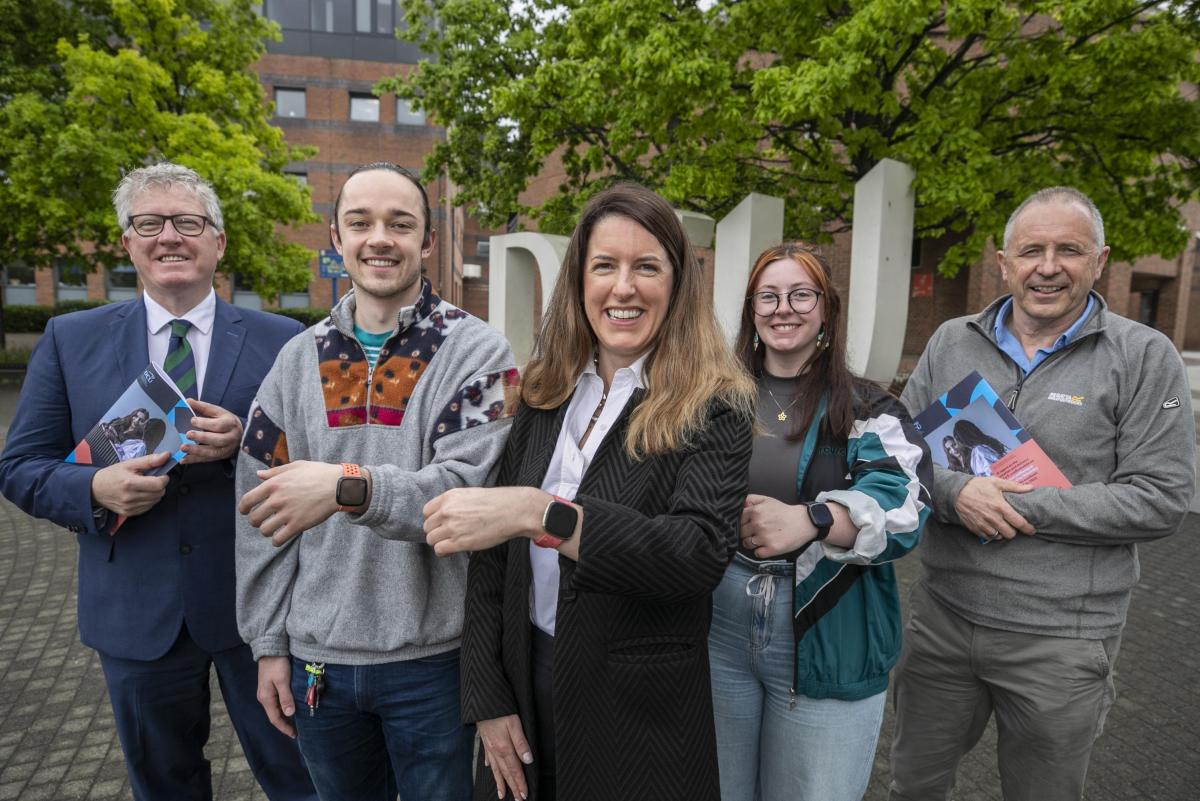 "FLOURISH increased my physical activity for the week but I would say it was even more beneficial for my mental health"
Improved sleep, nutrition and understanding of their personal health and fitness data were among the positive outcomes and findings in a report published today on the FLOURISH module in Dublin City University. 
Led by Prof Alan Smeaton from the Insight SFI Research Centre for Data Analytics, FLOURISH is a module for second year students in DCU that is aimed at helping them better understand their own personal health and fitness data and how it can provide insight and guidance to improve their overall health. 
The programme delivers practical tips to students for everyday wellness and also aids in improving students' digital literacy, specifically the awareness of personal health and fitness data and its potential for developing healthier habits. 
Students were given a Fitbit Versa 3 to support them throughout this health and wellness journey, providing the guidance and insights to reach their goals. Students used their Fitbits to see how changes they made to their own lifestyles; exercise, sleep, diet, were reflected in their own personal data and how even small changes impacted their overall wellness.
Dr Conor Heneghan, Director of Research Algorithms at Fitbit, gave a guest lecture as part of the FLOURISH programme on the importance of sleep.
Speaking today at the launch of the report, Prof Alan Smeaton said
"It is really gratifying to see the impact that the FLOURISH module has had on our students and how they now see how their own personal data can be a force for good when it is used properly."
Students who took the module spoke about its benefits and what they learned.
"I thought that FLOURISH was a nice break from the usual assignments we get through college. It allowed me to stop and think."

"From engaging in this section of FLOURISH I have learned a lot about sleep and how it is affected by the things we do throughout the day"

"This exercise was extremely interesting as I had no idea about data usage and storage before the topic."
 Key findings
86.7% said taking the module improved their overall wellness
70.5% said it improved aspects of their sleep
70.5% said it improved aspects of their nutrition
93.4% said it changed their understanding of their personal data so that they can now make informed decisions about their overall wellness
98% would recommend FLOURISH
169 students registered for the course
Sleep, behavioural changes and use of personal health & fitness data were the most accessed topics
These were also the leading subjects of assignments submitted
Prof Daire Keogh, President of Dublin City University said
"FLOURISH reflects DCU's focus on supporting students' wellness and personal development, alongside academic excellence. Drawing on the university's cutting edge research in Data Science and Health, the module provided students with new digital tools that clearly helped them to develop their health literacy and foster positive behaviours.

It is evident from our students' feedback that the impact of FLOURISH was amplified during the pandemic when this kind of support was needed most."
Joanne Savage, Director Marketing EMEA, Fitbit at Google said
"We are proud to support the FLOURISH module, to help students better understand their health and wellbeing by being on Fitbit. 

The personal insights and guidance that Fitbit can give them, can help empower students to take more control and build healthy habits. The findings of the report and feedback from the FLOURISH students have shown improved aspects of sleep, nutrition and general understanding of personal data which is a great outcome. At Fitbit our mission has always been to help everyone in the world lead healthier, more active lives and our devices and services provide users with a holistic view on how all aspects of your health fit together, from activity, sleep, nutrition and mindfulness."
About FLOURISH
FLOURISH was developed by Insight and researchers in both DCU and UCD have designed, created and have run taught modules in each university that address student wellness. The programme sought to see how harnessing student data, both university data and personal data, could support students to manage their lives, to be well, and to reach their goals.
You can find out more about the project here.