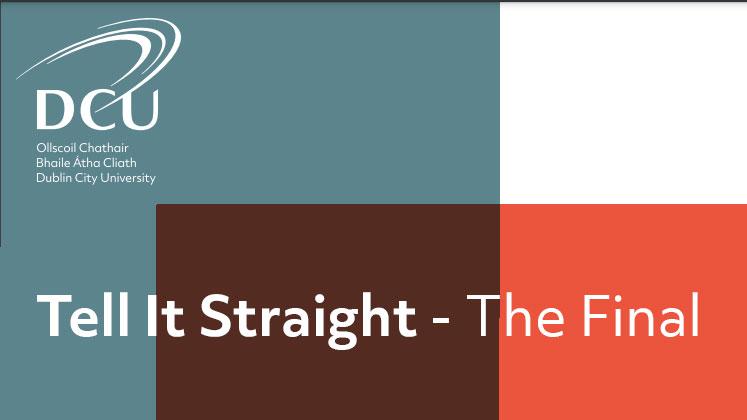 Tell It Straight 2022 - The Final
Winners of DCU's Tell It Straight competition 2022 announced
Graduate Studies Office announced the winners and runners-up of the annual Tell It Straight competition (Wednesday, 4th of May).
This year marked the 9th Tell It Straight final event, a competition that challenges and enables DCU's research student body to showcase their research and its potential impact to a non-specialist audience. The event was a great success, and the atmosphere throughout the event was quite educational, uplifting and received so well by the audience.
As good communication skills have always been highly sought after in any sector – the possession of such skills is something that can be learned and honed by practice. Therefore, the event affords our research students to learn from the entire process of submitting their abstracts, being shortlisted for the final event, and preparing/delivering their research presentations on the day. 
This year's winners and runners-up were selected in the following three categories.
Category 1: Oral Presentations (from Year 1 only)
Winner: Antonia Egli - DCU Business School, 'The Company You (Don't) Keep: An Examination of Stigma Within The Vaccination Discourse on Twitter' (Supervisors: Prof Theo Lynn, Dr Pierangelo Rosati, and Dr Gary Sinclair)
Runner-Up: Siba Ewaiwi - School of English, 'The Representation of Female Football Protagonists in Fictional Writings from 1921 Onwards' (Supervisors: Dr Michael Hinds and Dr Jennifer Mooney)
Category 2: Oral Presentations (from Year 2 onwards)
Winner: Mathavan Vickneswaran - School of Chemical Sciences, 'Establishing to what extent Irish Agricultural Soils are Contaminated with Pesticides' (Supervisors: Dr Blánaid White and Dr James Carolan (MU)) 
Runner-Up: David Nolan - School of Health and Human Performance, 'Sex-Related Considerations for Athletic Development in Rugby Union: Do Female Rugby Players Need to Train Differently?' (Supervisor: Dr Brendan Egan)
Category 3: Video Presentations (from all Years)
Winner: Pragyaa Chandel - School of Communications, 'Exploring Lived Experiences of Woman Journalists Harassed Online and its Repercussions on Journalism: An Indian Case Study' (Supervisor: Prof Colleen Murrell)
Runner-Up: Lauren Cassidy - School of Computing, 'TwittIrish: Irish Language Tweets and what they Teach Us' (Supervisors: Dr Teresa Lynn and Dr Jennifer Foster)
Speaking about the importance of the competition and congratulating all of this year's finalists, Professor Joseph Stokes, Dean of Graduate Studies, said:
"Tell It Straight 2022 was a great opportunity to learn of the broadness of research topics being carried out across DCU by our research students, and it was truly humbling to see the finalists present their research with such energy and conviction. A huge amount of work and preparation was conducted by each of the 14 finalists ahead of the competition and this made for a high calibre event.

Graduate Studies Office was delighted to be able to host this "in person" event for the first time since 2019 and the attendance far exceeded our expectations. Sincere congratulations to all winners and runners-up, from across the three categories, and a heartfelt thank you to all finalists, who made the event very diverse. Many thanks to all those who attended and to our external judging panel who felt the competition this year was of a very high standard. 

It is very rewarding to see that the Tell It Straight competition is growing in popularity from year to year, and more importantly - that our DCU research students get to present their research in such an impactful way.''
Professor Stokes also thanked the judging panel involved this year including DCU's Dr Padraig Murphy and Dr Monica Ward, who shortlisted the finalists from the large volume of applications, and external judges Anthony McCauley (Skillnet Ireland), Dr Claire O'Connell (The Irish Times) and Nora Trench Bowles (Irish Universities Association).
It was evident that all of the final contestants had put in a lot of work for their final presentations, and therefore – it was even more gratifying to see each and every research topic being presented. Equally important, the event provided an opportunity for students, staff and external visitors to learn about research taking place across the University, not just in a particular discipline.