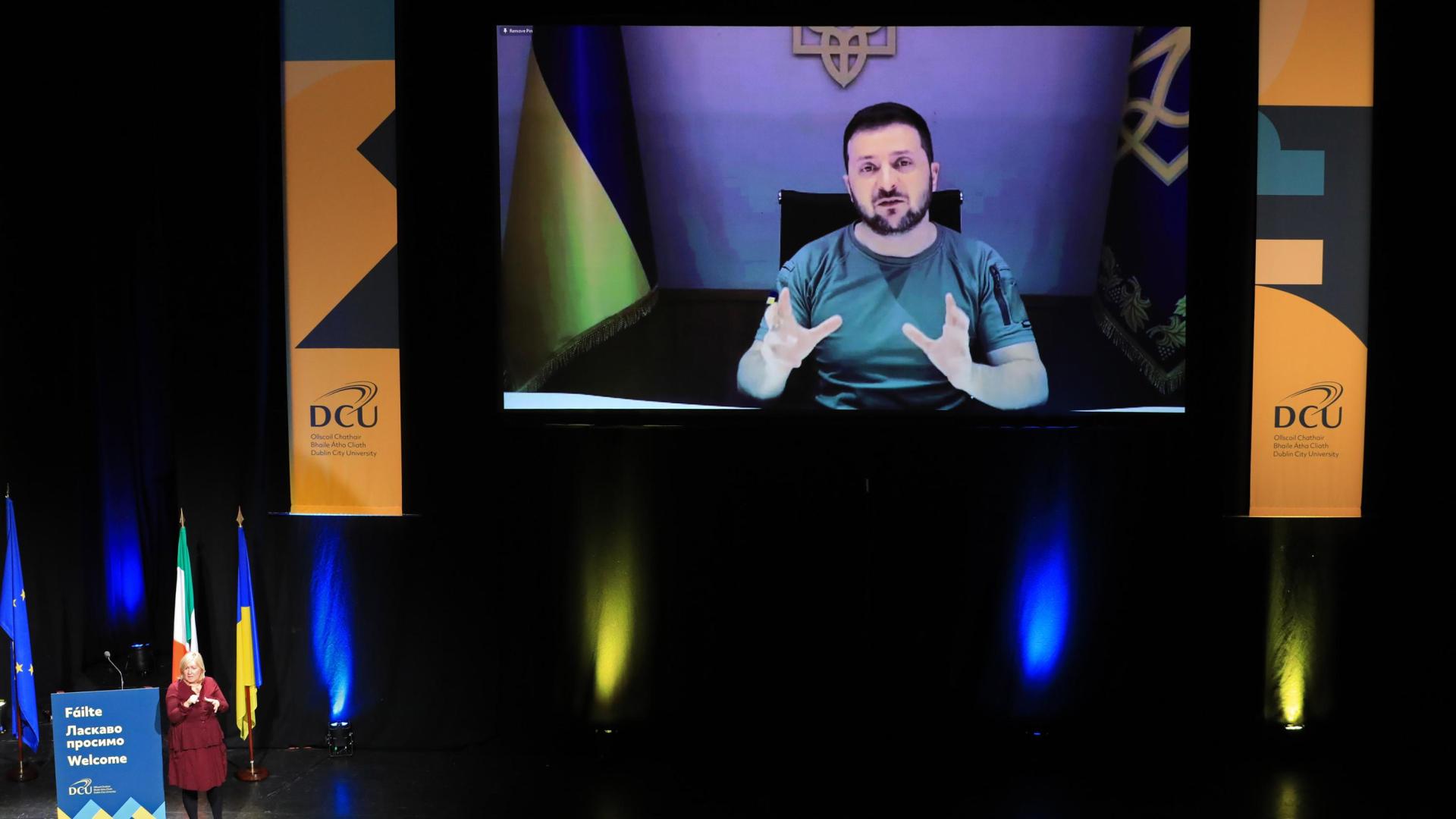 President Zelenskyy addresses Irish students at The Helix in DCU
The President was joined at this event by the Ambassador of Ukraine to Ireland, Larysa Gerasko, Minister for Further and Higher Education, Research, Innovation and Science, Simon Harris TD, Prof Daire Keogh, President of Dublin City University and Prof Donnacha Ó Beacháin, Professor of Politics at DCU's School of Law and Government.
Speaking from Ukraine, the President said:
"Russian aggression does not stop for a single day just as Russian lies to the world do not stop for a single day. Therefore, international pressure on Russia should not stop for a single day.

Please talk about what is happening… please look for specific projects that can support and help our defence and our people. The more collective efforts we make, the sooner we will force Russia to leave the territory of Ukraine.

I thank you for the incredible warmth you have given our people. Ireland has welcomed 63,000 Ukrainian citizens and I am grateful to you.

The Irish Government and society have helped Ukraine in many ways and while Ireland has a neutral status you are absolutely not neutral in your attitude and assistance to the Ukrainian people."
The President called Russia's recent move to ban over 50 Irish politicians from entering the Russian Federation 'propaganda'.
Following President Zelenskyy's speech, students were given the opportunity to engage directly with the president in a Q&A session and learned about how Russia's illegal invasion has impacted Ukraine and its citizens. Students asked the President about how the invasion has affected universities in Ukraine and about social media's impact on the invasion.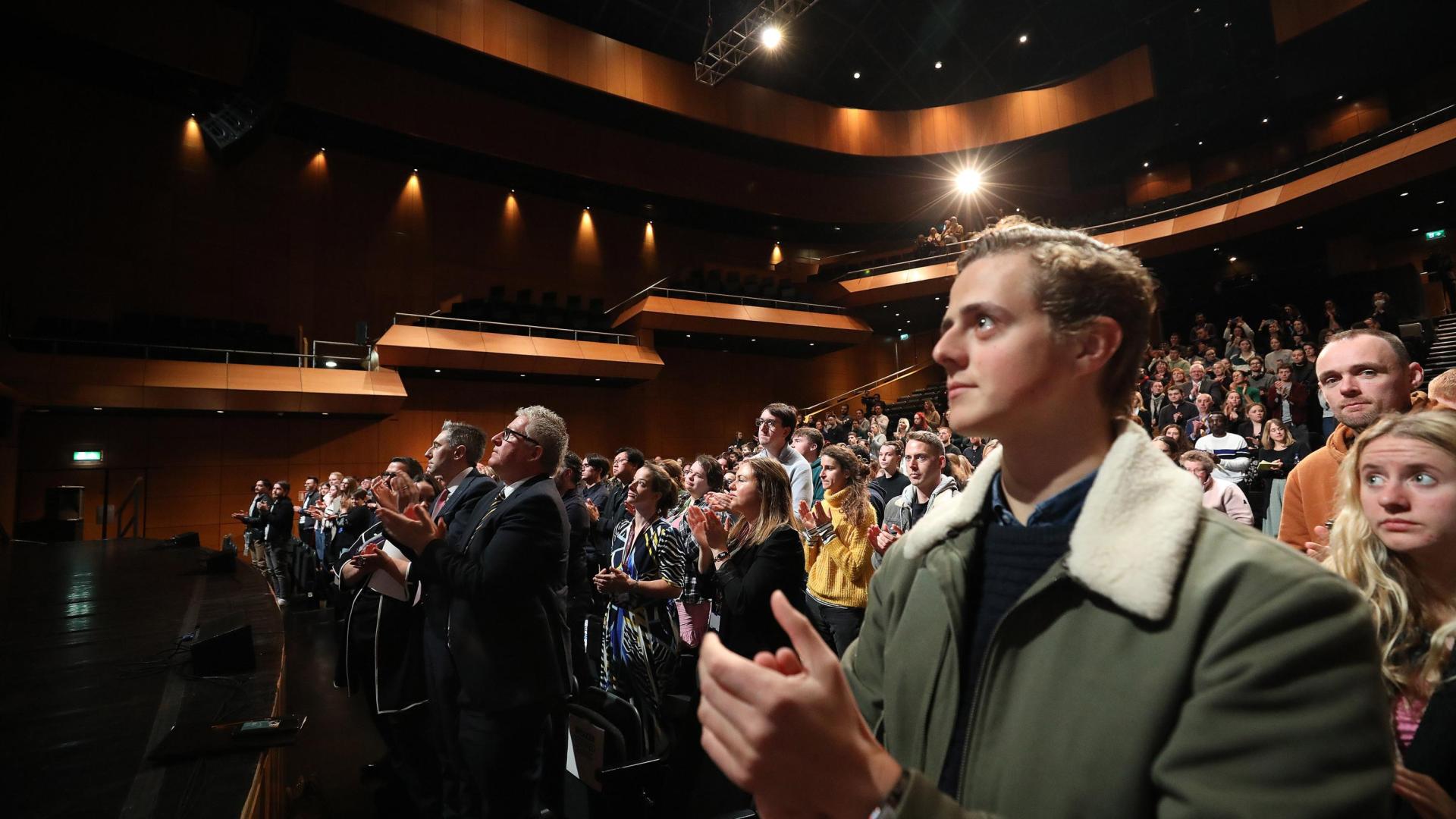 Speaking after President Zelenskyy, Ambassador of Ukraine to Ireland, Gerasko Larysa, said:
"As Russia targets Ukraine with missiles, it also wages a war of disinformation against the democratic world. I know that you all value democracy, freedom, human rights, and the right to study. The right that Russia is trying to take from Ukrainians.

Do not let evil change this in you. Keep supporting the good things, keep supporting the right things, be on the side of the truth."
Speaking after the event, Minister Simon Harris said:
"It was my great pleasure to introduce President Zelenskyy this afternoon and to reaffirm Ireland's strong commitment to ending the war in Ukraine.

While Ireland is a neutral country, we are not, nor can we afford to be, morally or politically neutral on this issue. That is why we will continue to support EU sanctions against Russia to hold its leaders accountable for their actions and through our membership of the UN Security Council continue to urge them to immediately end the war in Ukraine.

The higher education sector is to be commended for being open, proactive and positive in facilitating the continued education of those arriving from Ukraine. We now have over 300 Ukrainian students enrolled in higher education and an additional 16,000 in further education courses.

We can all be proud of what we have done to ensure that Putin's unprovoked aggression will not ruin the lives of the next generation of Ukrainians but that with our continued support we will bring an end to this senseless war and ensure they have the capacity to help rebuild Ukraine back stronger than ever before."
Prof Daire Keogh said: 
"On behalf of DCU and of the wider Irish Higher Education sector, I want to send a particular message of solidarity to the students and staff of Ukraine's universities and higher education institutions. I commend their determination in the face of barbaric aggression, and I hope we will see a time in the near future when Ukraine's students can pursue their studies in peace, without the fear of war and oppression hanging over them."
The event was hosted by Dublin City University in partnership with the Embassy of Ukraine in Ireland.
The Irish Refugee Integration Network (IRIN), based at DCU, are currently offering English Language classes online and on campus for free to international protection applicants, including those from Ukraine. DCU is Ireland's first University of Sanctuary, and IRIN seeks to facilitate the integration of those who had to leave their countries due to war, persecution, discrimination, food or water scarcity, or natural disasters.