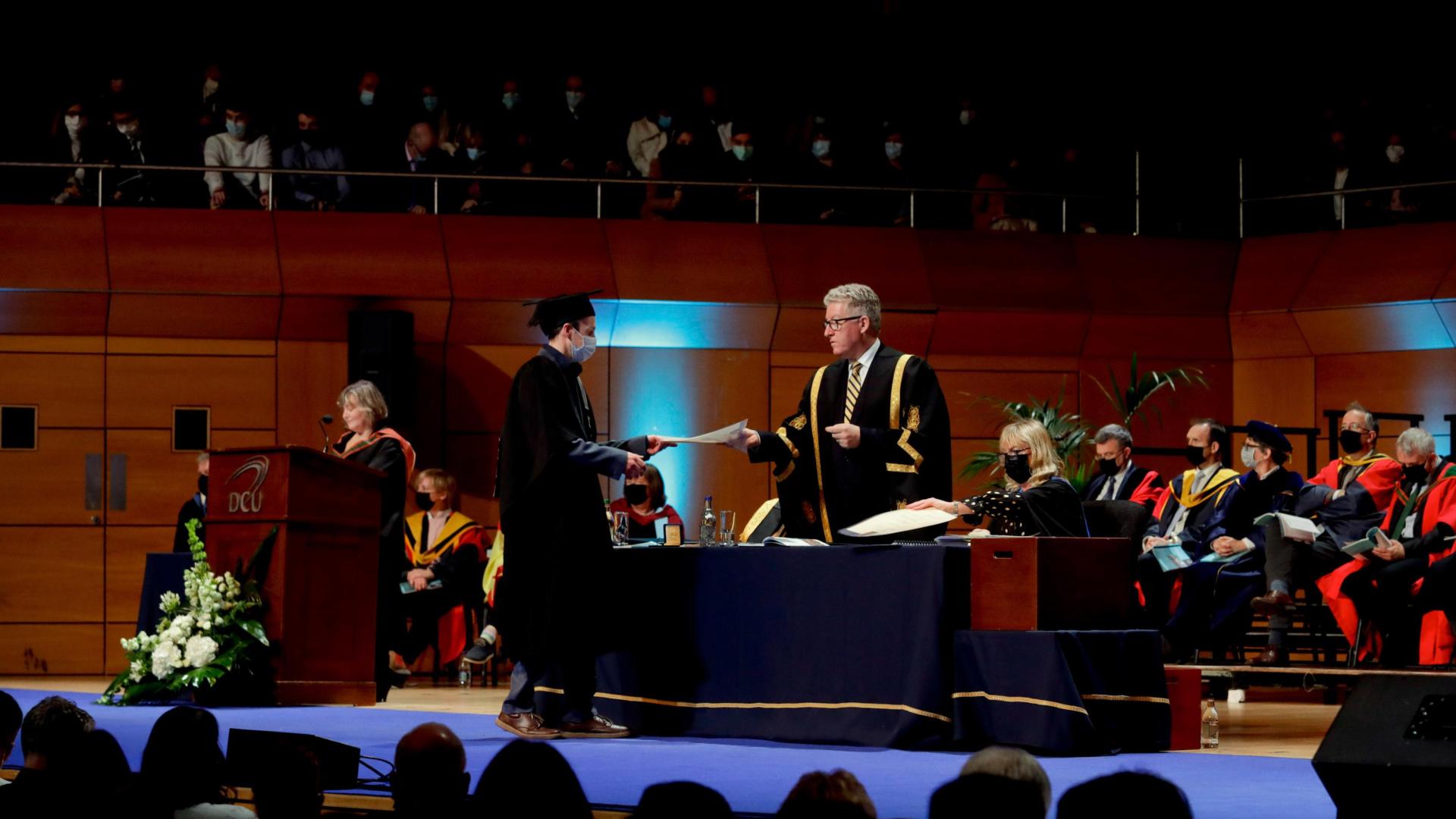 Graduation stories February 2022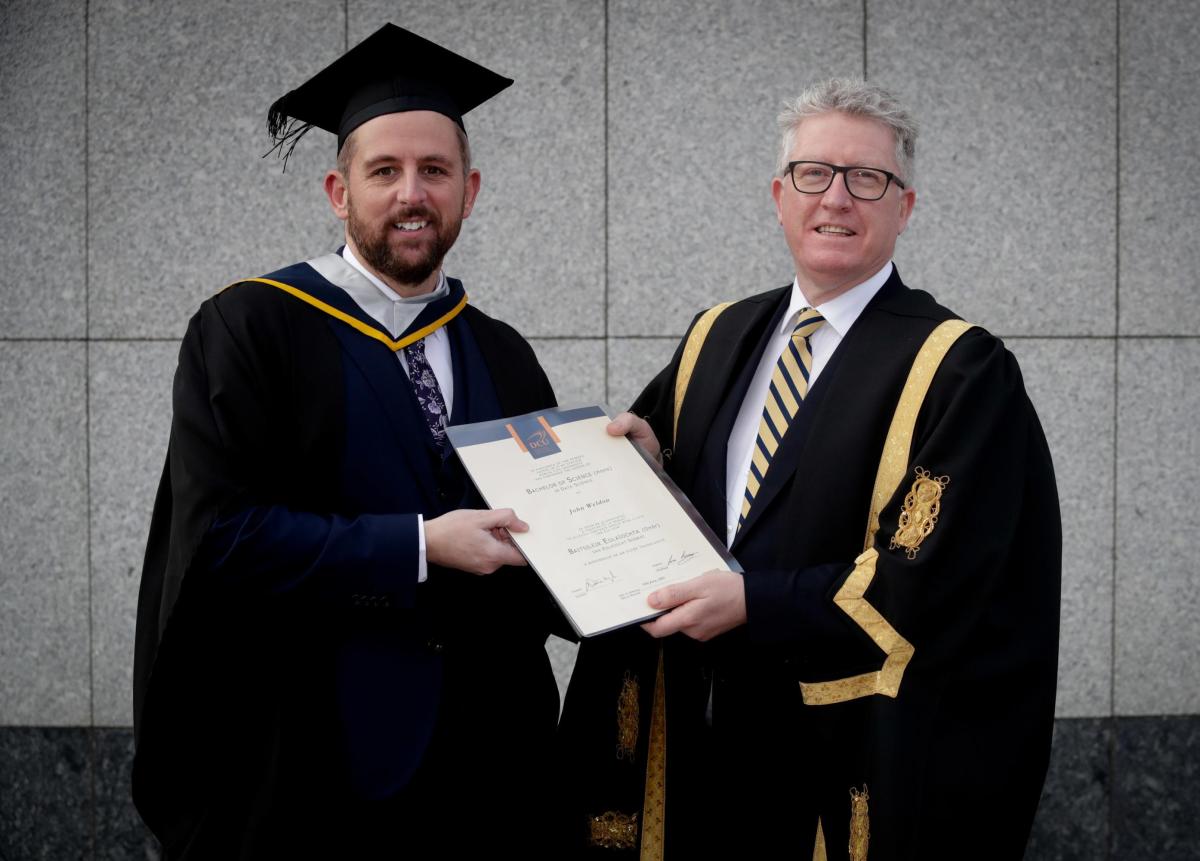 John Weldon returned to college as a mature student and joined the first class on the new Data Science course in DCU. He has a BSc in Data Science.
John Weldon had always wanted to return to third level and get a degree and says going to someone else's graduation at DCU prompted him to act. "It was cool to see people get their hard work rewarded. A couple of months after that I applied (to DCU) and I think that genuinely had a big impact on it."
He was 33 going into the first year of a new Data Science course being offered by the college. John had previously started a course in Computer Science but left it as he wanted to start working. "It was always in the back of my head that I wanted to go back and get a degree, eventually I did. "
Both courses contain elements of coding and software engineering but he chose data science as it has more maths. Before returning to third level he was self-employed as a strength and conditioning coach and he was able to continue to do that in the evening time during his studies. As a mature student he went through an interview process where he explained why he wanted to return to third level. He says he is "massively" happy with that decision although at times it was "tough trying to juggle what essentially is a full time job with a full time degree." "Around exam time it might get particularly tricky where I would have to work when I would rather be studying, but I got through it."
The pandemic meant that third and fourth year were delivered remotely. "I didn't enjoy that, I found it quite lonely being stuck in the bedroom on a Zoom call; it is not the same as being around people." He was not alone in missing the in-person interactions and while "the lecturers were always open to contacting them online, for me I'd much rather talk to them in person."
John, from Rush, North County Dublin, believes going to DCU gave him an edge because there was a shortage of the skill set he acquired. "Every company needs to get insights from their data. All the companies need data scientists." On his course he also learnt about AI and machine learning, which are also in demand and, "that is the edge it has. It is kind of why I chose that course as well."
He says the Data Science degree course was offered by DCU after it heard from Irish companies about the shortage of skills they were experiencing. "I think in terms of whether it is something that is in demand in Ireland, or building courses to meet demand, that is literally what happened with this course. It could not be tailored more with industry in mind."
He did two work placements with PwC during his degree and now works for them as a Data Science consultant. Reflecting on his time in DCU he said that aside from COVID-19, "It was definitely positive." "There was a good buzz with young people around, really good energy and the lecturers were willing to help no matter what issue you had, they were always willing to go the extra mile to make sure we got what we needed from them."
"Overall it was a really great experience and something I remember for the rest of my life."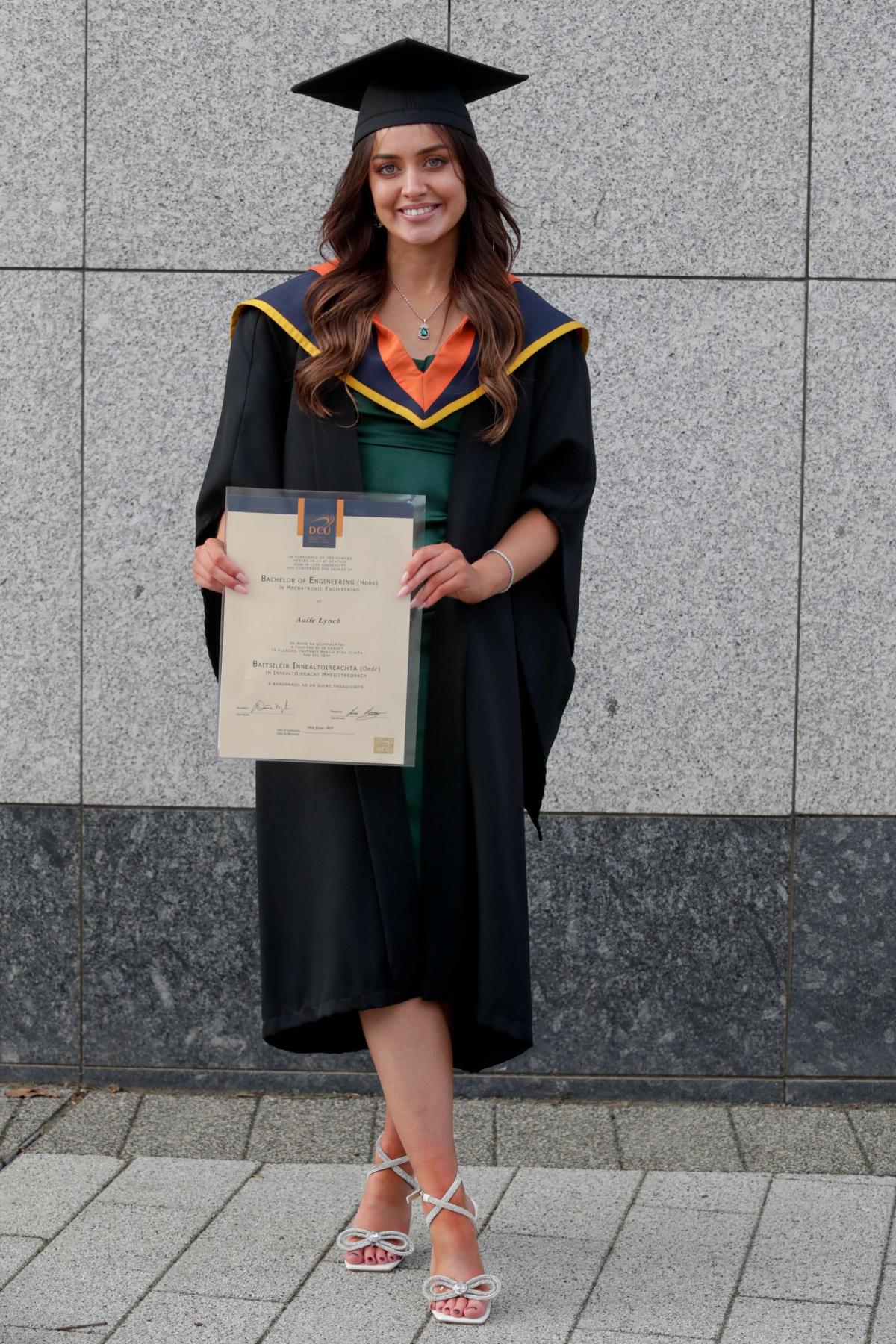 Aoife Lynch, who was part of the Irish team that brought home a silver medal at the World Athletics relays in 2021, says she would "absolutely" recommend DCU.
Athlete Aoife Lynch said she would "absolutely recommend DCU for anyone currently reviewing their options." As she graduates with a Bachelor of Engineering in Mechatronic
Engineering, she said the college is "constantly adding new course options to the list and produce the most employable graduates in the country due to the INTRA integrated work experience programme."
Having secured a sports scholarship, she said, "if you enjoy sport, it's also one of the leading Irish universities across a variety of categories and elite levels."
Aoife, from Castleknock, Dublin, decided to study engineering as it was one of the broader STEM courses offered in Ireland and, "I had seen how much opportunity there is for women entering a STEM-related degree. I chose DCU due to their dedication and success in track & field, and the club's success at National level."
She was awarded a Sports Scholarship in first year which helped with funding for fees and travel to races. She chose not to live on campus given her proximity to home. She said, "I actually found the transition from school to college very difficult in terms of balancing academics with sport, due to the demanding nature of the course. I found it really difficult to juggle everything, athletics and academics, so it took me some time to get back up to the level I had hoped to carry in from school success."
She credited the support received from Paul Byrne, the head of DCU Athletics, saying, "he really checks in with everyone on an individual basis. We had individual meetings at the start of each semester to check everybody was settling back into college life and training was going well." "He was a massive part of keeping myself feeling included in DCU athletics when I wasn't on campus all the time, it was a big help."
Before her exams in 2021 she flew to Poland with fellow Alumni Sophie Becker. They were in action for Ireland at the World Athletics Relays in Poland and "I ran the race and (we) came second. It was mind blowing." Like other students, her entire final year was done remotely but she said, "I adapted really well to the routine of studying and working from home, and it balanced extremely well with my ability to train in the mornings/mid day rather than after a long day of college."
"It was unusual visiting an empty campus once or twice throughout the year, but I've since been able to stay in touch with all my college friends since restrictions have eased." Aoife is working as an IT Consultant for a software company Azyra, "who kindly sponsored my final year project and subsequently invited me to work with them after final year. I love the job that I'm in and they're extremely encouraging and understanding of my sporting pursuits."
Reflecting on her time with DCU she said, "I couldn't have asked for anymore from my personal dealings with the college and the Athletics club, I came out of college feeling ready to tackle full time college and life."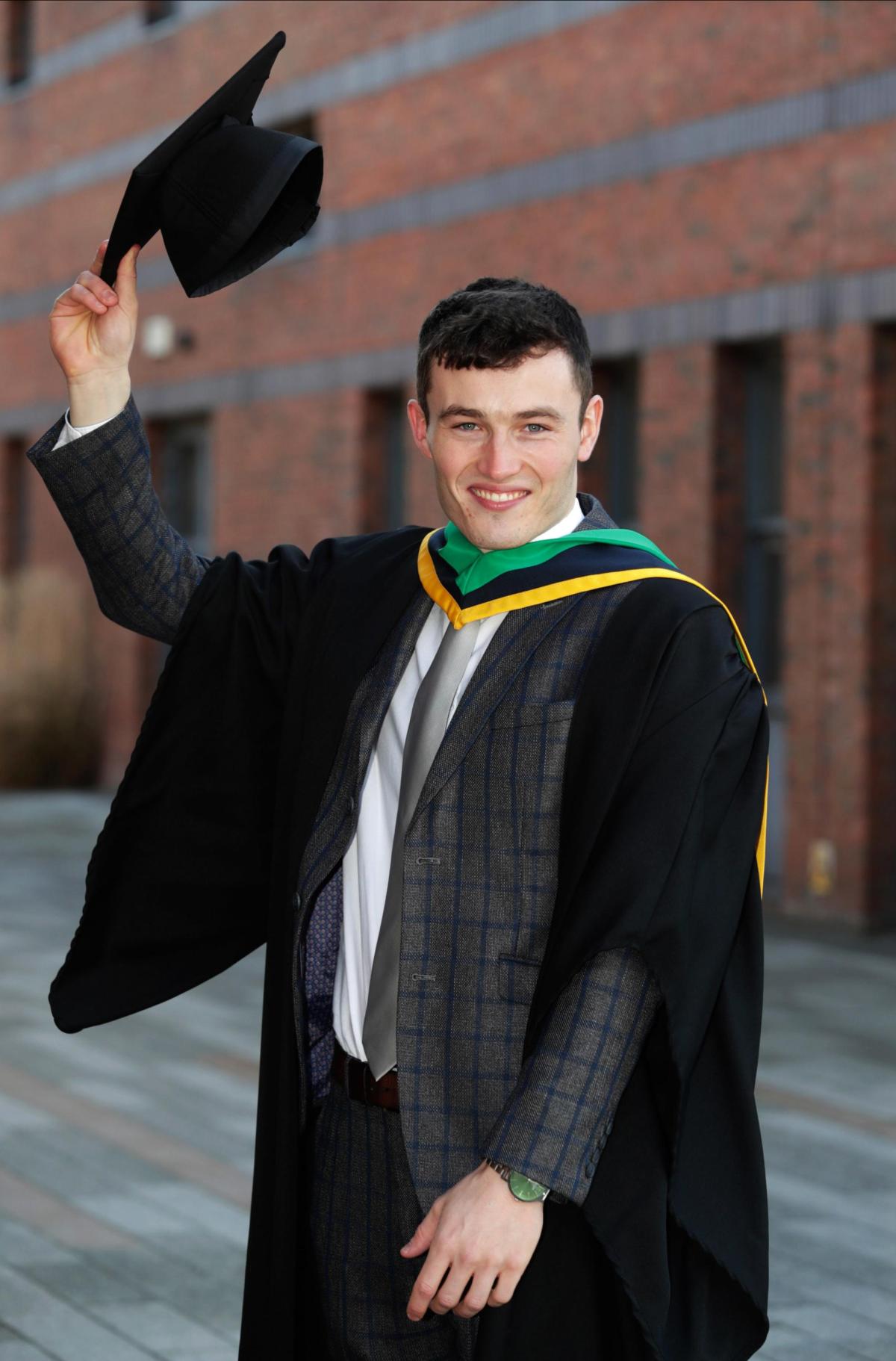 Harry Gribben chose to study at DCU so he could maintain his interest in both physics, chemistry and biology.
Harry Gribben agrees that Physics with Biomedical Sciences, "is an interesting mix of subjects and that is exactly why I chose it." He "loved" science and took physics, biology and chemistry at Leaving Certificate level and being unsure what he wanted to do long-term, "I wanted to keep my options open." "When I looked at the course, it was going to incorporate all those subjects and that is exactly what I wanted to do; I didn't want to just do chemistry or just do physics. I really wanted to keep my options open and study a wide range of sciences."
Graduates of the course have pursued a range of different careers from data analytics to computer science or opted for further study, as has Harry. "Early enough in my course, I actually found my passion and exactly what I wanted to do and it was medicine. I have gone down the route of graduate entry (to) medicine."
From Ratoath, County Meath, he is currently a first year graduate medical student in the University of Limerick, which "is an accelerated programme of medicine." After four years he will have qualified as a doctor and can look at options to work including going abroad.
Reflecting on his time in DCU he said, "we were thrown in at the deep end from year one! We were very engaged and that was a great thing. You had multiple hours of labs every week and in classes learning and you also collaborated a lot." The DCU Intra Internship also appealed to Harry who said, "the only concrete integrated work experience I had heard of was the Intra programme."
For his internship, which fell in part during the pandemic, he worked at the Fraunhofer Project Centre at DCU which is a one-stop-shop for microfluidics technology development. His final year was fully online and it was a transition that he said, "was really tough. The college did incredibly well to adapt to it."
He found that his final year project was not appropriate to go online and he had to redo it and he says that particularly in that final year, he found staying in touch with fellow students and friends was important.
Harry is open about how, "I failed in second year." He had struggled in the second semester of second year and, "it was a low point for me 'cos I had never failed an exam. I had done poorly but I had never failed a significant exam before." He availed of the supports in DCU including the maths learning centre. He spoke to his professors and recalls how one "sat down with me for two hours and went through all of the questions that I had." He said, "I took the time to reach out to all these people who were more than willing to help."
He said the services are there for whenever you need them and, "the services are there when you need them and all that you need to do is to reach out. I used every support available to me from that point on. That made a massive difference." He still knew he wanted to study medicine and, "I just put everything into 3rd and 4th year," and ended up with a first degree "which I was beyond proud of."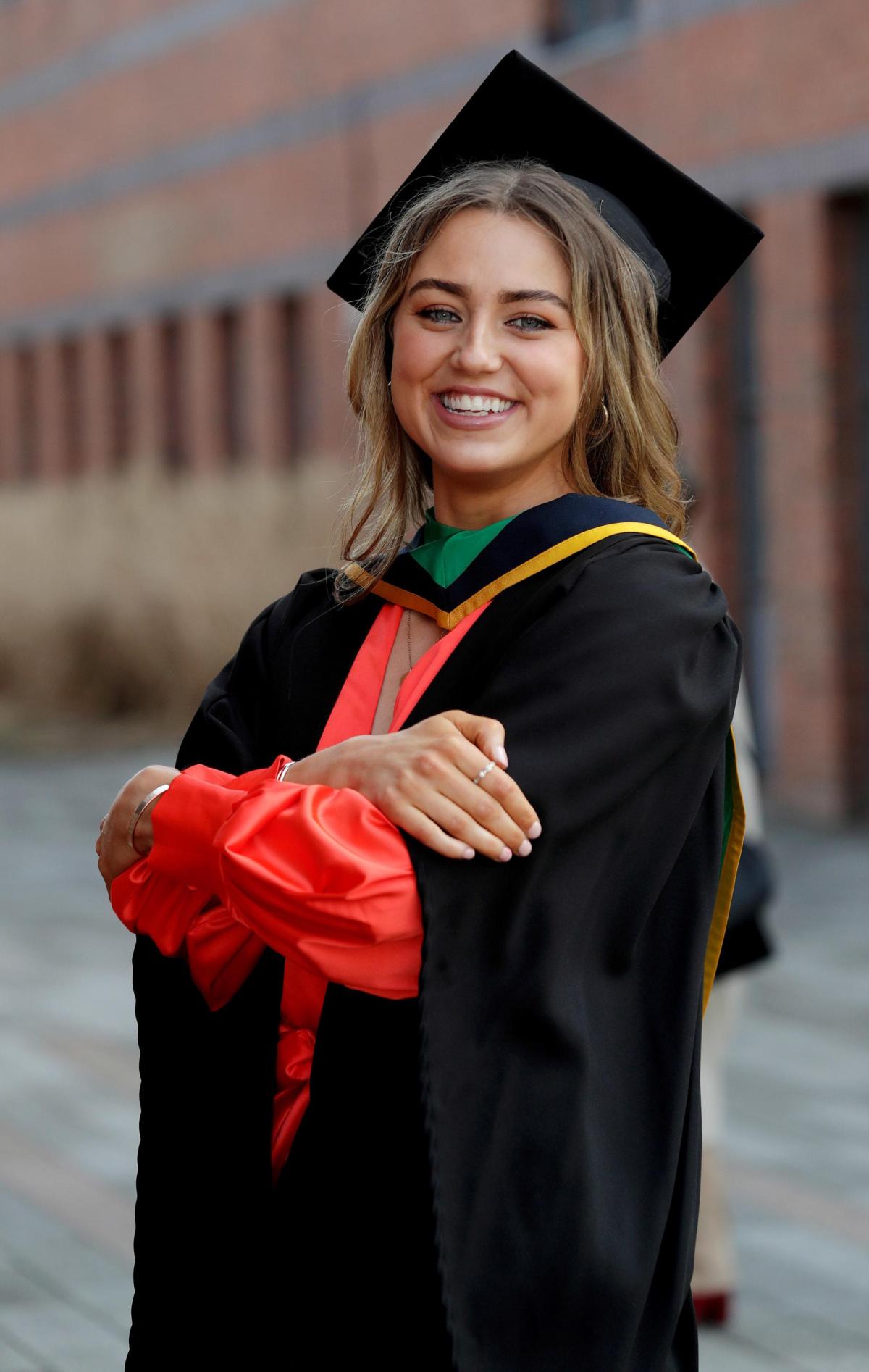 Sophie Becker from New Ross, Co Wexford combined preparing for the Olympics with studying Genetics and Cell Biology on a DCU sports scholarship
Olympian Sophie Becker says her DCU sports scholarship allowed her to train for the Olympics and also complete her degree to a high level.
Sophie was one of two DCU Alumni who were part of the mixed relay team that secured 8th place in the 4x400 metre final in Tokyo in July 2021. Now as a graduate with a BSc in Genetics and Cell Biology, she felt that as a first year in DCU in 2016 she was not "anywhere near as successful as I am now. I would have been a mediocre athlete."
She chose the course because of her love of biology and said, "I researched courses and saw DCU had a course in Genetics and Cell Biology and I was like 'that is what I want to do,' because it encompasses everything I find really interesting.' An athlete she knew from home in county Wexford was in DCU "and I heard him talk about how good the athletics programme was there. I saw how well DCU was doing at the Varsities as well."
She was also impressed by the coaches and said that overall, "it was perfect, it had the course I wanted and the athletics aspect was really good as well." Sophie lived in shared accommodation with other sports scholarship students and said they were like a second family. "I lived with other athletes who were like minded, so if you had a race at the weekend they would be respectful of that and you would pick up nuggets of information from the older athletes as well."
Sophie was always busy with work, college and training and "it was a crazy few years and I got through it." It was in her final year that she availed of one of the options available with the scholarship. "I decided to split my final year over two years, which my scholarship allowed me to do and my course head was accepting of that too as I had good reasoning as I was hoping to qualify for the Olympics. That was when I was really grateful to have it." "I would not have been able to do both of them to such a high level at the time; it was one or the other really. Thankfully I was able to do both."
Sophie split her modules for each semester so her work load was halved. "I had half the amount of work I would have had to have in my final year. There was the option to do all of semester one one year and do all of semester two the next year, I was happy to have a continuous flow across both semesters but with half the workload."
The pandemic meant that the 2020 Olympics were postponed which allowed Sophie to recover from an injury. She moved home and continued to train while doing her course online. For the 2020/21 academic year she returned to on campus accommodation and continued preparing for the Olympics. In third year Sophie did her internship with Murphy Processing Engineering in City West and began working part-time there for the following two years. When she returned from the Olympics, she took up the offer of a permanent job with the company. She believes that if the Intra work placement was not part of her course, "I would be struggling to find work," and she acknowledges the flexibility the company has given her to accommodate her sporting commitments.
Reflecting on the move from a country school to DCU, she felt that DCU, in comparison to some colleges, had a more intimate feel. "The number of students in my class was small, which I really liked."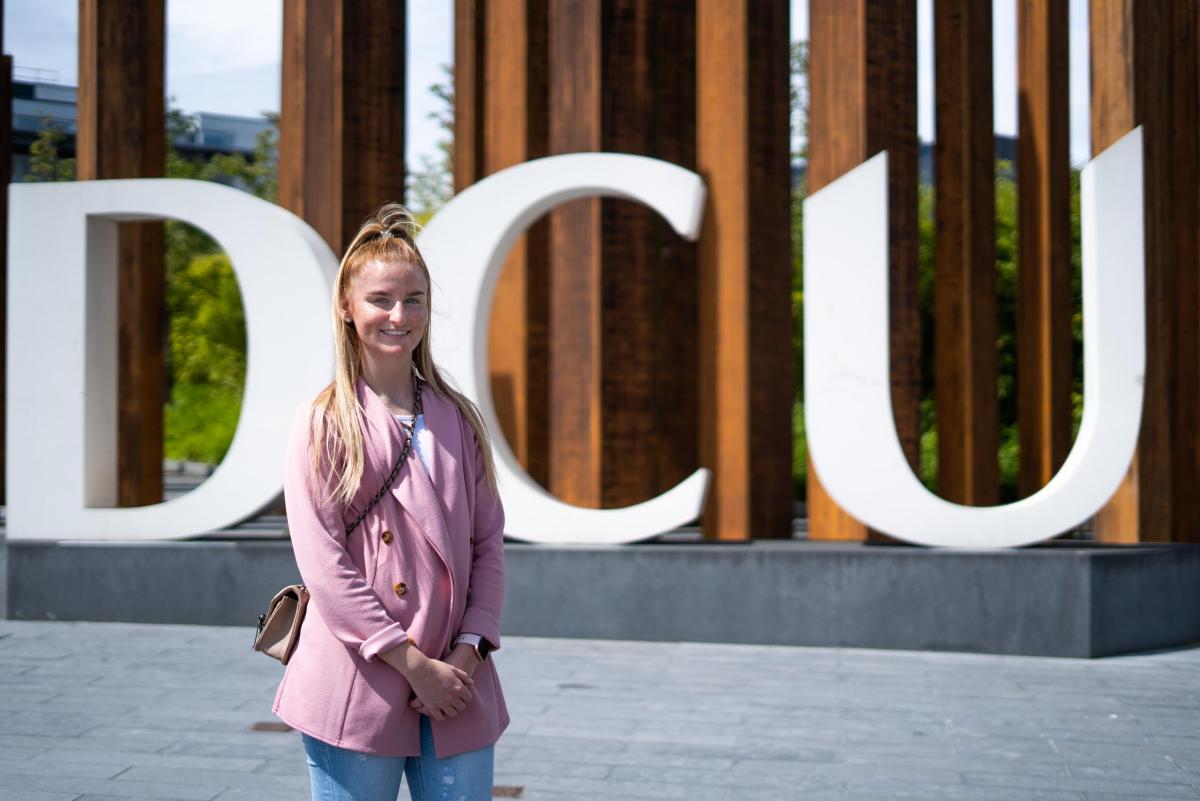 She is the first person in her family to go to third level and Chantel Kelly says, "DCU was the only college where I felt like I belonged."
Analytical Science graduate Chantel Kelly used to think that university was for people from "families with a lot of money" until the DCU Access programme visited her secondary school and told students "we could go to university no matter who we were or where we came from." Then, "I realised there are ways for people from low income backgrounds to go to college (so) I looked into the Access programme and what they had to offer."
The DCU Access programme engages with local schools and communities to raise awareness of higher education opportunities. Using evidence based practice, it provides equal access to and support progression through DCU. Going to shows in the Helix when she was in primary school, Chantel said, "I remember always thinking to myself 'I am going to study here one day.' During 6th year in school I attended a couple of open days in different colleges but DCU was the only college where I felt like I belonged." "I was always interested in science and wanted to do a course that would lead me in the direction of forensic science as this was the career I was hoping to pursue."
"I didn't want to choose a course specifically for forensic science as I wanted to keep my career options open so I decided analytical science was a good choice."
"The Access Programme has had such a positive impact on my time at DCU." Chantel, who is from inner city Dublin, said, "the induction week in my first year really helped me to settle in and make friends while the financial and academic supports were a huge help too. I felt like there was always a member of the Access team there to offer support whenever I had a question or problem."
The four year course includes an Intra work placement which she feels, "has definitely given me an edge when securing work. I completed my placement in a manufacturing company as a QC analyst for 6 months which gave me invaluable experience." Chantel said she was able to access supports through the Access programme whenever she needed them.
"I studied biology and chemistry in secondary school, we did not have physics available to us so (studying physics) was brand new to me. I struggled with physics so I was able to go to Access and say I was struggling with it and at times I struggled with chemistry. They went and found tutors or other supports." 
"I repeated a few modules from second and third year and when I went to Access said it is fine, you can do them again, it is not the end of the world." "I would honestly say that without Access I would not have stuck with it. It was a tough course and I think without the support of Access and knowing there was always someone there to talk to about problems I don't think I would have lasted, I think I would have dropped out." 
The arrival of public health restrictions resulted in college life going online. However she found, "for me the pandemic worked in my favour as I preferred to work from home and felt I was more productive in my own surroundings." "I did my exams at home and felt that this really benefitted me because it reduced the nerves I would normally get in an exam hall setting."
"Overall my experience in DCU was a positive one. If anyone was considering going to DCU I would say it is a great choice. I would definitely recommend going to the open days that they offer as you can get a feel of what the college is like."
Since finishing college in June 2021 she has been working as an Analytical Services Technician for a food testing company. This week she confirmed "I am about to start my career as a medical lab aide in a hospital which I am really excited for as it is something I have been interested in for a long time."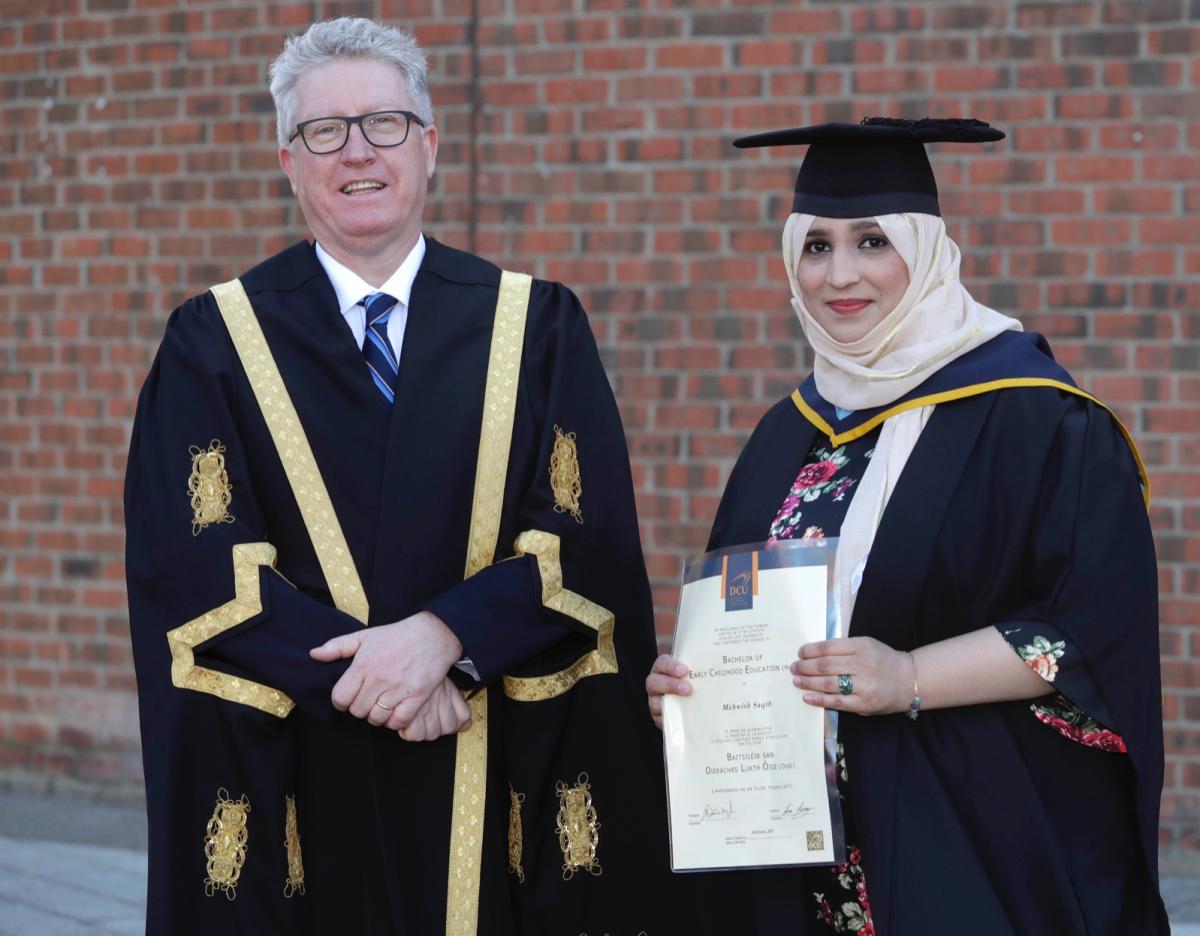 "I feel so proud' says Mehwish Saqib, who graduates with a Bachelor in Early Childhood Education from the Institute of Education, DCU.
Mehwish Saqib availed of the opportunity to get her degree through DCU's University of Sanctuary scholarship and, as part of its very first intake in 2017, she is one of the first to graduate under it. It allows refugees and asylum seekers to complete third level education.
She completed the entirety of the course, including a dissertation, while living in Direct Provision with her husband Muhammad and their three children aged 10, 8 and 5. During her time in DCU, Mehwish and her family were served with deportation orders which they have appealed. As she prepared for her graduation, which her family will join her for, she said, "I feel so proud (and) so lucky, I got a huge opportunity to do this degree."
She said that if somebody asked her what good things have happened for her since arriving in Ireland 6 years ago she would say two things. One was having her youngest child and the other was the opportunity to study for her degree. "It is my passion to educate and pursue the teaching and childcare sector as a profession," she said. The final 18 months of the course were online due to the pandemic.
She admits that this was difficult as the course had previously been entirely on campus. She had her children being home schooled at the same time but, with support from her husband, she continued her studies. "Where I live in Direct Provision, the massive problem is the internet. It takes so long to download files and for all of the classes I had to log in and then log in again. It was hard but I managed."
"The tutors were very supportive. They gave extra time if I needed an extension and if I didn't understand something I would email them and they would answer." Her route to third level began with a Level 5 course in childcare completed while in direct provision in county Mayo. When the family moved to Mosney, county Meath she heard about the University of Sanctuary scholarship and applied to DCU not knowing if she would get it. Being awarded the scholarship was "a huge, huge opportunity because if it did not happen, I cannot do this degree, I am not financially able."
Her dissertation was on supporting children in guided play and if she was able to, she would like to do a Masters in education for children with special needs. "I want to know their psychology and how they can be supported." She has applied to do a Masters but "because of my status they cannot give me a place." The degree included work placements and Mehwish would like to continue her studies or work in the area, possibly managing a pre-school.
Her time in DCU also allowed for her to feel connected to Ireland and the community. "The Irish community gave me so much during that time," she said, including, "during the hard time when I got the deportation (order). I am very grateful that I met these good, kind hearted people during these four years." "I want to be an educator practitioner in early childhood education. At the moment I do not have the right to work, I am just sitting at home."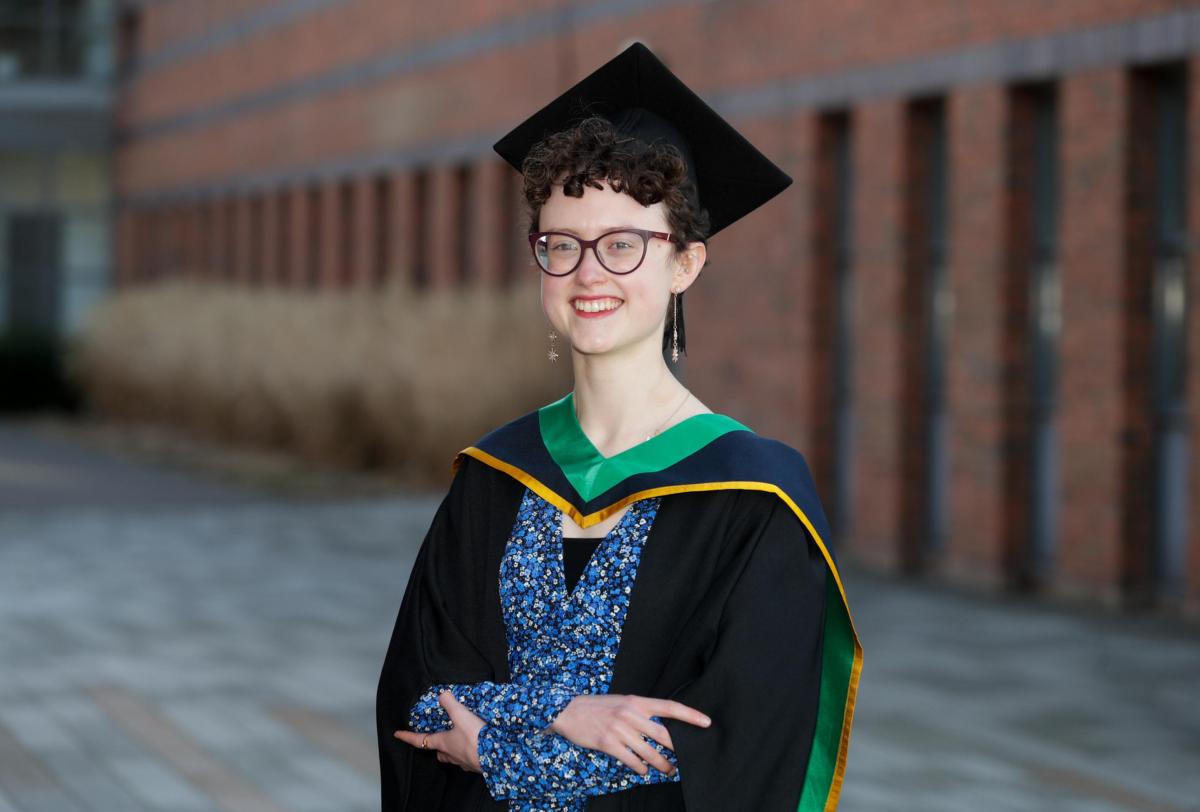 Emily McGill (22) from Donegal Town. Graduating Tuesday 22nd February with a first in Applied Physics.
It was no surprise that Emily McGill chose a science subject for third level but her decision to select DCU for her studies was made after attending an open day on campus. "I really loved the atmosphere at the open day and I thought that the lecturers and the students who were doing demonstrations could not have been nicer and had all the time in the world to talk to you."
Another significant factor in choosing DCU was the inclusion of work experience in the third year of the four year course in Applied Physics. "The logical thing is if you can get work experience, you can get work. That was another thing that drew me to DCU as my aim in going to college was to get a job and have opportunities." Physics was her favourite subject in secondary school in Donegal Town and she chose Applied Physics because of the modules it covered as well as the work experience including in third year.
Now working as a data scientist with Accenture, she said, "there is so much from our course that I use day to day, especially the (computer) programming." From the start she expressed her wish to take part in as much as she could and said that in DCU, "they really, really do take that on board and they help you in finding out about these things," and "with the small class sizes you have such a good friendly relationship with the lecturers."
For her work experience Emily went to IMEC, a semiconductor research facility in Belgium, in January 2020. The pandemic meant she had to return three months early in March but the company allowed her to complete her work using computer programming.
In 2019 she was one of the two DCU students to secure that years prestigious ten week placement Naughton Research Experience for Undergraduates (REU) Fellowship offered by the Naughton Foundation based at Notre Dame in the US. She was nominated by the Head of Physics at DCU, Dr Jean-Paul Mosnier and her ten week work placement in Notre Dame saw her working with Professor Graham Peaslee on research focusing on the use of nuclear physics in environmental applications.
In the Summer between first and second year she did a 12 week internship in DCU and she was also chosen to represent Ireland at the London International Science Youth Forum that year. Due to the pandemic, her last time on campus during her course was in January 2020. For all of her final year, lectures were live streamed and there were scheduled tutorials and all of the final year project were adapted so that they could be completed virtually."
"Obviously I miss the fun aspects of college and getting up and learning every day, it was great. I also feel very grateful that it has prepared me so well for working. I am very glad I went to DCU and in a weird way I am glad I have left, as that was why I went there - to go into a job I enjoy, and I absolutely love this one." Emily graduates with not just a first class honours degree but also with a legacy of friendships made with other students and said, "I don't know anybody who did not come out of DCU without a bunch of friends that they will still know when they retire. We are all very close."
Emily will, on graduation, be awarded the Lynam medal for best overall performance across all physics programmes. Emily was also the recipient of a Naughton Scholarship which
applies to any STEM (Science, Technology, Engineering, Maths) undergraduate programme that is open to applications from high performing academic students.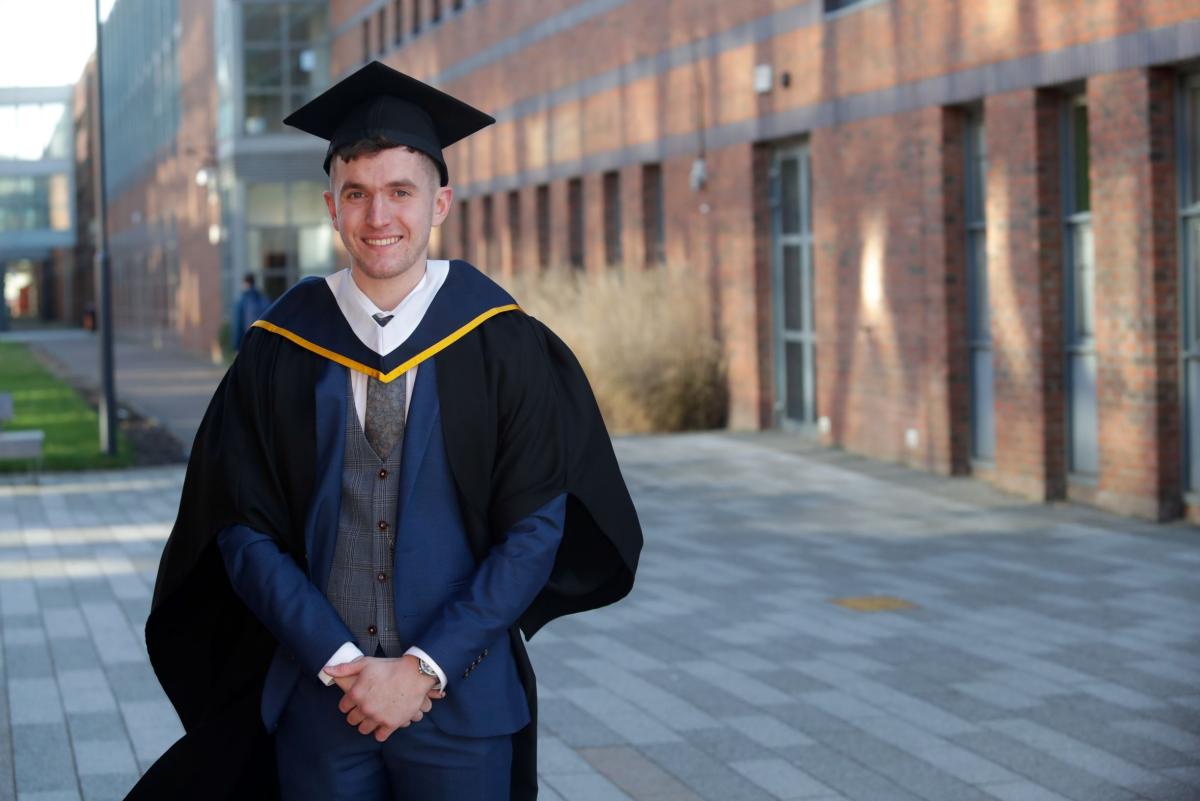 Ian Clancy from Aughrim in Co Wicklow says DCU cares about students and takes time to get to know them.
At DCU, 'they really care about their students' says Ian Clancy who receives his Bachelor of Arts in English and Geography after his joint honours course at DCU St Patrick's campus. Ian, who already had an interest in both subjects in secondary school, wanted to go to DCU after going to open days and "I liked the vibe in St Pat's."
For the first year of his three year course he lived on campus and found the clubs and societies were helpful and there were events held specifically for people with on campus accommodation. He also found "there was a good community spirit in St Pat's because it used to be an independent college so there was always rivalry between Pats and Glasnevin (campus) particularly in GAA." Ian played hurling and they won a Freshers All-Ireland in hurling.
In second year, in a module on geopolitics, he looked at the political issue around waste water treatment and the environmental impact of it. "That steered me towards the environmental side of Geography," he explained. The pandemic, which led to half of his three year course going online, "was annoying," but he got a routine going which made it easier. When he started his course he anticipated he would go on to do a Professional Master of Education (PME) which would allow him to teach.
However he found "I drifted away from that somewhat." It was during an online class towards the end of year three that Ian and his fellow students said to one of the lecturers that they needed more information on Masters programmes. "The lecturer really took that seriously and she organised meeting former DCU graduates who went on different paths; she did not have to do that at all, she was taking time out to do that." The sharing of experiences by the other Alumni made it easier for Ian and has fellow students to relate to and contemplate their next step.
Ian is currently doing a Masters in Climate Change and tutoring part-time and said he believes that in DCU, "they really care about their students." "From the likes of the lecturers who are all highly regarded academics in their own field but they take the time out to get to know their students. I don't know if that happens in all the colleges."
"In the final year we were on a first name basis with the Head of Department and if you went to them with an issue, they were there to support you straight away."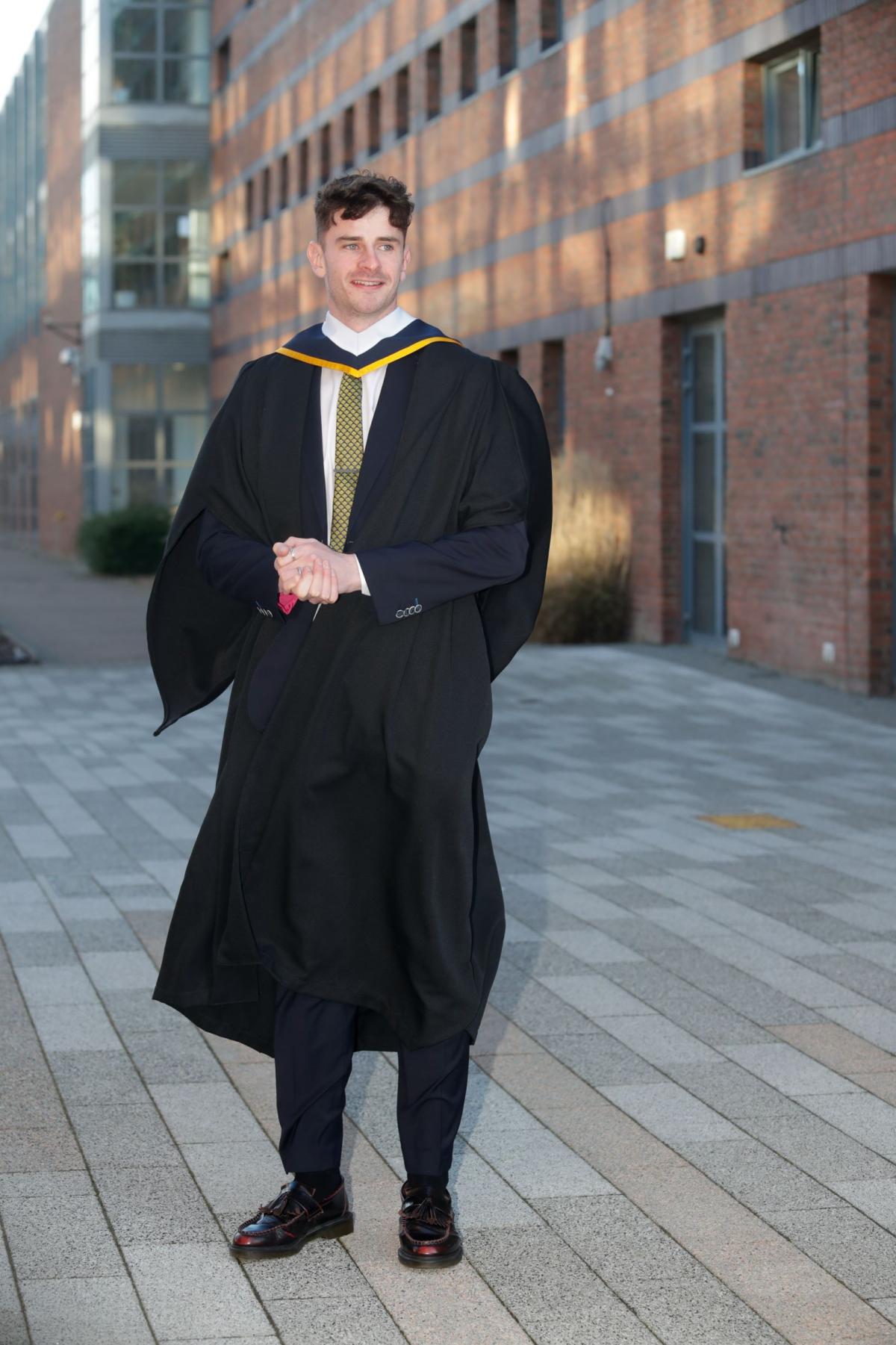 Olympian Cillín Greene may have stood out on the track, but says the DCU lecturers stand out for him.
The support from lecturers in DCU, "does not stop as soon as you leave the college, they are still involved and invested in what you are doing and that is something that stands out. It is a stand out factor of DCU," says Law graduate and Olympian Cillín Greene.
From Claregalway in Co Galway, he had an interest in law from a young age and said, "it was a career I could see myself pursuing." He chose DCU after considering how to best cater for his academic ambitions and his commitment to athletics.
He was one of two DCU Alumni who were part of the mixed relay team that secured 8th place in the 4x400 metre final in Tokyo in July 2021. "When I was in my Leaving Cert year I was in communication with lots of colleges and considering which could cater best for my needs."
"Having spoken to DCU and being in touch with the scholarship coordinator, it seemed like the right place. It had a really good housing set up (with) accommodation with athletes on similar scholarships and the training programme itself was brilliant." He also said, '"the reputation that DCU had for athletics was the best in the country and they have certainly been a dominant figure in that regard. It seemed like the best decision at the time and the best programme for me as well."
Cillín, who is now doing a Masters in Law, said he found sharing accommodation with other athletes was very beneficial. Some of them had performed internationally and there were people he could reach out to if needed. "The training set up is also fantastic, accommodation is in middle of campus, the gym at your fingertips and athletics track is nearby."
He found the structure helped to being balance to training and college life." With the pandemic and the need to be free of COVID-19 for two  months before heading to Tokyo, he said that accommodation was provided for him and two other athletes heading for the Olympics by DCU.
"It was good as we were all on the same training schedule and had the same mindset towards Tokyo and the Olympics." During his course he availed of the Intra internship and said, "the opportunity for Intra work placement is fantastic, especially in law where it is really good to have experience when applying for jobs."
"During the 3rd year I had the opportunity to work in a law firm for that academic year which was a brilliant experience and really helpful. It gave me an edge over people from other colleges." Since completing his degree he said, "what has stood out to me since leaving DCU is how inclusive and how involved the lecturers are." "At the time I was not as aware of how brilliant they were , they wanted to get involved and be proactive and they were reaching out and making sure everybody is okay."
"The support does not stop as soon as you leave the college, they are still involved and invested in what you are doing and that is something that stands out as well. It is a testament to how involved they are. It is a stand out factor of DCU."
The pandemic meant his final year was experienced online. "It was not ideal but we were all in the same boat. The lecturers understood the position we were in and were extremely accommodating to our needs and were patient. It was as easy of a transition as it could be."
He said he would highly recommend DCU "to anyone looking to further their studies, it is a fantastic college. It is very easy to make friends, there are a lot of events on, and you get to see a lot of familiar faces. The atmosphere on campus is welcoming."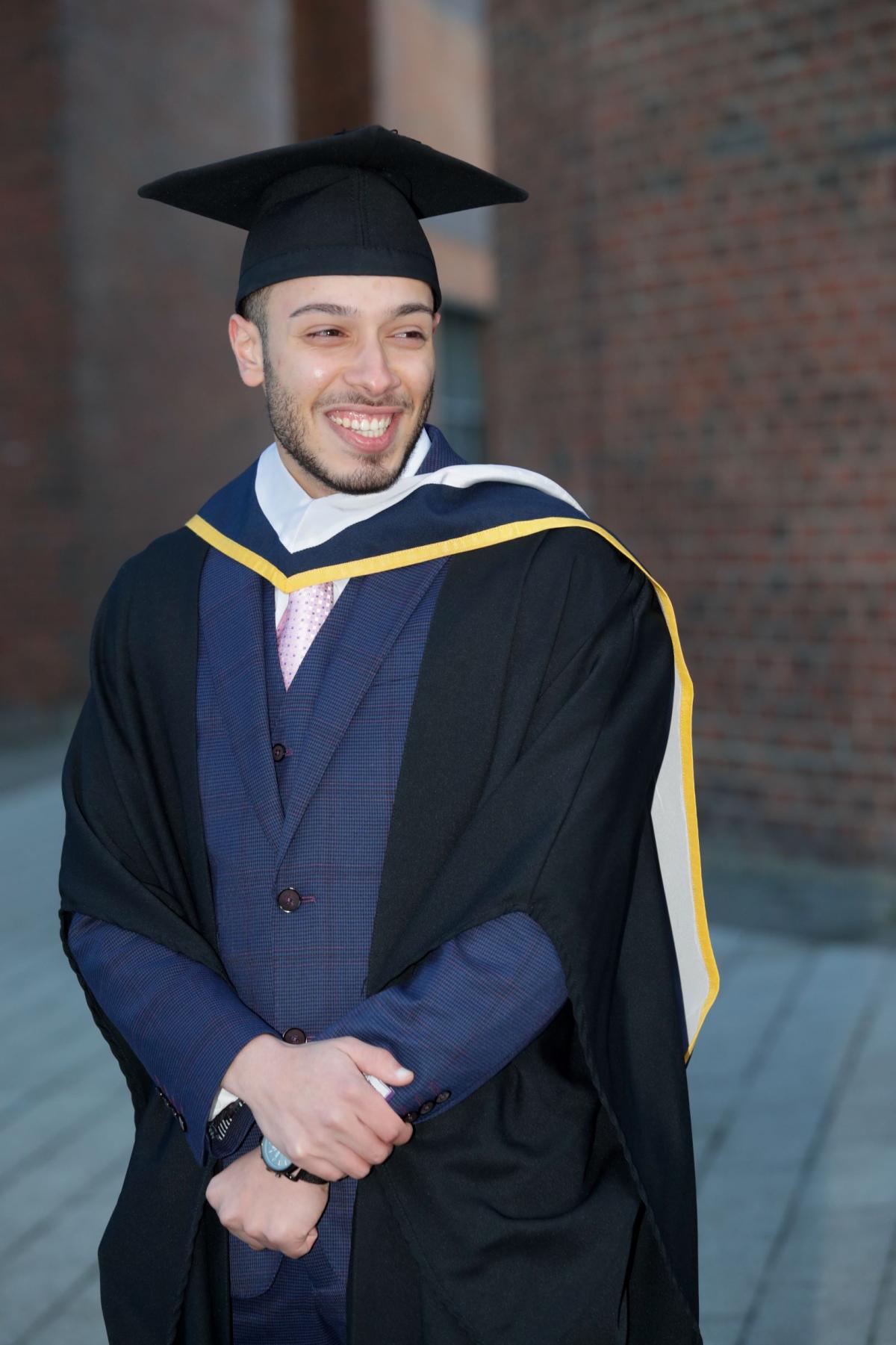 Anas Ouadina, recipient of the inaugural Colm Delves Memorial Post-Graduate Scholarship, chose a 'unique' course in DCU.
Anas Ouadina was always interested in business and availed of the Higher Education Access Route (HEAR) to take up a place studying Economics, Politics and Law.
He said that despite dropping business after the Junior Certificate, "I was always interested in business" as well as economics. "When I saw DCU had the Economics, Politics and Law (EPL) course, at the time it was unique. No one else offered that course and it was different and gave different perspectives."
He said there was also, "a high demand for students from EPL especially for public sector jobs." "It was different to studying pure economics and finance, such as in other colleges. We had that extra edge in another discipline." During his final year in EPL "we were exposed to financial modules and from then on, I was interested in finance. There were modules such as maths for finance and also financial markets portfolio theory as well." For that final year he specialised in economics and he chose not to do an Erasmus year so he could move onto his postgraduate studies sooner.
Anas is originally from Morocco and moved to Dublin with his family when he was six months old. They now live in Blanchardstown. He speaks highly of the support available through the HEAR Access programme.
It is a college and university admissions scheme for school leavers from socio-economically disadvantaged backgrounds. Eligible students compete for a quota of reduced points places and students who get a college or university place through HEAR, also get a range of personal, academic and social supports while studying at third level.
He said, "the Access team was always there so students were never left bewildered, they always had an answer for any question you had. The lecturers were really helpful throughout the pandemic." For anyone considering their third level options, he said, "If anyone is interested in any one of the disciplines my course had to offer, definitely look into it."
He said there is a sense of community throughout the campus and, "so many clubs and societies that nobody is left out of anything, there is always something for everyone to do."
The pandemic was a tough time and he said, "there were times you want to give up," but he found time management was important and he went by his lecture timetable. "I would try and do live lectures, maintain a good diet and going to the gym as well was a way to escape the daily routine and it allowed me to set goals outside of my course."
Now doing his Masters, he applied for a postgrad scholarship for Access students and during last Summer got the news that he was the recipient of the inaugural Colm Delves Memorial Scholarship. He was noted for demonstrating academic excellence, drive and ability throughout his undergraduate degree. Anas was personally selected by the Dean of the DCU Business School, Professor Colm O'Gorman and the scholarship will support Anas as he continues with a Masters in Finance at DCU.