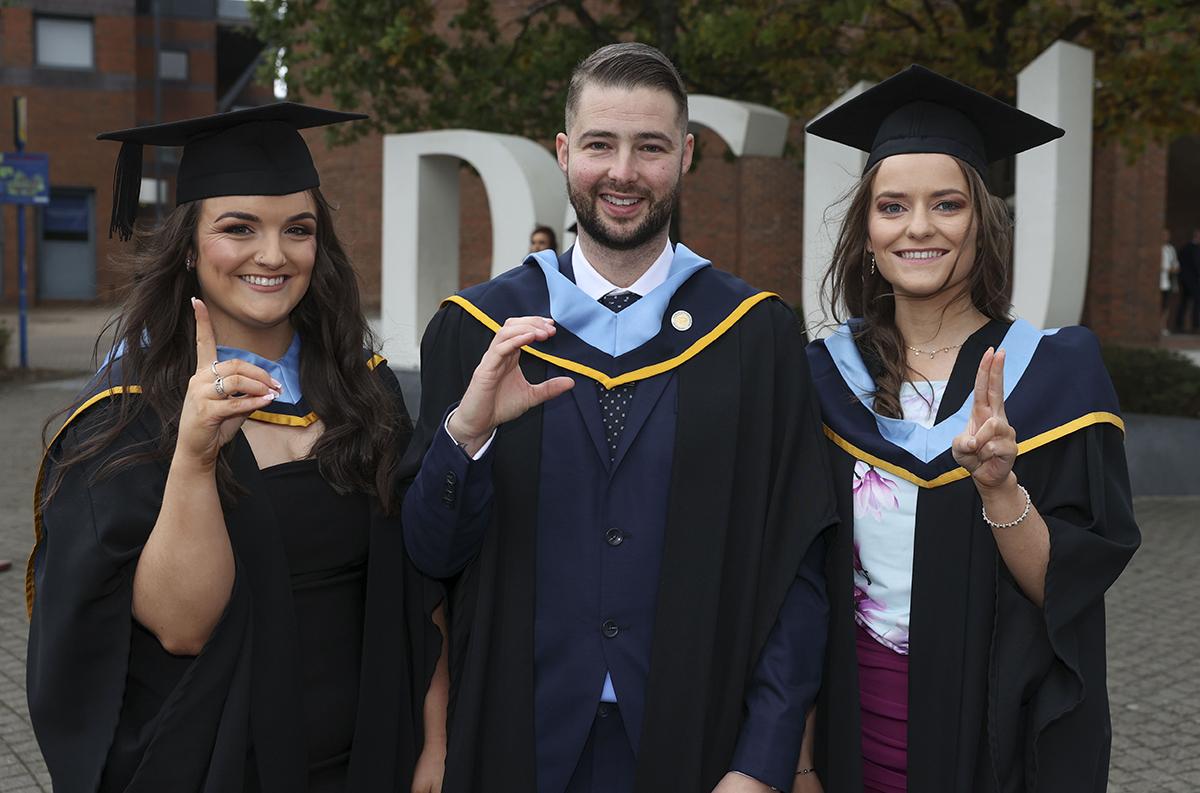 First Irish Sign Language Primary School Teachers graduate at Dublin City University
The first Deaf students to qualify as primary school teachers using Irish Sign Language (ISL) graduated at a ceremony today (Monday, October 23) in Dublin City University (DCU). 
The three graduates, Kevin Dudley (Dublin), Aimee Ennis McLoughlin (Dublin), and Aisling O'Halloran (Galway) completed DCU's Bachelor of Education (B Ed) through a pilot ISL Pathway. Introduced in 2019, the programme enabled Deaf and hard of hearing people who use Irish Sign Language (ISL) to enter primary teaching for the first time. 
In recognition of their contribution to the University, DCU used the ISL version of its anthem at today's graduation ceremonies for the first time. The University will show this version, filmed on DCU campuses at all future graduation ceremonies. 
At the ceremony, Kevin Dudley was presented with the Chancellor's Medal - an honour awarded to exceptional students who have made a significant contribution to University life.
Kevin previously had a career in sports, as a professional football player for Shamrock Rovers and Bohemians. However, a stint as a replacement P.E. teacher at a deaf school sparked his interest in becoming a teacher: 
I actually found that I loved teaching. It was something that lit a fire inside me, and I knew this is what I wanted to do for the rest of my career.
Aimee Ennis McLoughlin said graduating from DCU is a proud moment for her and her colleagues:
It's such an honour to be able to say, yes, I am one of the first qualified Deaf primary school teachers in Ireland.
The three graduates now work together as part of the teaching staff at Holy Family School for Deaf Children in Cabra, Dublin. Aisling O'Halloran said the three ISL students quickly became great friends as they took on the challenge of studying for the B Ed: 
We had each other, we would support each other, and so we knew that we would get through it, and that was great.
The creation of the ISL pathway followed years of campaigning by Deaf community groups. Dr Elizabeth Matthews from DCU's Institute of Education was among those pressing for this initiative, which she believes will have a transformative impact on Deaf children's education in Ireland: 
The ISL pathway was created primarily so that Deaf children who used Irish Sign Language could have teachers who were also Deaf ISL users. The importance of early effective language modelling for Deaf children was one of the driving forces for this initiative. So too was the belief that Deaf children deserved to have Deaf role models in influential positions in their school system.
Dean of DCU Institute of Education, Prof Anne Looney said: 
These first three graduates are already working in classrooms with deaf children. To these children and their families, these teachers send a clear message that a university degree and a teaching career are open to them.
The pathway is supported with funding from the Higher Education Authority's Programme for Access to Higher Education Fund, on behalf of the Department of Education. Folens and Reach Deaf Services have also provided scholarships for all of the B.Ed ISL pathway teachers throughout the duration of their degrees. The programme has also been shortlisted for a Times Higher Education Award in the Widening Participation or Outreach Initiative of the Year category.