School of Law & Government and Electronic Engineering
Global Challenges (subject to final accreditation)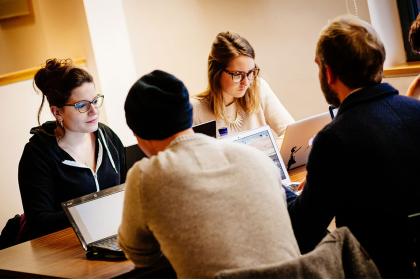 Course Type:
Undergraduate

+353 (0) 1
700 5937

shirley.coyle@dcu.ie
Looking for a challenge? Take on the global challenges through challenge-based learning.
The DCU BSc in Global Challenges is for people who want to challenge themselves to take on the world's problems.  This unique programme integrates social science and technology studies through challenge-based learning.  Technological advances can bring about huge changes to the way we live. Students will also explore the societal and economic impacts of new and emerging technologies, and their effect on the future of work, environmental impacts and community interaction.  
Students will engage with concrete problems, such as climate change, gender stereotypes, fake news, global health and global inequality.  Solutions to these problems will be explored through simulations,  hackathons and interdisciplinary team-work.   Challenges will be inspired by examples from the public, private, and NGO sectors, as well as student-generated challenges.  We will equip graduates to develop socially effective technological solutions to real problems. 
"In the Ireland of 2021 and beyond we are experiencing an unprecedented pace and scale of current and future complex societal, legal, climate, technological and matched policy change.
It has therefore never been more important that we appropriately prepare, equip and populate the Irish workforce with graduates that are system thinkers who are fluent with the requisite technological knowledge and societal competencies to be leaders in a changing, technology-infused workplace to effectively deliver on this change agenda."
Anna Shakespeare (Chief Executive Pobal (Government supporting communities)
The programme includes modules such as climate change, politics, design thinking, international development, data analytics, public policy, artificial intelligence, security and peace studies, ethics, social science options to study China, Africa, Western and Eastern Europe, as well as the USA.  There will be technology options, such as sustainable design, the Internet of Things, digital interaction and opportunities for rapid prototyping of technological solutions.  The highlight of each year will be an extended team challenge, which requires the integration of social science and technology skills.  The third-year will be a placement in the private or public sectors.
This new programme will be taught in smaller classes than is typical and only twenty ambitious students will be admitted in the first year.  Some classes will be shared with other programmes and be assessed through the usual individual examinations and projects.  However, the BSc in Global Challenges will emphasise collaborative work in class and for assessment purposes.  In selecting, developing, and adapting challenges we will work with our networks in the public, private, and non-profit sectors, as well as guiding you in selecting your own team challenges.
Employers are already demanding technology-savvy, quantitatively strong generalists and this programme will produce the sort of fit-for-the-future people required. Technology is changing at a rapid rate and organisations need to adapt to keep up in this digital era. Graduates of the BSc in Global Challenges will be prepared to be future leaders who are big picture thinkers, creative problem solvers, socially engaged and passionate about social and technological innovation.  
Requirements
Leaving Cert
In addition to the general entry requirements for admission to the university the following entry requirements apply
Minimum of H5/O2 in Mathematics
GCE A Level
In addition to the general entry requirements for admission to the university the following entry requirements apply
GCE A Level C Mathematics
International Applications
International candidates are expected to have educational qualifications of a standard equivalent to those outlined above. In addition, where such candidates are non-native speakers of the English language they must satisfy the university of their competency in the English language. For further information on international applications click here.