School of Law and Government
MSc in Public Policy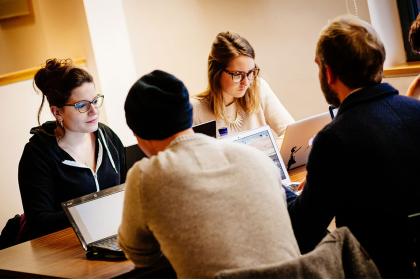 PAC Code:
DC648(Full Time), DC649(Part Time)
Course Type:
Postgraduate

+353 (0) 1
700 8862

deiric.obroin@dcu.ie
We are happy to announce that we will be delivering this programme fully online in 2020-2021.  See further details under the Programme Tab.
Introduction
Recent crises have exposed flaws in the policymaking systems of many countries around the world, and very markedly in Ireland. In part, these flaws reflect the technical capacity of policymakers to effectively formulate and implement public policies and analyse potential consequences in complex and evolving circumstances.
This relationship is recognised by the Irish state, the EU, and other international bodies as they attempt to increase the number of professionally qualified policy specialists working with them.
In response DCU is offering a bespoke, online interdisciplinary course designed to meet the requirements of a new generation of policymakers — the MSc in Public Policy is a new type of professional degree with an intellectual base and methodological rigour that reflect the needs of a society facing more nuanced and complex challenges.
This programme is being offered fully online for the 2020-2021 academic year. All modules will be delivered in online environments, through a combination of live and recorded lectures, online discussions and forums, as well as individual and group assignments. Teaching will be facilitated through DCU's online learning environment, LOOP, the Zoom video platform, and other tools.
In order to participate in the programme, students are required to have access to a desktop or laptop computer and a reliable internet connection.
Subject to public health advice, should the restrictions around on-campus delivery of teaching change by Semester 2 2020/2021, some optional components of the programme could take place on-campus or in a blended mode combining in-class and online engagement. However, students who are unable to join on-campus activity will be able to complete their degree fully online.
The online programme is delivered by the same high quality and experienced staff who traditionally delivered on campus. Lecturers will provide feedback on your assignments and you will have access to staff via email or Zoom video calls to discuss your work. 
 The above conditions are subject to government and public health advice with regard to restrictions and social distancing measures and may be modified or adapted as the situation changes.
Programme Structure and Content
You'll take four core modules, and choose two other modules from a suite of options, followed by a Policy Analysis Exercise. An innovative departure from the traditional dissertation, this Policy Analysis Exercise — which can be linked to your employment — is an opportunity for you to work on real policy problems set by public organisations.
Programme Aims and Objectives
Viewing public policy analysis as the technology to the science of social science is central both to the delivery of courses and to student assessment.
The course prepares students to perform, understand and communicate professional policy analysis in the public sector and sectors working to it.
Along with online lectures, the programme employs problem-based learning (PBL) — this involves you becoming versed in the most up-to-date aspects of and science behind a relevant discipline, observing these elements in operation by working through case studies, and then using the knowledge gained to solve set problems. 
To prepare you for the working world, you'll be prompted to collaborate with other students to define problems, identify relevant data to solve these and divide work in fair and efficient ways.
View the current course structure
Why Choose DCU?
Draw on expertise across Ireland's most innovative university.

Small class sizes with a diverse student body.

Interactive, problem-based teaching style.

Accessible lecturers with real expertise in their disciplines.

Links to employers and a network of alumni.
Why Do This Programme?
 

Join the growing number of professional policy specialists working directly for state, national and international organisations; or serve as a policy specialist in a private sector or civil society organisation with an increasing need to be informed in public policy.

Become a policymaker or an informed actor in the policymaking system by developing skills and knowledge in quantitative methods, policy design and implementation, research design, communications skills, law, and policy analysis.

Increase your expertise in specific policy areas.

Gain real-world experience of policymaking in a variety of fields through engagement with civil society organisations, local authorities, public agencies and government departments.

Build relationships and contacts with colleagues from a variety of backgrounds, a range of specialists and policymakers that will give you a head start as you build your career.
Programme Chairperson: Dr. Deiric Ó Broin
Tel: +353 (0)1 700 8862
Email: deiric.obroin@dcu.ie
The MSc in Public Policy's range of modules equips participants with a range of social science skills, such as quantitative analysis, research design, economics and communications methods to develop, analyse, evaluate and communicate public policies. These have been carefully chosen, in consultation with key stakeholders such as senior civil servants and ministers, so that graduates of the programme are in position to become leaders in policymaking.
Potential Careers
Policy Advisor
Policy Maker
Public Servant
Communications Consultant
Fees
Requirements
General Entry Requirements
For admission to the MSc in Public Policy programme, successful applicants will have - 
A degree at the level of an Irish or UK Honours undergraduate degree (H2.2 or above) or equivalent, 
Applicants with appropriate combinations of professional qualifications and experience may also be considered. This includes discipline-specific knowledge and know-how; transferable skills; basic research competency; personal effectiveness.
International candidates who are non-native speakers of English must satisfy the University of their competency in the English language.  More information about DCU's English language requirements can be found here

.
Make an Application
To apply for this programme:
All applicants should apply through www.pac.ie

. 

Search for course code DC648 for Full-Time and DC649 for Part-Time.
Provide Academic Transcripts for each and every year of study with English translation if applicable.
Provide a 500-750 word (max) personal statement including:
     (i) Why you wish to study the programme;
     (ii) What in your record and experience makes you suitable for the MSc programme;
     (iii) The impact which you expect the MSc programme would have on your future careers.
Please also include your CV.

 
If applicable, provide evidence of competence in the English language as per DCU entry requirements.  Please see link http://www.dcu.ie/registry/english.shtml.
Please note if you are a non EU student and require a study visa, you are not eligible to apply for part-time programmes as study visas are only granted for full-time programmes.
Application Deadlines
Applications will be accepted on a rolling basis until the programme is full or until the following dates:
Closing date for non EU applicants is 17th July 2020.

Closing date for EU applicants is 30

th September 2020

.
Note applicants who require a study visa for the purposes of studying at DCU, are advised to apply as early as possible.
Queries
Queries from EU applicants should be directed to postgraduateadmissions@dcu.ie.
Queries from non EU applicants should be directed to international.office@dcu.ie.
Commencement of Programme
The programme commences in October 2020.