School of Mechanical and Manufacturing Engineering
MEng in Mechanical and Manufacturing Engineering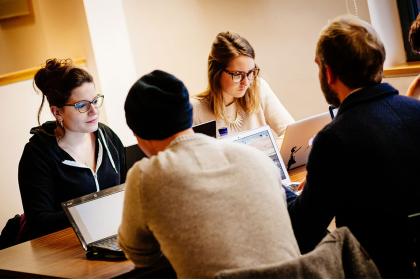 Course Code:
DC814 (FT) DC816 (PT)
Course Type:
Postgraduate
Duration
FT-1 Year, PT-2 Years

+353 (0) 1

Tamas.Szecsi@dcu.ie
The University has launched a new student application portal. For applications to this programme see the Make an Application section below.
Introduction
This Masters programme allows the students to specialise in the widely established area of Mechanical and Manufacturing Engineering or to widen their knowledge from their undergraduate studies. It enables graduates to apply MEng Level 9 learning outcomes using computer–based technology to solve mechanical and manufacturing engineering problems. This programme introduces the use of advanced Computer Aided Engineering tools and, by experiencing these advanced techniques and software, the graduate will gain a vital edge. It allows the candidate to keep up with the rapidly changing manufacturing and design sectors. In addition, students can opt for a specialist Major in one of four areas: Simulation-driven Design, Advanced Manufacturing, Sustainable Systems and Energy, or Biomedical Engineering.
Depending on the student's entry qualification, a number of entry routes to the MEng programme are possible: Direct entry, through an Access Course, through Qualifier Programmes, through the International Foundation Programme.
Major 1 - Simulation-driven Design
Simulation-driven design implements advanced computer aided engineering software and techniques form the very beginning of the product development cycle. The simulation technology can drastically lower the time that product development takes. Instead of simply analysing and testing existing products and systems, simulation can pre-validate designs at an early stage. This is a required trend in Industry 4.0-enabled manufacturing and design.
Major 2 - Advanced Manufacturing
Advanced manufacturing deals with the developments in the manufacturing field during the last decades. It includes high tech, innovative processes, clean and green processes, and flexible manufacturing. Advanced manufacturing makes extensive use of specialised computer software and information technologies. Advanced manufacturing industries integrate new innovative technologies in both products and processes. This major prepares students to design, operate, and manage advanced manufacturing processes and systems.
Major 3 - Sustainable Systems and Energy
Sustainable systems and energy engineering prepares graduates with the knowledge and competence to meet the changing world of sustainability and the growing global challenge of transitioning to zero carbon, environmentally sound, reliable, affordable and sustainable energy systems.
There is a growing international market for Engineers in sustainable energy and development, eco–innovation, resource efficiency and clean–tech sectors. There are lots of career opportunities in the growing fields of Energy/Renewable Energy (wind, wave, solar, biomass etc.); a national priority area for Ireland.
Major 4 - Biomedical Engineering
This discipline integrates the necessary aspects of biology and medicine with the technical engineering aspects required to engineer medical devices. The world of medicine is evolving and expanding rapidly, with new treatments and new diseases appearing all the time. As Ireland is a major player in bioengineering, this Major provides graduates with specialisms required by industry.
There are three exit routes: MEng, Graduate Diploma and Graduate Certificate.
The MEng Programme is offered in full- and part-time, on-campus and guided-study modes. 
Why do this course?
Study part-time or full-time for maximum flexibility.
A modern, state of the art building with excellent teaching, laboratory, workshop and computing facilities.
High graduate employment rate.
Provides an excellent preparation ground for Ph.D research.
Life on Campus
We have three academic campuses close to Dublin City centre - they are located in Glasnevin and Drumcondra, and can be reached by public transport (Dublin Bus).
Each campus has libraries, study spaces, restaurants, and on-campus residencies. Sports facilities are located on two of the academic campuses. We also have a dedicated sports campus in the form of St Claire's. 
Exceptional facilities
DCU students have access to exceptional teaching and learning facilities across our three academic campuses. 
These include modern learning theatres, research centres, television and radio/podcast studios, classrooms, computer suites and advanced labs in the areas of languages, engineering, physics, chemistry and biotechnology, as well as a sports performance centre and training hospital ward. In 2021, we opened our first virtual reality 'Leadership Lab', which is located in our Business School.
Construction on our FutureTech building on the Glasnevin campus will get underway in 2022. Once completed, this facility will advance DCU's international reputation for excellence in science, computing and engineering disciplines. It will have the capacity to accommodate an additional 3,000 STEM students on the university's Glasnevin campus.
Campus life
Among the student facilities in DCU are a sports complex with a 25 metre pool, three libraries and The Helix, our renowned performing arts centre.
In 2018, a purpose-built state-of-the-art new student centre - The U - was opened. This centre serves the needs of a rapidly growing student body of 18,500 and is home to the Student Leadership and Lifeskills Centre, performing arts and cultural spaces for students and the wider community, and an Entrepreneurship and Innovation Hub.
There are more than 140 clubs and societies for students in DCU, with 'Clubs & Socs' days taking place on both the Glasnevin and Drumcondra campuses at the start of the academic year.
Student Supports
We have a number of academic, professional and social supports for students.
Student Advice Centre: Offers a wide range of supports and services to students
The Writing Centre - drop-in writing workshops for students through the academic year 
Maths Learning Centre - provides maths support for students of all ability levels with maths modules 
Student Learning: facilitate the transition from passive to active learning for students at DCU, by teaching study skills, nurturing critical thinking and building student confidence. 
Careers work with students to help them on their professional journey into graduate employment.
Our student support team offers a comprehensive support programme, helping students make that all important transition into university life and focusing on building confidence and skills which are key to success at third level.
Careers
The focused nature of the majors, combined with the continued growth of these important and very successful Irish industrial sectors, will ensure that you are in a pole position to gain employment in a wide range of industries in Ireland and overseas. Graduates of this course have worked as:
Research and Development Engineers
Product Engineers
Quality Engineers
Systems Engineers
Clinical Engineers
Aerospace Engineers
Renewable Energy Engineers
Our graduates have gone on to successful careers in leading companies including NASA, Boeing, Jacobs, Intel, Mercury, Medtronic, Google, ESB and MSD. 
Others have progressed to PhD research and gained further advancement and recognition.
Requirements
For admission to the M.Eng. in Mechanical and Manufacturing Engineering different entry routes, candidates must hold the following -
an award comparable to a second class honours grade 2, H2.2 from an Irish University with a minimum Pass Grade in Fluid Mechanics, Thermofluid Mechanics or similar module
an award comparable to a second class honours grade 2, H2.2 from an Irish University
an award comparable to a third class honours, H3 from an Irish University with a minimum Pass Grade in Fluid Mechanics, Thermofluid Mechanics or similar module                    
(The Access and Qualifier B are part-time programmes - visa restrictions apply)
 If applicant has not yet completed their degree, then conditional offer may be made on basis of most recent grades and pending the achievement of the minimum entry requirements.  
International candidates who are non-native speakers of English must satisfy the University of their competancy in the English language.  More information about DCU's English language requirements can be found here.
Fees
Full time
Part time
EU Status Fee Part-time
See Modular Fees