School of Nursing, Psychotherapy and Community Health
MSc in Specialist Nursing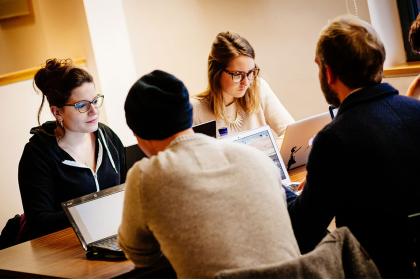 Course Type:
Postgraduate

+353 (0) 1
700 5947

snpchenquiries@dcu.ie
Are you a qualified nurse or midwife keen to expand your expertise and advance your nursing career? This part-time, blended-learning programme enables you to choose one of these specialist pathways: Chronic Disease Management, Population Health Practice or Women's Health. 
Designed by the School of Nursing, Psychotherapy and Community Health in partnership with leading nurses and midwives, the pathways address contemporary Irish healthcare issues and prepare students to work in specialist areas. 
Throughout your study, you'll learn how to develop a person-centred approach to care, design a structured treatment plan, work as part of a multidisciplinary team, and understand how to prevent illness and manage patients.
A two-year, part-time, blended programme that combine theoretical and clinical components offered to all nurses and midwives on the NMBI register*. The programme offers specialist pathways aligned with, and responsive to, national health policies/strategies such as Sláintecare (2018), the National Maternity Strategy (2016), Shaping the Future of the RNID (2018), Sharing the Vision (2020) and the Children's Nursing Strategy (2021) amongst others.
*NMBI Registrants - www.nmbi.ie/Registration/The-Register-and-Divisions. This programme is approved by the Nursing and Midwifery Board of Ireland (NMBI).
Blending theory with practice
Theory is mostly taught online, while you'll gain supervised practical experience on clinical sites.
Once you graduate, you'll be well qualified to work in interdisciplinary health and social care practice, welfare rights and advocacy, community development, health and social activism, health promotion and inclusion, research and academia, and government and policymaking.
The MSc in Specialist Nursing offers 3 specialist pathways, students must choose one of the following:
Chronic Disease Management
Women's Health
Population Health Practice (this pathway will not have an intake in September 2024)
Year One
In year one students will complete a total of 50 ECTS credits.
Students will complete the following core modules:
Health Communications and Digital Solutions
Research and Evaluation Methods
Students will also complete the modules relevant to their chosen specialist pathway.
Women's Health
 

Population Health Practice

(no intake September 2024)

 
Chronic Disease Management 
Women's Health
Specialist 1
 
Population Health
Practice Specialist 1
 
Adult Chronic Disease
Management Specialist 1
Women's Health
Specialist 2
 
Population Health
Practice Specialist 2
 
Adult Chronic Disease
Management Specialist 2
Students also choose one of the following optional modules in year one:
Palliative and End-of-Life Care
Person-Centred Dementia
Adult Advanced Physical Assessment and Intervention
Year Two
In year two students will complete a total of 40 ECTS credits, comprising a Nursing Leadership and Change Management module (10 credits) and a year-long supervised Practice Development OR Research Dissertation module.
The programme prepares graduates to advance their career in specific clinical specialist areas and in leadership and management positions within the health care service.
Requirements
Applicants will typically hold a (NFQ) Level 8 Honours Degree with a H2.2 or equivalent. Candidates will generally hold a primary degree in a relevant discipline.
In addition, candidates must: 
be currently registered in one of the following divisions of the Register of Nurses maintained by NMBI: General Nursing; Psychiatric Nursing; Intellectual Disability Nursing; Children's Nursing, Midwifery.
have a minimum of 12 months post registration experience, which should be 12 months full-time experience OR 24 months at minimum of 19.5 FTE.
be currently employed in the specialist area/setting and provide written evidence, using this template, from their line manager that they will be supported in completing the minimum required hours of practice, including the clinical practicum.
Applicants must be employed for a minimum of 19.5 hours per week or 0.5 FTE.
Due to the specialist nature of this programme, additional criteria may be used to assess suitability to undertake this programme. For further information, please contact the Programme Chair using the contact details above.
Fees
Part time
EU Status Fee Part-time
€7,500 in year one, €2,200 in year two.