School of Mathematical Sciences
Financial Mathematics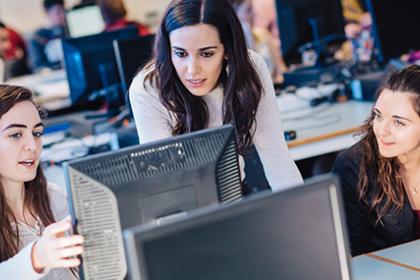 Course Type:
Undergraduate

+353 (0) 1
700 8232

john.appleby@dcu.ie
The BSc in Financial Mathematics course prepares you for a career in the financial sector, reflecting the field's increasingly high level of sophistication in mathematical knowledge and computing skills. This programme will equip you with the knowledge and skills required to design, price, and hedge complex financial products (such as derivatives, options and swaps), to understand the movement of stock and bond prices, and to measure and manage financial risk.
The programme provides you with a firm foundation in mathematics, statistics, and computing for banking, finance, and insurance. It's also suitable for students who intend to pursue careers in business and research roles in industry and academia. It is an intellectually challenging programme both in depth and in breadth, which best suits students with an interest in problem solving, who are keen to apply in mathematics to real-world challenges.       
The analysis of financial phenomena relies on a firm mathematical foundation. You will especially need to understand how numerical systems can persistently undergo change and how to handle mathematically the randomness which is in-built in the financial system. In Years One and Two, you will study several branches of mathematics, especially probability, statistics, and advanced calculus. You will also develop your understanding of economics, accounting and computer programming, and be introduced to applications of mathematics in finance. 
In Year Three, you will start to study how random processes can develop over time, and apply these mathematical methods to examine how financial phenomena can evolve. You'll also learn how to employ sophisticated statistical techniques that are used to investigate large quantities of financial data. Other modules you'll study will introduce the valuation of financial products. You'll participate in an INTRA work placement in second semester.
In the second semester of your third year, you'll participate in INTRA, an internship scheme placing students in relevant commercial employment. This is an opportunity for you to gain experience in financial firms and build industry connections.      
In Year Four, you'll study high-level modern probability, and then apply it to design and price complex financial products such as derivatives and swaps, as well as developing cutting-edge and data-driven models of the stock market. Portfolio management and investor behavior are also investigated in order to quantify and manage risk. The mathematical techniques you will master will range from the highly theoretical to the highly practical. Some of these will require large scale computer simulations which are needed to reliably price the most exotic financial securities.  
Note: Students enter the BSc in Financial Mathematics through DC127 Common Entry into Actuarial and Financial Mathematics. The first two years of the Financial Mathematics programme are common to the BSc in Actuarial Mathematics programme, and students may be recommended for exemption from some of the professional actuarial examinations.
View the current course structure
For more information on every aspect of studying at DCU visit our CAO Hub where you can listen to taster lectures, hear from our student ambassadors and find answers to frequently asked questions.
We have a unique and vibrant culture on our modern campus close to Dublin city centre. We provide state-of-the-art study facilities for all our courses and everything else you need for a healthy, fun and active student life.
Exceptional Facilities
DCU students enjoy exceptional teaching and learning facilities across our 3 academic campuses. These include modern learning theatres, research centres, television and sound studios, classrooms, computer suites and advanced laboratories in the areas of languages, engineering, physics, chemistry and biotechnology, as well as a sports performance centre and a virtual hospital ward.
A Vibrant, Dynamic Social Environment
Student facilities include a superb sports complex with a 25 metre pool, two libraries and The Helix, our renowned performing arts centre. In 2016 we announced plans to invest over €230m in developing new, world-class facilities across our three academic campuses. Already building has begun on an exciting, new €14m Student Centre that will be home to the more than one hundred and twenty student clubs and societies. This commitment to student facilities means that our world-class learning experiences are complemented by a vibrant, dynamic social environment.
Before joining Dublin City University, I had worked as a developer and business analyst in a consulting organisation in India for 12 years and my experience included working on projects in the banking and financial services domain.

When I moved to Dublin to join my husband, I got to know about the MSc in Financial Mathematics (DC704) at DCU. I found the combination of mathematics and finance in the curriculum interesting, and I believed that the program would widen my knowledge in the field of finance and introduce me to new areas of mathematics. The one-year duration of the program was very convenient for me and I decided that it was the opportune moment to pursue this master's degree.

In this program, I enjoyed learning about how probability theory and stochastic calculus pave the way for numerous financial concepts, such as asset pricing and financial modelling. The practical modules introduced me to numerical methods and programming in MATLAB and R in the context of analysing financial data and pricing financial instruments. The lectures were engaging and the interactions with faculty members and classmates were enriching experiences. The many evenings I spent at the DCU library browsing through reference books and working on assignments were really enjoyable. 

Working on the master's thesis in the final semester taught me how to approach a research problem and put into application what I had learnt during the previous two semesters. It also helped me understand the importance of academic writing for presenting the findings of my thesis.

The experience at DCU ushered me into a world new world of mathematics and finance and kindled my interest to pursue research in related fields. More importantly, this program gave me the confidence I needed and prepared me to follow my dream of a full-time research career. 

Sowmiya Doraiappan
Career Prospects
Financial Services
Banking
Investment Manager
Risk Management
Financial Trading
Hedge Fund Services
Fund Administration
As a graduate of the BSc in Financial Mathematics degree, you'll find professional opportunities in a range of areas in the expanding financial sector. Ireland is a major European and global hub for the financial services industry, and is the fourth largest exporter of financial services in the EU.
As well as the careers in finance, banking and insurance for which your degree is specifically designed, as a graduate of the BSc in Financial Mathematics you will also possess an excellent qualification should you wish to progress to further research, to teaching or to employment in business or industry.
Requirements
General Entry Requirements
There is  no direct entry to the programme via CAO. All entries to this programme are via DC127
Fees
Full time
Student Contribution
€3,043 per annum
EU Status Fee
€6,250 per annum
Non EU Fee
€15,000 per annum