School of Nursing and Human Sciences
Homeless Prevention and Intervention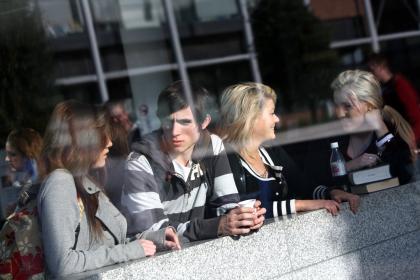 Course Type:
Undergraduate

+353 (0) 1
700 8521

briege.casey@dcu.ie
This programme involves the study of homelessness in society and the personal contexts and complex needs of people and families experiencing homelessness. The programme aims to help practitioners in homeless related services to develop knowledge and skills in the prevention of homelessness and in the use of effective, supportive interventions with people encountering homelessness. The programme is developed in collaboration with the Dublin Region Homeless Executive and a range of Irish Homelessness agencies. 
The Certificate programme consists of three ten credit modules which you will take on a part-time basis over 3 semesters (one module per semester). The programme is delivered using a mixture of in class seminars and workshops in DCU and online lectures, learning activities and exercises via DCU online learning platforms.
Each module requires approximately 42 hours of direct engagement with online/classroom activity as well as self-directed study time.
In the Undergraduate Certificate in Homeless Prevention and Intervention you will study:
Concepts, definitions and classifications of homelessness; socio-economic, personal and health-related factors that influence pathways to homelessness; homeless prevention strategies

The experience of homelessness and its effects on the health and social functioning of individuals and families

The process and practice of effective assessment, support planning and case management in relation to

socio-economic needs and function (finance, housing, education, employment, inclusion)

physical/mental health and substance use

family needs and function

methods and processes of working collaboratively with service users and health/social care agencies
View the current course structure
We have a unique and vibrant culture on our modern campus close to Dublin city centre. We provide state-of-the-art study facilities for all our courses and everything else you need for a healthy, fun and active student life.
Exceptional Facilities
DCU students enjoy exceptional teaching and learning facilities across our 3 academic campuses. These include modern learning theatres, research centres, television and sound studios, classrooms, computer suites and advanced laboratories in the areas of languages, engineering, physics, chemistry and biotechnology, as well as a sports performance centre and a virtual hospital ward.
A Vibrant, Dynamic Social Environment
Student facilities include a superb sports complex with a 25 metre pool, two libraries and The Helix, our renowned performing arts centre. In 2016 we announced plans to invest over €230m in developing new, world-class facilities across our three academic campuses. A new €14m Student Centre is home to the more than one hundred and twenty student clubs and societies. This commitment to student facilities means that our world-class learning experiences are complemented by a vibrant, dynamic social environment.
'Having worked with homelessness services for 12 years, I felt the work on the course cemented my experiences in these diverse and changing services. This recognised certificate lays the groundwork for interested workers who need an informative, reality based, broad, frontline approach to the delivery of advocacy based services in these dynamic and challenging times.'  Project Worker
As a graduate of this course, you will have achieved a 3rd level undergraduate certificate specifically related to the contexts, needs and effective support interventions among people who experience homelessness. In addition to improving your knowledge and competence in working and developing practice in this area, you will have enhanced your professional profile and will therefore have a competitive edge in future employment and promotion. Some of our recent graduates have opted for further undergraduate or postgraduate study in DCU and elsewhere. 
In addition to improving your knowledge and competence in working and developing practice in this area, you'll enhance your professional profile. You'll broaden your career horizons, to include the areas of:
Requirements
General Entry Requirements
Your current role should involve working (including assessment and support planning)with people experiencing homelessness 
Educational attainment at Leaving Certificate level or equivalent (further information is available from the Course Co-ordinator)
Access to and ability to use a computer
International Applications
International candidates are expected to have educational qualifications of a standard equivalent to those outlined above. In addition, where such candidates are non-native speakers of the English language they must satisfy the university of their competency in the English language. For further information on international applications click here.
Fees
Full time