School of Nursing, Psychotherapy and Community Health
Certificate in Peer Support Working in Mental Health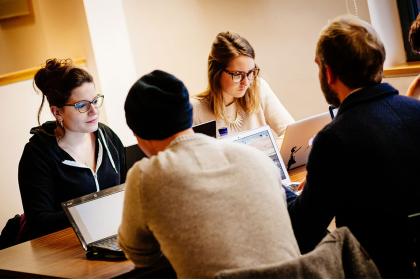 Course Type:
Undergraduate

+353 (0) 1
700 7861

sinead.pierce@dcu.ie
The University has launched a new student application portal. For applications to this programme see the Make an Application section below.
This course is for people who would like to be Peer Support Workers or Family Peer Support Workers in the area of mental health. This course will help develop your knowledge and skills in order to develop your practice as peer support workers in mental health inpatient and community settings. This Certificate will help you enhance your existing strengths and skills so you can make a greater impact in your role. On this course you will examine the latest trends and developments nationally and internationally in recovery orientated mental health practice, explore the historical, statutory and policy framework in which the Irish Mental Health Service operates within, understand the core principles, competencies and practices of peer support working and the principles of the individualised nature of recovery and a person centred approach, engage in reflective practice, supervision and support structures to maintain fidelity to the role of professional peer support working.
The philosophy of the programme is underpinned by; intentional emancipatory education; utilisation of lived experience; a facilitated (as opposed to didactic) learning process; and the pursuit of practical wisdom. The pedagogical approach is 'co-operative learning', one that has been developing in the School of Nursing and Human Sciences since 2007
 
The Certificate consists of three modules delivered on a part-time basis over two semesters. The course involves attendance in two-day blocks every two weeks during semester 1(10 in total) and once a month (6 days in total) in semester 2 and 16 days on-line work through Loop.   
Students study the following topics:
Models of peer support and practice skills conducive to the facilitation of support and recovery for people with mental health problems and their family members.
Multidisciplinary roles and functions in mental health services provision and potential place of peer support workers in this system
HSE infrastructure, policy and professional practice guidelines that apply to all mental health workers in mental health services.
The historical context of evolving mental health policy and practice in relation to diverse models applied to mental health difficulties and service/professional response
Recovery in relation to contemporary mental health care and national and international standards for the rights of people with disability and mental health and their families.
Variety of underpinning philosophies of psychology, sociology and community development in relation to self and group systems
Styles of leadership in relation to individual abilities and competencies in judgement and decision making
Interpersonal & leadership skills and processes and propose solutions that are effective in groups and community engagement
Effectiveness of community resources in relation to self and community development
The responsibility of the individual and group in supporting/facilitating community learning and development
Innovative teaching methodologies place students' learning styles, and needs at the core of the teaching and learning activity.
Course assessments involve critical thinking, reflection and are based on practice, assignments are transformatory and are personally applicable to the students' workplace.
This course is an established standard for Peer Support Workers employed in the HSE.
We have a unique and vibrant culture on our modern campus close to Dublin city centre. We provide state-of-the-art study facilities for all our courses and everything else you need for a healthy, fun and active student life.
Exceptional Facilities
DCU students enjoy exceptional teaching and learning facilities across our 3 academic campuses. These include modern learning theatres, research centres, television and sound studios, classrooms, computer suites and advanced laboratories in the areas of languages, engineering, physics, chemistry and biotechnology, as well as a sports performance centre and a virtual hospital ward.
A Vibrant, Dynamic Social Environment
Student facilities include a superb sports complex with a 25 metre pool, two libraries and The Helix, our renowned performing arts centre. In 2016 we announced plans to invest over €230m in developing new, world-class facilities across our three academic campuses and a new U Building, a Student Centre that is home to the more than one hundred and twenty student clubs and societies. This commitment to student facilities means that our world-class learning experiences are complemented by a vibrant, dynamic social environment.
"The Peer Support course in DCU equipped me with the knowledge and experience needed to fulfill the role of a PSW. I found the learning engaging and interactive each time we had class and there was always support on hand from the lectures. It's a course where you will learn new skills, new knowledge and have a new found perspective on the area of Mental Health. If you are looking to gain insight into becoming a Peer Support worker, I would highly recommend the Certificate in DCU". Cillian Keane

---

 
"This course made me stop and think about how we all have a part to play in our community. It made me consider marginalised people and how societal norms subtly exclude "others". I learned about my own strengths and weaknesses and how I can support others throughout the process of Recovery- which is a journey without a final destination". Anne Burke

---

 
"The class environment was very welcoming, and the teaching style was better than anything I had ever experienced. It is just amazing how much I have developed over the year". Karol Gairbheith

---
It prepared me in multiple ways such as in gaining an understanding of HSE structures and both national and international policy on mental health. The most important learning, which gave me confidence in my own views, was that the course work and theory underpinned my own knowledge and confirmed what I expected peer work to be. It reminded of the limits of the bio-medical approach and how I would have liked a peer to have been available to provide emotional, practical and social support when I used services myself. I found the course personally challenging, it was tough going, but spending time, working with and hearing so many other peers views and experiences made me realise there is more than one way to support a person experiencing distress. HSE Peer Support Worker
In addition to improving your knowledge and competence in working and developing practice in this area, you'll enhance your professional profile. You'll broaden your career horizons, to include the areas of:
Peer Advocacy
Peer Education
Healthcare
Recovery 
Requirements
General Entry Requirements
Peer Support Workers will have a previous history of mental health problems and be in recovery or recovered. Family Peer Support Workers will have experience of supporting someone with mental health problems. Potential students will be interviewed prior to commencement of the programme. This process will provide an opportunity for DCU staff to review the educational academic entry point of the student and apply RPL guidelines.
In addition to 'expertise by experience' and 'family supporter experience' there are a number of entry criteria:
Evidence of critical thinking, literacy, communication/writing skills at level 5 NFQ. This can be in the form of formal qualifications (e.g. Leaving Certificate) or the equivalent
Where applicants do not have formal level 5 NFQ qualifications they will be assessed through Recognition of Prior Learning (RPL)
Prospective Students must secure a placement  as a peer support worker or a family peer support worker for 19 hours a week (paid or unpaid) for the duration of the course (October - April). The placement can be in a voluntary or statutory services but there must be a placement supervisor to support the peer support worker while engaging in peers support work. 
Fees for the September 2020 intake are set at €2,000. For further details on fees, please contact the Fees Office on 01 700 5875 or fees@dcu.ie
If you have any questions when applying for this course please contact  Martha Griffin for information and guidance
Qualification
Certificate in Peer Support Working in Mental Health
Fees
Full time