Overview
If you have personal experience of mental ill health or have supported others with lived experience of mental ill health, you'll find this course will challenge and broaden your perspective on mental health and peer support. It will also help you enhance your existing strengths, so you can make a greater impact in your work.  
This course includes a placement of 19 hours a week during the year, so that you get practical real-world experience and can apply what you are learning at DCU.  Once you complete this course, you'll be qualified to work as a peer support worker, a family peer support worker, some students also work as a peer educators or peer advocates. 
Gaining vital knowledge and skills
During the course and through cooperative learning methods, you'll gain key knowledge and skills in the practice, policy and models of peer support, while also studying models of mental health,  human rights, power, trauma and community community. 
You'll also examine the latest national and international trends and developments in recovery-oriented mental health practice. You'll also learn more about how the Irish mental health service works, along with the principles of the individualised nature of recovery and a person-centred approach. Throughout, you'll engage with reflective practice, supervision and support structures in the way you would in professional peer support work.
Careers & Further Options
Careers
In addition to improving your knowledge and competence in working and developing practice in this area, you'll enhance your professional profile. You'll broaden your career horizons, to include the areas of:
Peer Advocacy

Peer Education

Healthcare

Recovery
Entry Requirements
Peer Support Workers will have a previous history of mental health problems and be in recovery or recovered. Family Peer Support Workers will have experience of supporting someone with mental health problems. Potential students will be interviewed prior to commencement of the programme. This process will provide an opportunity for DCU staff to review the educational academic entry point of the student and apply RPL guidelines.
In addition to 'expertise by experience' and 'family supporter experience' there are a number of entry criteria:
A copy of Passport.
Evidence of critical thinking, literacy, communication/writing skills at level 5 NFQ. This can be in the form of formal qualifications (e.g. Leaving Certificate) or the equivalent
Where applicants do not have formal level 5 NFQ qualifications they will be assessed through Recognition of Prior Learning (RPL)
All applicants are required to submit a personal statement detailing your experience and interest in the course. Your personal statement should be unique and tailored to the programme for which you are applying. Some guidelines on writing a personal statement can be found here: https://www.dcu.ie/registry/Personal-Statement-Guidelines.shtml#
Prospective Students must secure a placement  as a peer support worker or a family peer support worker for 19 hours a week (paid or unpaid) for the duration of the course (September - April). The placement can be in a voluntary or statutory services but there must be a placement supervisor to support the peer support worker while engaging in peers support work. 
Applicants must include a signed form from a person in your organisation who will supervise you for the duration of this course.
All applicants will be Garda vetted as part of the acceptance process and further details are available on the DCU Registry website.
If you have any questions when applying for this course please contact  Martha Griffin for information and guidance.
Course Structure
The Certificate consists of three modules delivered on a part-time basis over two semesters. The course involves attendance in two-day blocks during the semester (sixteen days in total) and ten days' online work.
You will study the following topics:
Practical ways to support people with mental health problems in recovery and their family members

The role of peer support workers in a multidisciplinary approach to mental health service provision

Health Service Executive rules and standards for all mental health workers

How mental health policy and practice have evolved to their present-day standards

How we measure recovery in relation to contemporary standards of mental health care and in relation to the rights of people with disabilities and their families

Different philosophies of psychology, sociology and community development in relation to self and to how groups function

Different styles of leadership among people with different levels of decision-making skills

How to take the lead in working with groups or communities? 

How to make best use of community resources to achieve personal and community development

How individuals and groups each play their part in helping communities to develop
Personal Growth and Community Engagement 

Peer Support Practice 

Peer Support in Mental Health
For more information on the course structure click here
Fees and Funding
Fees
EU Status Fee Part-time
€2,000
Non EU Fee Part time
€2,100
How To Apply
The closing date for application to the Certificate in Peer Support Working in Mental Health is the 18th of August 2023.
If you are interested in applying for the course please contact Martha Griffin: martha.griffin@dcu.ie
The programme is for people who currently work in a peer support or family peer support role in the area of mental health (paid or voluntary) or will be in a peer support role when the course commences in September 2023.
To apply for this programme:
All Applicants must apply through DCU's Student Application Portal which is available 

here

.  Here's a quick 

step by step guide

 if you need help with your application. 
When you begin your application, you will need to create an account using an email address and password. You must apply using a desktop or laptop computer - applications via mobile devices (phones, iPads etc) will be rejected by the automated system.
Please upload the following documentation:
Personal statement (1,000 words) about your suitability for the course.

Letter from your employer stating that when the course commences in September 2023 and for the duration of the course you will be working at least 19 hours a week (this can be paid or unpaid) in a peer support role.

Include a signed form from a person in your organisation who will supervise you for the duration of this course - peer_support_working_in_mental_health_practice_supervisor_form.pdf

Evidence of critical thinking, literacy, communication/writing skills at level 5 NFQ. This can be in the form of formal qualifications (e.g. Leaving Certificate) or the equivalent FETAC

Passport/Driving Licence or other form of ID
Please note if you are a non EU student and require a study visa, you are not eligible to apply for part-time programmes as study visas are only granted for full-time programmes.
Application Deadlines
Applications will be accepted on a rolling basis until the programme is full or until the following dates:
Closing date for EU applicants is 18th August 2023.

Closing date for non EU applicants is 1st July 2023.
Queries
Queries from EU applicants should be directed to postgraduateadmissions@dcu.ie.
Queries from non EU applicants should be directed to internationalapplications@dcu.ie
Commencement of Programme
The programme commences in September 2023.
Life On Campus
At DCU, our students can expect a unique campus experience. We are known for our excellent teaching and learning facilities, our active clubs and societies, and our great social and sporting facilities. All this makes DCU an exciting place to be. 
DCU has three academic campuses; Glasnevin, St. Patrick's and All Hallows (both in Drumcondra), all close to Dublin City centre. 
They can be reached by public transport, Dublin Bus and Bus Éireann, with our Drumcondra campuses a ten minute walk from Drumcondra Train Station. Glasnevin is a 20 minute walk from St Patrick's and All Hallows. They are also linked by Dublin Bus.
Each campus has a library (O'Reilly, Cregan and Woodlock Hall), study spaces, restaurants, and on-campus residencies. There are sports facilities on Glasnevin and St. Patrick's, and there is a dedicated sports campus, St Claire's, located near Glasnevin on the Ballymun Road.
DCU's 19,000 students have access to exceptional teaching and learning facilities across our three academic campuses. 
These include modern learning theatres, research centres, a new media and TV studio, radio/podcast studios, computer suites and advanced labs in the areas of Languages, Engineering, Physics, Chemistry and Biotechnology, as well as a Sports Performance centre and a training hospital ward. In 2021, we opened our first virtual reality 'Leadership Lab', which is located in our Business School.
We continue to improve and update our facilities. For example, construction of a new world-class STEM facility is underway on the Glasnevin campus. With capacity for an extra 3,000 STEM students, this facility will advance DCU's international reputation for excellence in science and health, computing and engineering disciplines.
Studying in DCU isn't just about course work. The university is rich in student life and activities.
There are more than 140 clubs and societies for students in DCU, with 'Clubs & Socs' days taking place on both the Glasnevin and Drumcondra campuses at the start of the academic year. They span everything from rugby to rock climbing, anime to jazz.
For many students, sport is an important part of the DCU experience. DCU's Sports Complex boasts a 25 metre swimming pool, fitness centre gym, all-weather pitches and squash courts, as well as soccer, GAA and rugby pitches. DCU Dóchas Éireann, the university's GAA club, is the largest third level Gaelic Games club in the country. Meanwhile, DCU Athletics has been Ireland's highest achieving university club for many years. And DCU has dozens of other clubs to get involved in, from Archery to Weightlifting. 
The Glasnevin campus is home to our purpose built, state-of-the-art student centre, The U, which serves the needs of a rapidly growing student body. Here, you will find the Student Leadership and Lifeskills Centre, performing arts and cultural spaces for students and the wider community, and the Entrepreneurship and Innovation Hub. Also located on our Glasnevin campus is The Helix, our renowned performing arts centre.
On our St Patrick's campus, we have the Java Student Hub, a vibrant, warm and welcoming space where students can meet for coffee, play music, use the projector to watch events, or just relax. The walls of the Java Hub were designed based on the cultural history of St Patrick's Campus, including the special references to the notable sporting history and history of the arts.
We have a number of academic, professional and social supports for students.
Student Advice Centre - Offers a wide range of supports and services to students and advice 
The Writing Centre - drop-in writing workshops for students through the academic year 
Maths Learning Centre - provides maths support for students of all ability levels with maths modules 
Student Learning - facilitate the transition from passive to active learning for students at DCU, by teaching study skills, nurturing critical thinking and building student confidence. 
Careers work with students to help them on their professional journey into graduate employment.
Our student support team offers a comprehensive support programme, helping students make that all important transition into university life and focusing on building confidence and skills which are key to success at third level.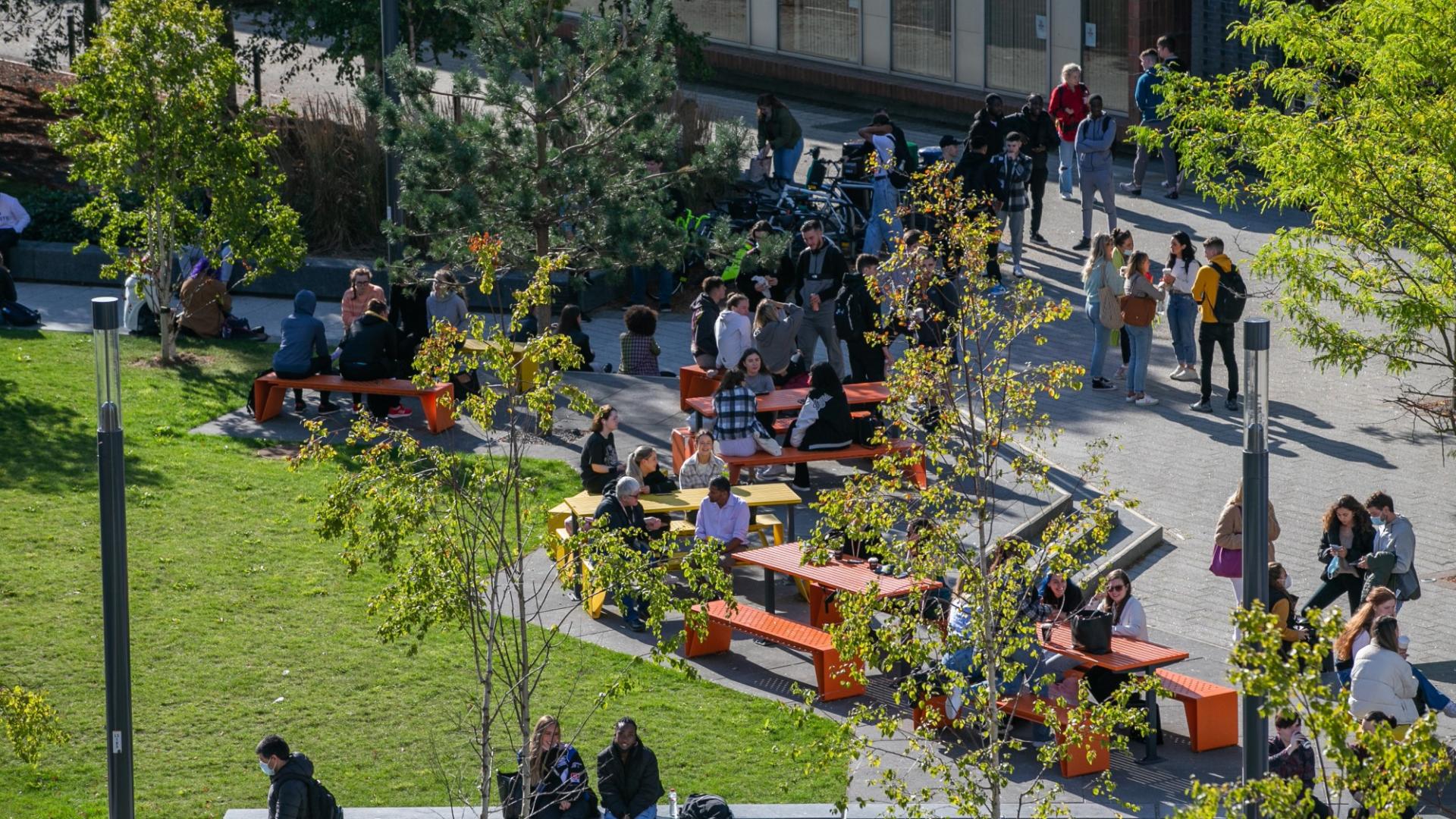 FAQs
Is DCU all one campus?
 DCU is a multi campus university - the Glasnevin, St Patrick's and All Hallows campuses. The St Patrick's campus is where the Education courses are taught and some of the subjects from the BA Joint Honours degree. There is a 20-25 minute walk between the campuses but there are buses and bikes available to go between them also.
Click here to see maps of all of our campuses
If I'm studying on the St Patrick's campus, can I use the library and sports centre on the Glasnevin campus?
Yes, all facilities such as sports and accommodation are open for all DCU students to avail of. 
Does DCU provide accommodation?
DCU does have on-campus accommodation for undergraduate and postgraduate students, and you can find out more and apply via the Accommodation Office webpage.