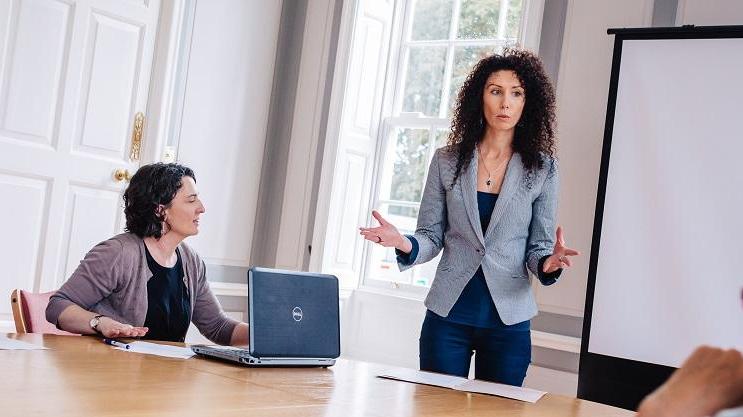 Presentation Skills for Professionals
to
All Staff
Is registration required?
Yes
Free of charge or ticket price
€85.00 (Charged to your School/Unit/Centre)
For more information contact
learning.development@dcu.ie
Course Code DCU034
---
This course will take place over two morning sessions: 09:30 am to 12:30 pm on Tuesday 7th June and again on Friday 10th June 
Aims of this course:
During this session we will share some skills and techniques to help you improve how you deliver an impactful presentation, paying particular attention to presenting remotely.  PLEASE NOTE, THIS IS NOT A TECHNICAL SESSION ON HOW TO USE ZOOM OR OTHER ONLINE PLATFORMS.
Some key topics that are explored during this session include: 
Learn and practice the core principles of presenting a message, whether you are in a meeting, or delivering a presentation to colleagues or lecturing
Understand the 3 key elements to structure an outstanding presentation; the purpose, the audience and the story
Begin your presentation and create interest in your message; use the ROPE© method to engage your audience
Establish if your slides confuse and distract your audience or add value to your presentation 
Understand the difference between presenting to a class full of students or to your team face to face and presenting remotely
Learn to overcome some of the key challenges facing people; connecting with your audience, keeping everyone engaged and maintaining concentration levels when you don't see your audience.
Learn some tips and techniques to keep yourself focused during your presentation.
Who should attend:
This workshop will  help people at all levels who need to deliver presentations, people who are nervous about giving presentation and those who never had any training in this area before.
---
HOW TO REGISTER FOR THIS COURSE
1. Log in to your Core HR portal 
2. Click the Learning and Development tab 
3. Type DCU034 into the Keywords search field and click Search.