Faculty of Humanities & Social Sciences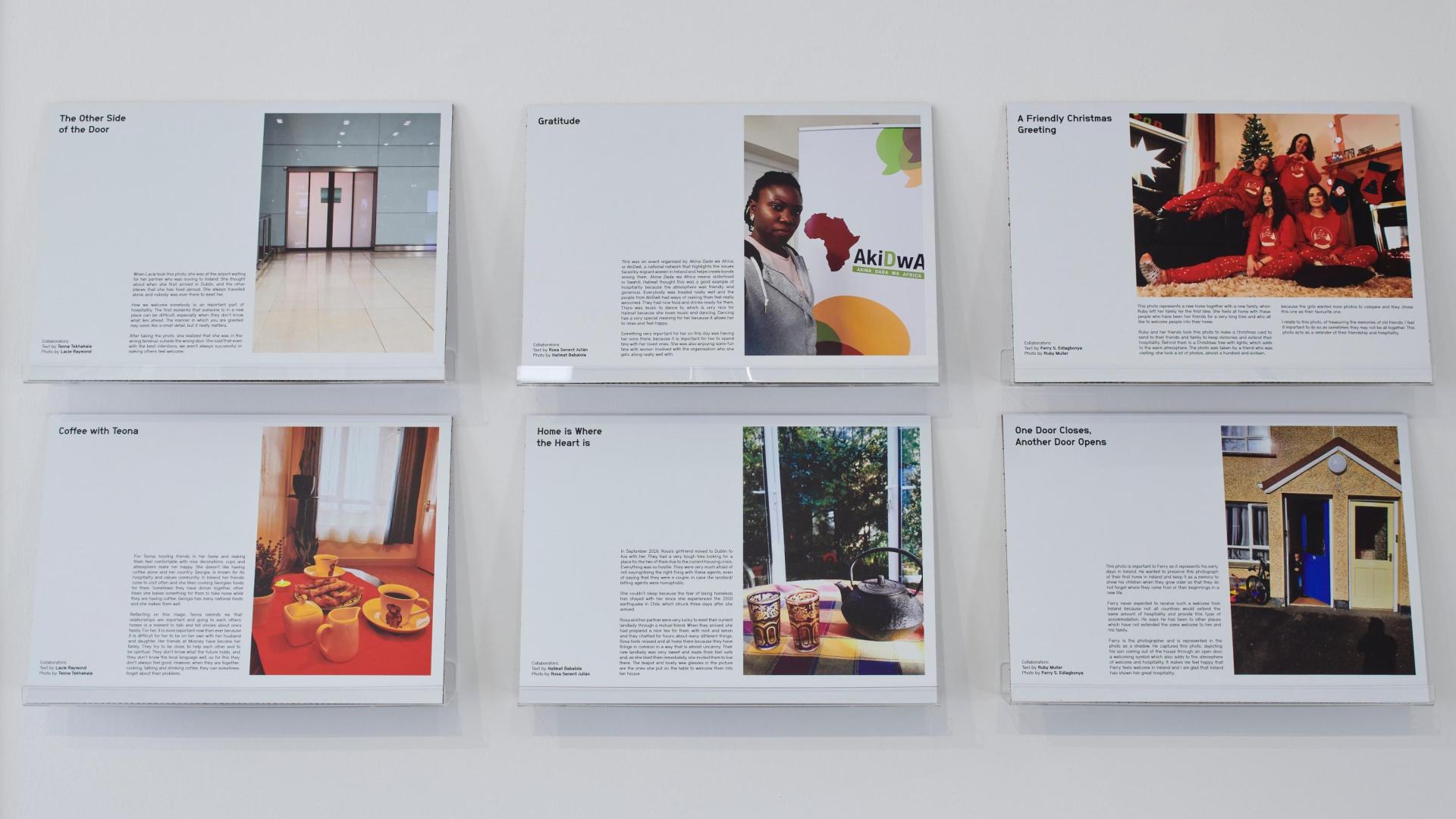 MELLIE Programme's Visual Voices on display at  IMMA 
The DCU MELLIE Programme's Visual Voices exhibition has launched at IMMA. This exhibition is presented in conjunction with one of IMMA's collected works, Bok Gwai/ White Ghost by Anthony Key. Through contrasting processes, both projects probe themes of hospitality, identity and displacement to address connected experiences.
The DCU MELLIE Programme's Visual Voices is a collaborative storytelling project promoting equality, intercultural dialogue and social inclusion, facilitated by Julie Daniel, a PhD candidate in the School of Applied Language and Intercultural Studies. Visual Voices adopts a photovoice methodology of sharing stories, recorded through image and text, to reflect the perspectives of everyone involved, DCU and Direct Provision participants alike. It tells the experiences of the individuals behind the labels of 'migrant', 'refugee', 'asylum seeker', 'staff' and 'student'. The projects presented focus on the themes of hospitality and hope.
The Migrant English Language, Literacy and Intercultural Education (MELLIE) Programme is part of the DCU University of Sanctuary initiative and is designed to facilitate language and cultural exchange. Through shared experiences, Direct Provision residents improve their English, gain a better understanding of Irish culture, and potentially make new friends.
The programme is an opportunity for DCU volunteers to get to know individuals who have come to Ireland seeking sanctuary and thus learn about their lives and experiences in Direct Provision. For Visual Voices, most of which was realised in early 2020 pre pandemic, up to 40 participants met weekly to exchange stories focusing on the themes of hospitality and hope, with engagements continuing online through the early stages of lockdown.
The photography element of the programme was facilitated by artist Vukašin Nedeljković, creator of Asylum Archive.
The joint exhibition will be available to view in the 'Project Space' Gallery from now until 31st March. If you are interested in viewing the exhibition over the Christmas break or into the New Year admission is free but booking is required. To book your admission please visit the IMMA website here.