Faculty of Humanities & Social Sciences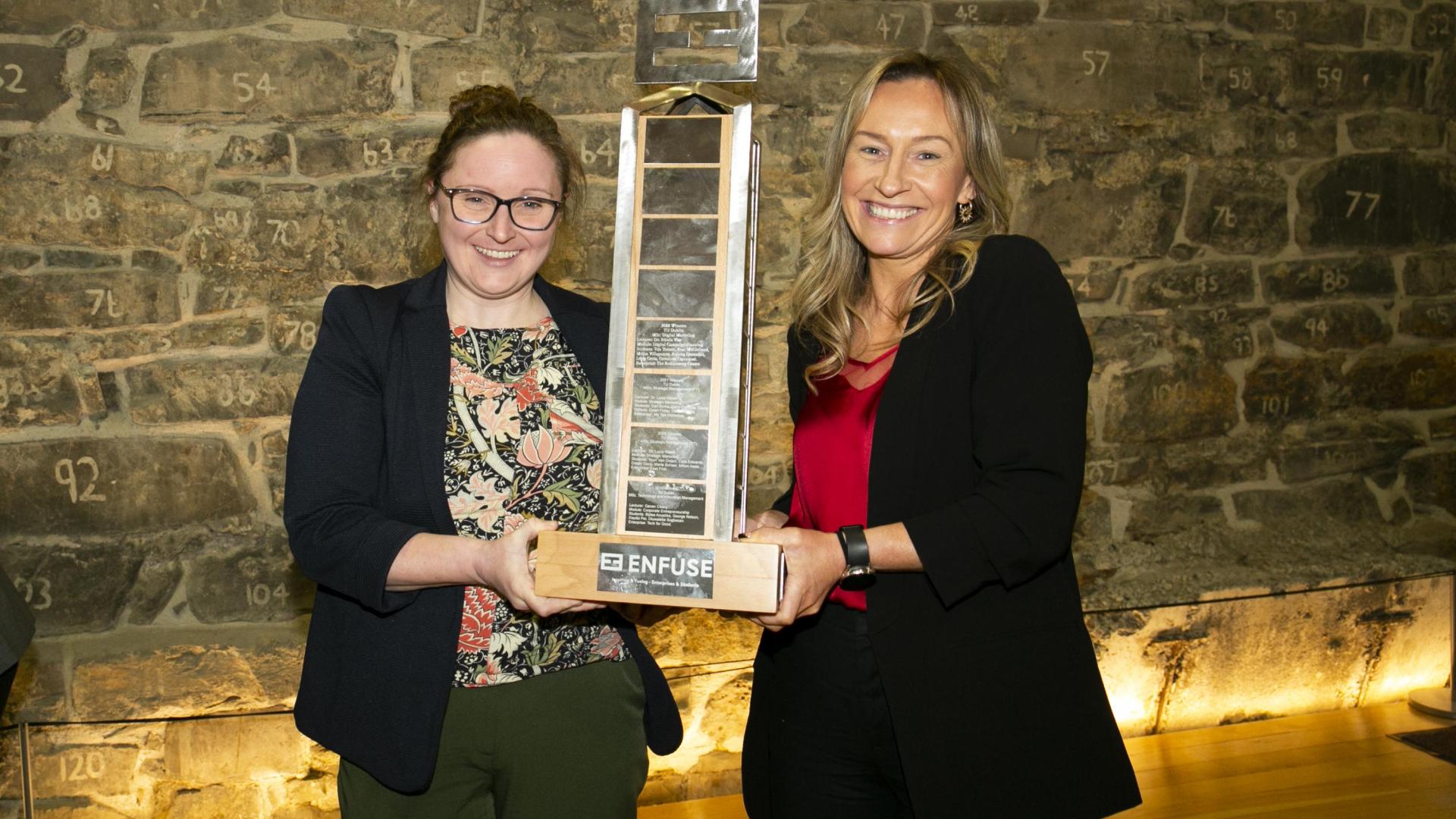 Fiontar agus Scoil na Gaeilge, DCU wins Dublin City Council's 2023 ENFUSE Finals
GA: D'fhógair Comhairle Cathrach Bhaile Átha Cliath go raibh an bua ag mic léinn ar an MSc sa Bhainistíocht agus Gnó Digiteach in Fiontar agus Scoil na Gaeilge, DCU sa chomórtas ENFUSE dá gcuid oibre i gcomhar le Pota Café, fiontar teangabhunaithe i nGaeltacht na Gaillimhe.
Thréaslaigh an Comhairleoir Claire Byrne agus an tAire Dara Calleary, Aire Stáit sa Roinn Fiontar, Trádála agus Fostaíochta a mbua leis na mic léinn. Beidh an trófaí coimisiúnaithe a bronnadh ar an mbuíon mac léinn ar taispeántas in Fiontar agus Scoil na Gaeilge go ceann bliana.
Rinne an buíon taighde agus anailís ar fhorbairt straitéiseach Pota Café. D'fhorbair siad léargas nua ar dheiseanna agus dúshláin margaidh agus mhol siad réiteach cuimsitheach do dheiseanna nua margaidh le tacú le fás agus forbairt Phota.
Seo an 5ú bliain ar oibrigh ENFUSE le micreachomhlachtaí, comhlachtaí beaga agus meánmhéide, agus fiontair shóisialta, i gcomhar le mic léinn máistreachta i gcúig ollscoil agus coláiste i mBaile Átha Cliath. Bíonn Comhairle Cathrach Bhaile Átha Cliath ag obair i gcomhar le hOifig Fiontraíochta Áitiúil Chathair Átha Cliath, mar chuid de Phlean Réigiúnach Fiontraíochta Átha Cliath 2023.
Oibríonn na buíonta ar thionscadail de rogha an fhiontair, i gcomhar leis an bhfiontar agus lena gcuid léachtóirí mar chuid de mhodúl ar leith. Sa chás seo d'oibrigh na mic léinn faoi stiúr an Dr Emer Ní Bhrádaigh, mar chuid de mhodúl ceannaireachta ar an MSc sa Bhainistíocht agus Gnó Digiteach. D'fheighmigh an buíon go hiomlán trí mheán na Gaeilge le bunaitheoir Phota Café, Diarmuid Ó Mathúna. 
Bhí buíon Fiontar agus Scoil na Gaeilge ar cheann den 10 mbuíon ar ghearrliosta ó 57 buíon, a rinne cur i láthair os comhair saineolaithe gnó in oifigí Chomharle na Cathrach, Déardaoin 25 Bealtaine.
Bronnadh duais de thacaíocht meantóireachta agus traenála ó na hOifigí Fiontraíochta Áitiúla ar an bhfiontraí. Bronnadh an trófaí agus mála féiríní ar an mbuíon. B'é seo an chéad uair do mhic léinn Fiontar agus Scoil na Gaeilge páirt a ghlacadh sa chomórtas. Tá éacht déanta acu!
Dúirt an léachtóir An Dr Emer Ní Bhrádaigh:
Táimid an-bhródúil as éacht na mac léinn. Is sampla an-mhaith an t-éacht seo de na deiseanna a bhíonn ag mic léinn ar an MSc teoiricí gnó augs bainistíochta a chur i bhfeidhm trí thabhairt faoi thionscadail phraiticiúla i gcomhar le fiontair Ghaelacha.
Na Buaiteoirí i gCraobh Enfuse 2023:
Buíon: Roisin Ní Aibhistín, Gearoidín Mhic Mhathúna, Dearbháile Ní Fhionaill, Aoibheann Uí Dhochartaigh
Cliantfhiontar: POTA Café
Léachtóir: Dr. Emer Ní Bhrádaigh, Fiontar agus Scoil na Gaeilge
Ollscoil: DCU
EN: Dublin City Council announced that the team from MSc sa Bhainistíocht agus Gnó Digiteach, DCU were the winners of the 2023 ENFUSE Finals for their collaboration with POTA Café.
Cllr. Claire Byrne and Minister Dara Calleary, Minister of State for Trade Promotion, Digital and Company Regulation congratulated the winning team who were presented with a specially commissioned trophy that will be hosted by their university for the next 12 months.
The winning project involved the students conducting research and analysis regarding POTA Café. The team formed insights, proposed solutions and ultimately presented a tangible plan setting out how POTA can expand and develop new market opportunities.
Now in its 5th year, ENFUSE matches local SMEs, micro enterprises and social enterprises with teams of master's level university / college students. Teams develop and present bespoke plans to their allocated enterprises to implement and to their lecturer to assess.
These plans outline ways for the business to address challenges they face and develop competitive opportunities to expand. The initiative is co-led by Dublin City Council and Local Enterprise Office Dublin City in collaboration with TU Dublin, DCU, NCI, UCD and TCD and is supported by and involves numerous regional stakeholders all aligned to the ambitions of the Dublin Regional Enterprise Plan 2023.
Overall, 10 student teams competed at this year's ENFUSE Finals by pitching to expert industry judges on the plans they produced. The 10 teams were shortlisted from a total of 57 teams that participated in ENFUSE 2023. The top three teams won specialist mentoring and training supports from the Local Enterprise Office and supports from the Dublin Regional Skills Forum for their allocated enterprises along with prizes from Dublin Place Brand. 
The winners at the ENFUSE Finals 2023 were:
Team: Roisin Ní Aibhistín, Gearoidín Mhic Mhathúna, Dearbháile Ní Fhionaill, Aoibheann Uí Dhochartaigh
Client Enterprise: POTA Café
Lecturer: Dr. Emer Ní Bhrádaigh, Fiontar agus Scoil na Gaeilge
University: DCU
Further information on ENFUSE: https://www.localenterprise.ie/DublinCity/News/Press-Releases/ENFUSE-2023-Open-For-Applications.html
Further information on the ENFUSE Finals: https://www.eventbrite.ie/e/enfuse-finals-2023-tickets-528273930547