Faculty of Humanities & Social Sciences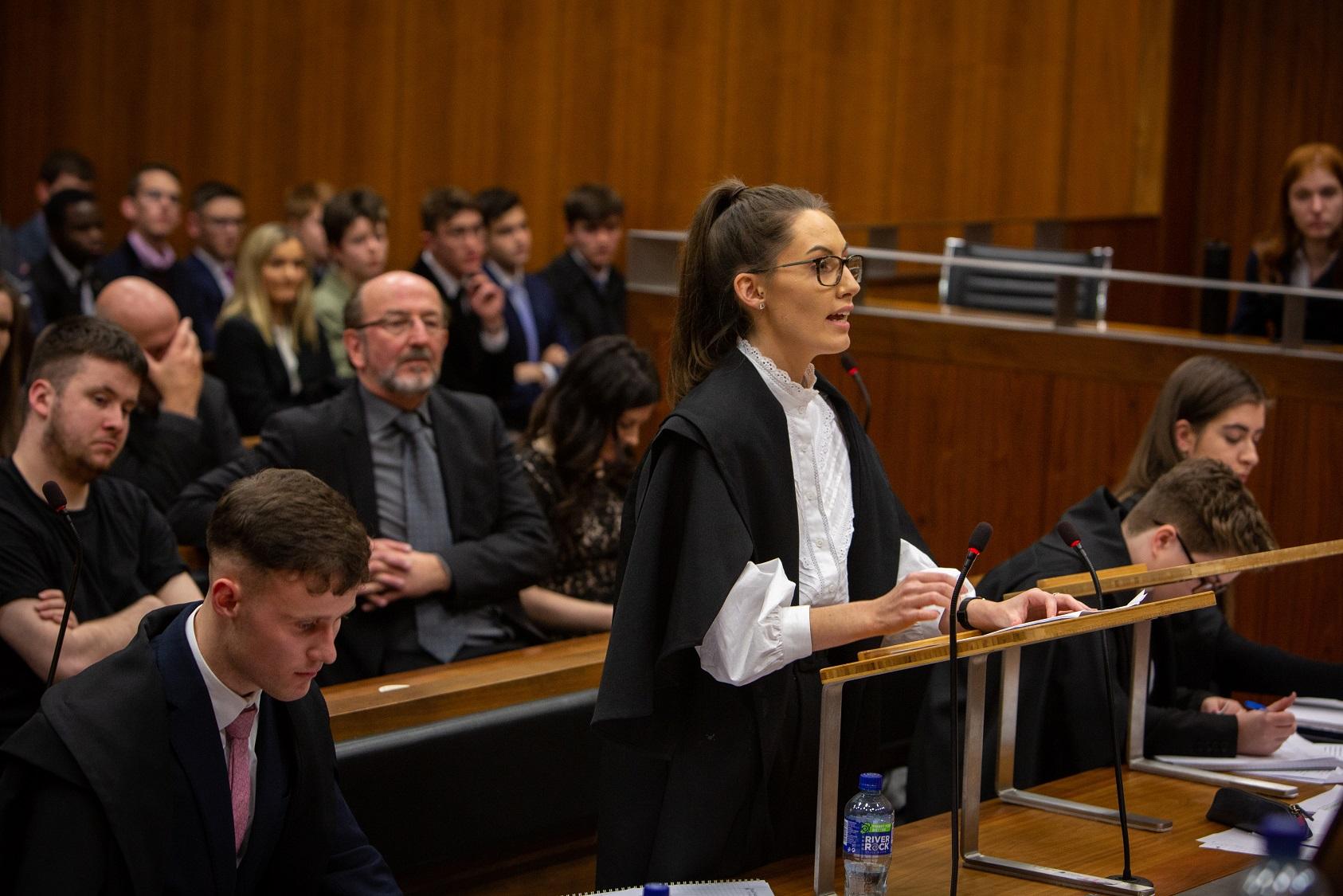 DCU's National Moot Court Competition to showcase upcoming legal talent
 This year marks the 11th year of our National Moot Court competition and it will take place virtually for the first time on Saturday.
A battle of 40 teams
More than 40 teams have entered from 14 institutions across Ireland and the UK, including the University of Oxford which makes its first appearance at this competition. Other entrants include UCD, NUIG, Bristol, UCC, Maynooth, UL and Nottingham.
Grand Final
All the universities will battle it out in preliminary knockout rounds on Saturday 21st November 2020 before culminating in a prestigious Grand Final from 3.30pm to 5pm. The final will be chaired by Justice John MacMenamin of the Supreme Court (DCU's Judge in Residence), a High Court Judge and Tom Casey, Partner in A&L Goodbody.
Prof Iain McMenamin, Head of DCU's School of Law and Government said:
"We are very proud of Dr Aisling de Paor and the many colleagues, students, and alumni who have worked so hard to transform this element of legal education in Ireland and beyond. Naturally we are hoping for a DCU win this year and we look forward to another memorable competition. Sincere thanks to our sponsors at A&L Goodbody without whom this great event would not be possible."
Competition organiser, Dr Aisling de Paor from the DCU School of Law and Government, added: "Our Moot Court is one of the many great ways in which we enhance experiential learning here at DCU School of Law and Government. Participation in our National Moot Court Competition is an opportunity for law students to show their skills to potential employers and often sees students snapped up! Best of luck to all our participants on Saturday."
Live stream
The final will be live streamed and publicly available to view. Everyone is very welcome to tune in and lend their support.
Register in advance:
If you would like to watch the final, please register in advance at this link: https://dcu-ie.zoom.us/webinar/register/WN_bfOcqYMdSWi-ZDgTT_AaUA 
What is Moot Court?
DCU's moot court competition simulates a court hearing, in which participants analyse a problem, research the relevant law, prepare written submissions, and present oral argument. We have a very strong tradition of mooting in DCU. In second year, law students take a year-long Moot Court module and they present their submissions at the end of the year in the Moot Court Room. The room is open to students throughout the year to practice with their teams.  
About the case
This year's problem revolves around the tort of medical negligence. Students are required to prepare written submissions for the Plaintiff/Appellant and written submissions for the Defendant/ Respondent. Students will deliver oral arguments on 21st November. 
The case (fictitious) involves well known Dublin footballer (and part-time model), Bernardo O'Keeffe Da Silva, who, after scoring the winning goal for his club, celebrates excitedly, collides with another player and skids off the pitch, suffering a nasty facial injury. Bernardo attends Galaxy General Hospital and has a medical procedure which goes wrong... chaos ensues! Students will represent either Bernardo (plaintiff) or the hospital (defendant).
DCU's Law Programmes
DCU offers three excellent undergraduate law degrees: BCL (Law and Society), BA in Economics, Politics and Law, and the Joint Honours Law degree. Each features small-group teaching, open and direct access to academic staff and important links with industry employers.. Students from all three of our law degrees can go forward to take the solicitor's entrance exams. The BCL is the only law degree at DCU that is accredited by the Kings Inns for those who want to pursue becoming a barrister.