2020/2021 Seminars
Events - Academic Year 2020/2021
The Law Research Centre at the School of Law & Government, DCU, organizes regular seminars to engage with relevant developments across all fields of law. In academic year 2020/2021, because of the Covid-19 pandemic and related disruptions, the Law Research Centre has scheduled a set of workshops (instead of weekly seminars like in previous years) with multiple speakers (instead of a sole speaker lie in previous years). Through this format, the Law Research Centre endeavors to shed light on the most significant trends, and the future prospects, at play in key areas of law, including EU law, environmental law, privacy law and international law.
Wednesday, 7 April 2021
"The Future of Human Rights Law"
15:30 - 17:00
Welcome remarks: Federico Fabbrini, Full Professor of European Law & Director of the DCU Law Research Centre
Chair: Yvone Daly, Professor of Criminal Procedure & Evidence, DCU
Kwadwo Appiagyei-Atua, Associate Professor in Law, University of Ghana
Joshua Castellino, Executive Director and Professor of Law at Minority Rights Group International, London
David Keane, Assistant Professor in Law, DCU 
Isabella Risini, Lecturer in Public Law, Ruhr-Universität, Germany
The full progamme is available here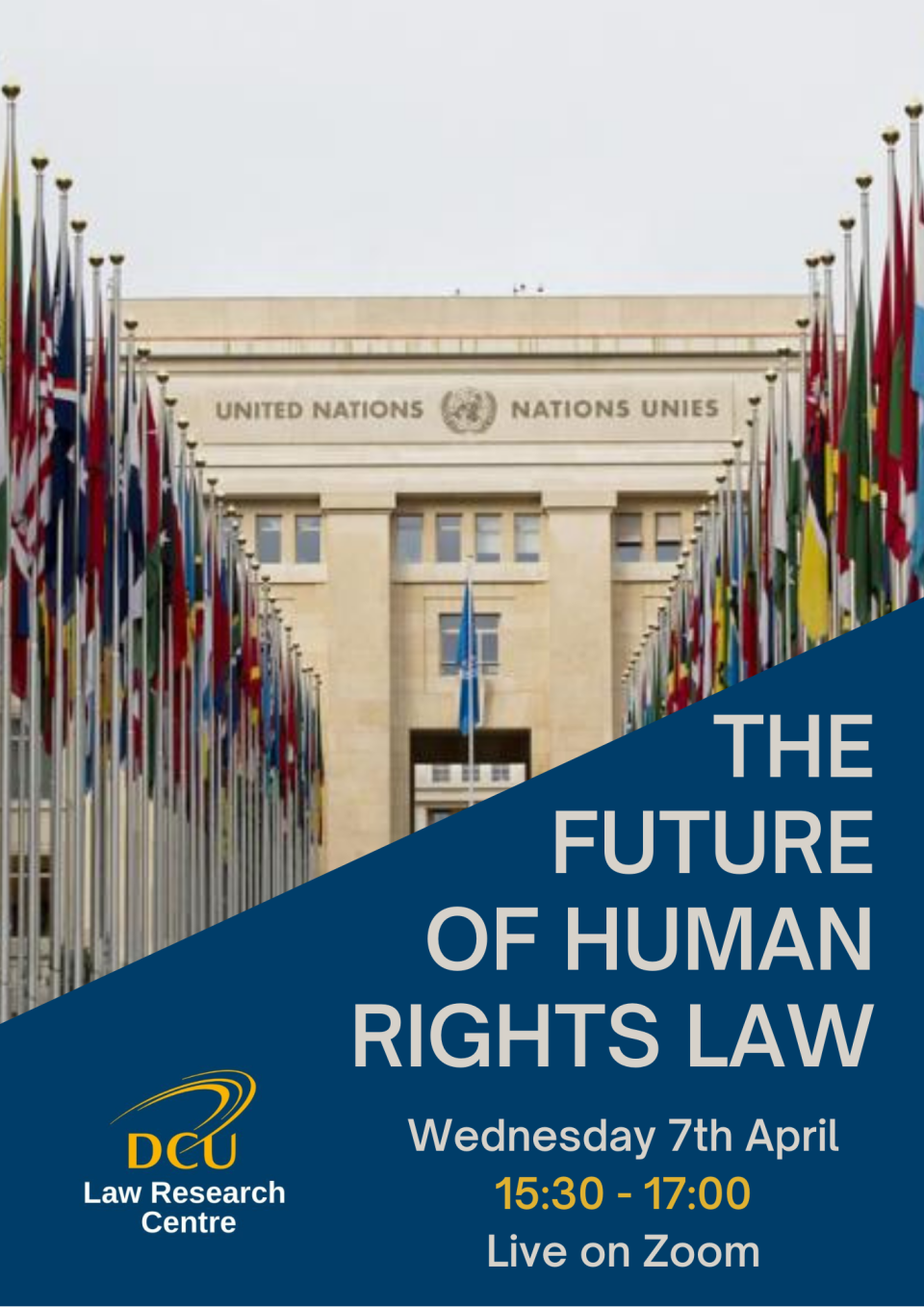 Wednesday, 31 March 2021
"Digital Constitutionalism and Content Governance Understanding Social Media after the Capitol Hill Events"
14:00 - 15:30
Opening Remarks: Anne Marieke Mooji (Dublin Law and Politics Review)
Setting the Scene: Dennis Redeker (University of Bremen)
Roundtable Discussion:
Chair: Dr Edoardo Celeste (DCU)
Prof Maura Conway (DCU) 
Dr Rishi Gulati (DCU)
Dr Suzanne Little (DCU)
Dr Tanya Lokot (DCU)
Prof Eugenia Siapera (UCD)
Presentation of the Project 'Digital Constitutionalism: In Search of a Content Governance Standard':
Dr Nicola Palladino (DCU) 
Dr Kinfe Yilma (Addis Ababa University)
View the programme here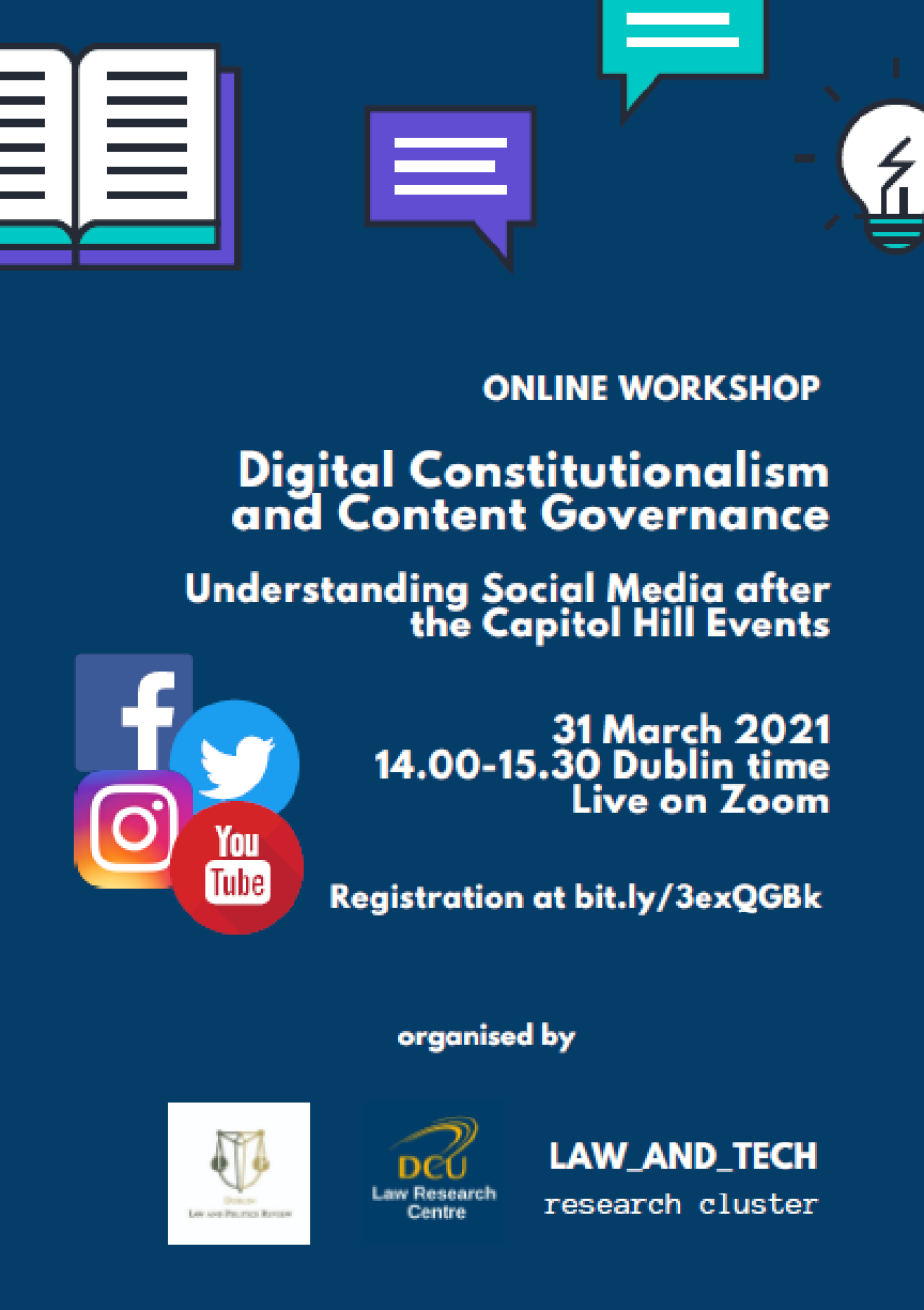 Wednesday, 3 February 2021
"Data Retention, Digital Sovereignty & the Future of Privacy Law"
15:30 - 17:00
Welcome remarks: Prof. Federico Fabbrini (DCU Brexit Institute)
Book launch: Data Protection Beyond Borders:
Transatlantic Perspectives on Extraterritoriality &
Sovereignty (Oxford, Hart Publishing, 2021)
Federico Fabbrini, Edoardo Celeste & John Quinn
(eds).
Panel:
Keynote speaker: AG Maciej Szpunar (EU Court of Justice)
Chair: Edoardo Celeste (DCU)
Roisin Costello (DCU)
Edina Harbinja (Aston University)
Mike Harris (Grant Thornton)
Arianna Vedaschi (Bocconi University)
Conclusion:
Launch of IRC-ESRC Ireland-UK Networking grant
project "Cross DPN (Cross Border Data Protection
Network)"
Co-PIs Edoardo Celeste (DCU) & Napoleon Xanthoulis (Portsmouth University)
View the programme here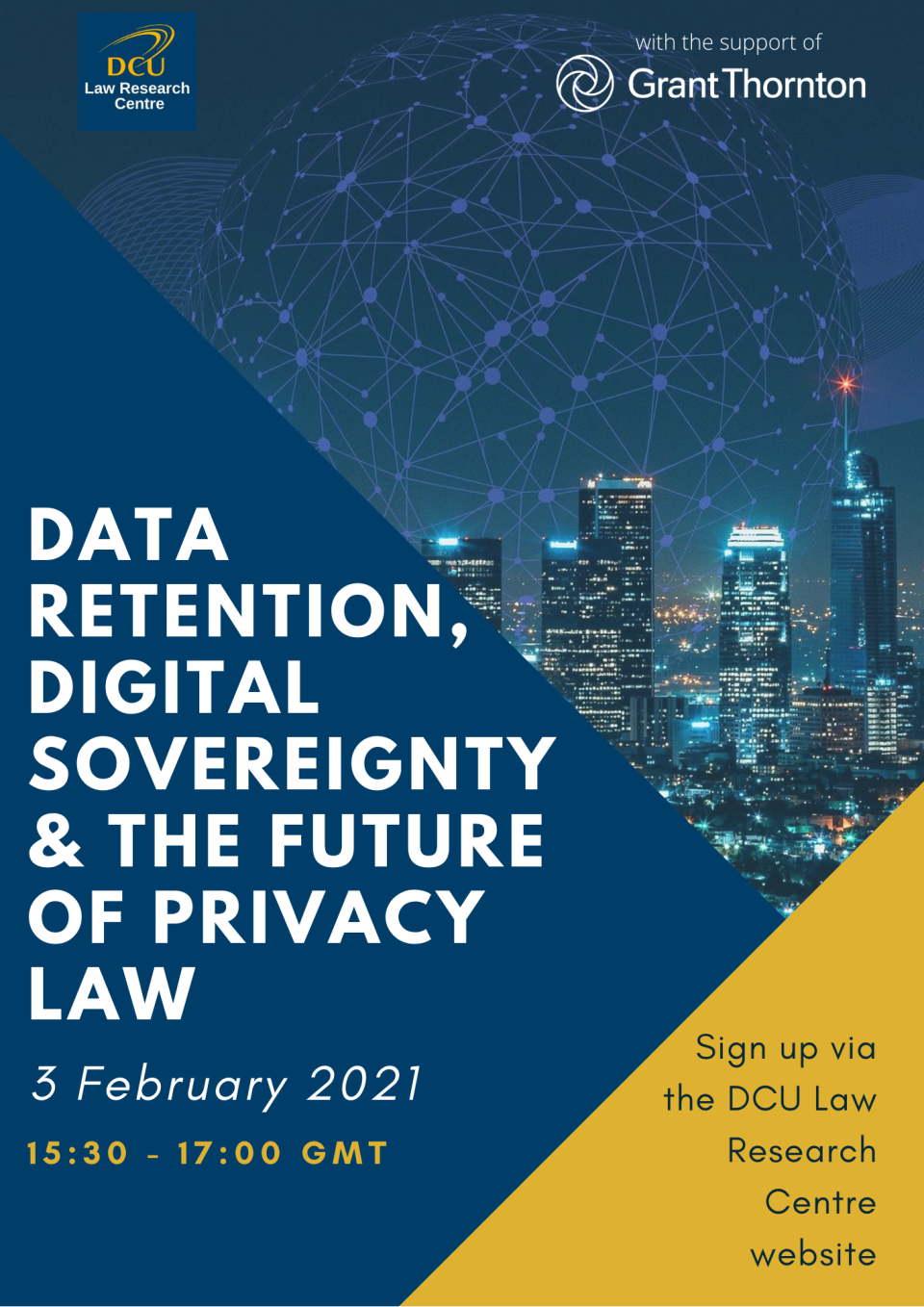 Thursday, 3 December 2020
"The EU Green Deal, Carbon Pricing & the Future of Environmental Law"
15:30-17:00, Zoom
Introduction: Prof. Federico Fabbrini (DCU)
Moderator: Dr Diarmuid Torney (DCU)
Speakers: Prof. Daniel Esty (Yale Law School)
Dr. Beatriz Martinez Romera (University of Copenhagen)
Dominik Englert (World Bank)
Dr. Goran Dominioni (DCU)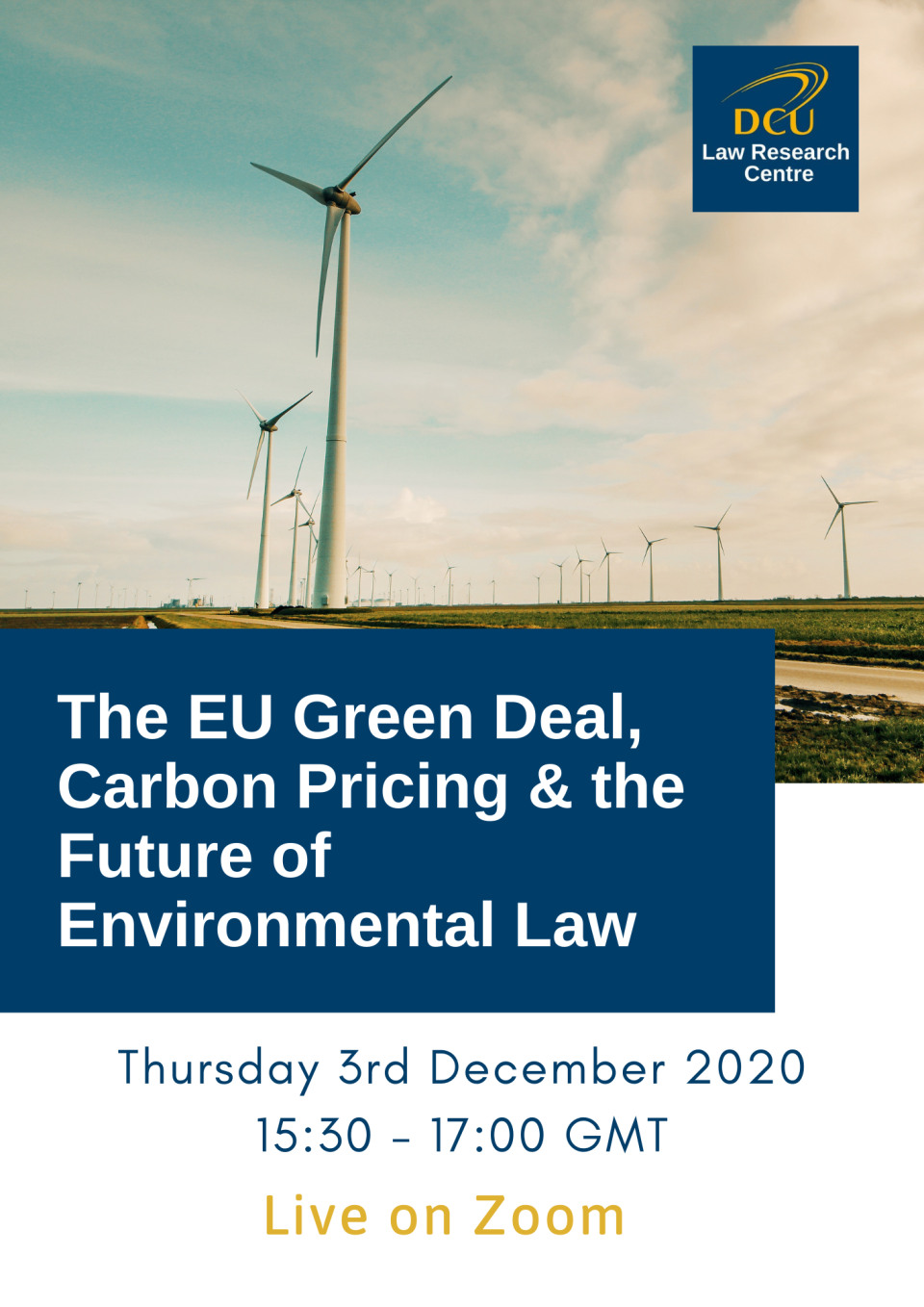 Thursday 17th September 2020
"Legal Disintegration? Brexit, the Judgment of the German Constitutional Court in Weiss and the Future of Europe"
Welcome: Daire Keogh, President of DCU
Opening Remarks:
Lord Thomas (Member of the House of Lords, and former Lord Chief Justice of England and Wales)
Panel Discussion
Chair: Mary Hallissey (Law Society)
Amelie Champsaur (Partner at Cleary Gottlieb Paris)
Mark Dawson (Professor of Law at Hertie School of Governance Berlin)
Federico Fabbrini (Professor of Law at DCU and Director of the DCU Brexit Institute)
Daniel Kelemen (Professor of Political Science at Rutgers University)