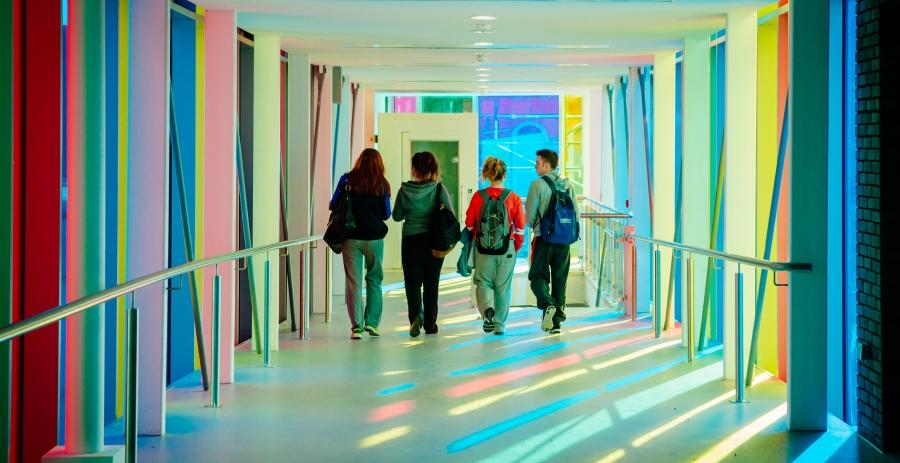 Below Image
Dublin City University makes highest ever number of CAO offers as demand for STEM increases
Demand for STEM courses and teacher education has contributed to Dublin City University making a record number of CAO first round offers today.
DCU made its highest ever number of CAO offers – with more than 3,600 first round places offered to students across the country. This represents an increase of 5.7pc when compared to last year.
Demand for DCU's degree programmes continues to surge, and the student population has grown by over 50pc in the last five years.
Reflecting the university's strong pedigree in the area of STEM (Science, Technology, Engineering and Mathematics), and the high levels of employability associated with these qualifications, DCU has seen a significant uplift in demand for many of its STEM degrees and has made an additional 150 places available to students on these programmes.
Welcoming today's announcement, Professor Brian MacCraith, DCU President, said:
"It is very clear that students are becoming more and more discerning in their choice of degree programmes and that employment prospects and societal impact are major factors in that regard. I am pleased that DCU has been able to respond once more to increasing demand not only by offering additional places but also by developing new or enhanced degree programmes in areas of national priority, across STEM, business, education and the humanities."
The interest in STEM is also reflected in the popularity of degree programmes in the Faculty of Science and Health, with points for the BSc in Environmental Science and Technology rising by 41 to 412. Demand for Psychology has also continued to grow with points rising by 21 to 509.
Despite the increase in places offered, points for most degree programmes in the Faculty of Engineering and Computing have remained steady with Common Entry Engineering at 381, Biomedical Engineering at 402, and Mechanical and Manufacturing Engineering at 401.
In DCU's Institute of Education, Ireland's largest provider of teacher education, an additional 39 places have been offered across the portfolio of education programmes. The new Post-Primary Teacher Education programme (Gaeilge with French, German or Spanish), aimed at addressing the shortage of language teachers at post-primary level, proved very popular with almost 45 places offered and entry points at 410. Points for the BEd in Early Childhood Education rose by 10 to 398.
In Humanities and Social Sciences, interest in DCU's BA Joint Honours suite of programmes remained strong with points as high as 360. At least some of this popularity can be attributed to the inclusion this year of an opportunity for students to participate in a year-long work placement, further equipping them with skills to flourish in the workplace. Two of DCU's flagship degrees, the BCL Law degree (453 points) and Journalism (401 points), proved popular again this year.
At DCU Business School, the business programmes that include opportunities for students to study abroad in partner universities have remained very popular, with Global Business (Transatlantic) and Global Business (Canada) achieving DCU's highest points at 578 and 566, respectively. Global Business (Spanish) rose to 501 points. Aviation Management was in demand this year, with points rising by 7 to 463.