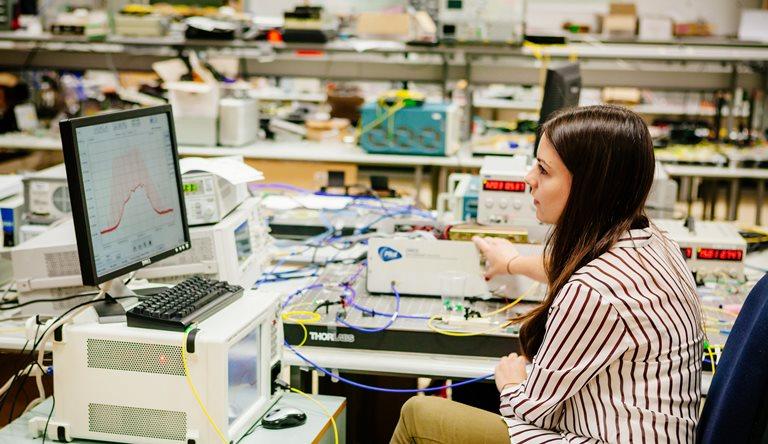 Below Image
First preference choices reflects high demand for STEM, Humanities and Language courses
Dublin City University has seen a steady rise in applications for STEM (Science, Technology Engineering and Maths), Humanities and Language related courses according to the CAO first preference application figures released today (Saturday, March 9th).
While applications to engineering programmes are up nationally by 11%, DCU has experienced a growth in applications of 23% to Common Entry Engineering and 13% to Electronic and Computer Engineering.
The figures reflect the university's strong pedigree in the area of STEM education and the high levels of employability associated with these qualifications.
DCU has also seen a big increase in demand for undergraduate offerings in its Faculty of Science and Health with a 58% increase in applications to the BSc in Psychology while Actuarial Mathematics and Analytical Science have seen demand rise by 43% and 29%, respectively.
The interest in STEM is reflected across the board and notably at the university's Institute of Education, Ireland's only faculty of Education, with an increase in applications of 55% to the BSc in Science Education, an undergraduate course which enables students to specialise in any two subjects from Chemistry, Physics or Mathematics and teach up to Leaving Certificate Level.
Languages, which have been highlighted as a key priority in DES policy in an effort to boost the numbers teaching languages at post-primary level, have proved a popular draw at DCU with forty first preferences for the new Post-Primary Teacher Education Gaeilge and French, German or Spanish.
The recently launched Bachelor of Education in Irish Sign Language, which will enable deaf and hard of hearing people who use Irish Sign Language (ISL) to enter primary teaching, received 16 first preferences.

The course is the first of its kind in the history of the state.
Interest in the Bachelor of Religious Education and English is also strong with an increase of 31% on last year's figures.
Offerings in Humanities and Social Sciences remain enduringly popular.
The most dramatic increase in interest was observed for the university's BA Social Sciences and Cultural Innovation with a growth of 95%, doubling up on first preference demand from last year's figures.
The programme, which was launched in 2018, is specifically designed to equip students with a blended suite of skills for 21st century society and its key challenges.
Nationally, there has been an 8% growth in first preference choices for undergraduate offerings in Law, a feature strongly reflected at DCU with applications to the Bachelor of Civil Law (Law & Society) up 19%.
Another notable high is the increase in demand of 35% for the Joint Honours in Politics.
Nationally, applications to Level 8 Administration and Business Programmes have fallen by 1%, for the second year in a row, yet this trend is not in evidence at DCU where there has been strong first preference demand for undergraduate courses at the DCU Business School (a faculty ranked within the top 5% of the world's business schools) with an increase of 21% in applications for the BSc in Aviation Management while the Bachelor of Business Studies International has also seen a rise of 17%.
Commenting on these figures the President of Dublin City University, Professor Brian MacCraith said:
"The continued popularity of DCU reflects the university's reputation for an excellent learning experience and high levels of employability. We are delighted to see the growth in applications for DCU's STEM, Humanities and Language options, which shows the strength of our offering across a wide spectrum.

DCU is number one in Dublin, and in the top two nationally, according to the HEA's latest graduate employability rankings. I have no doubt this is also a strong consideration for students when choosing DCU."