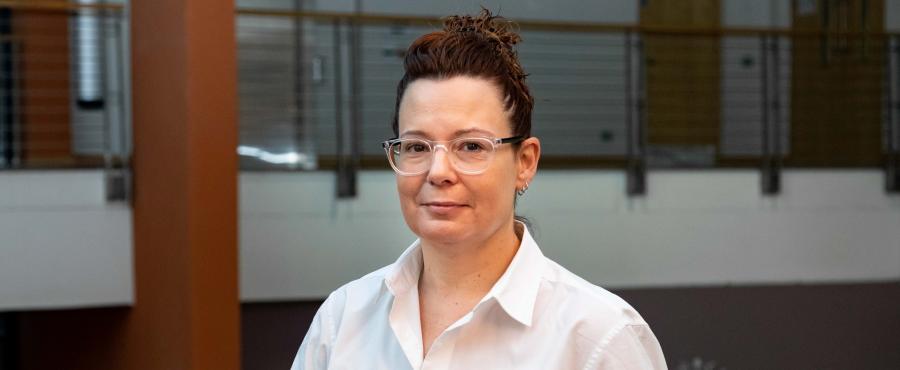 Below Image
DCU Student launches new research on the impact of cancer-related lymphoedema on body image
A DCU student who experienced cancer is now researching how cancer-related lymphoedema, a condition that can develop after cancer treatment can affect body image and a person's sense of self.
Emma Byrne, a student at DCU's new School of Psychology has been granted funding by the Irish Cancer Society for her PhD study, which is the first of its kind.
"Cancer-related lymphoedema can have a considerable impact on the person's quality of life - affecting not only the person's body but their psychological well-being including body image," commented Emma.
Lymphoedema is a swelling or build-up of fluid in the body caused by damage to the lymphatic system (the system which regulates the movement of fluid in the body and helps fight infection).
Cancer-related lymphoedema can develop when the lymph nodes are removed or damaged as a result of cancer treatment. Any change in the structure of the lymphatic system puts a person at risk of lymphoedema.
Surgery, radiation, cancerous tumours and their removal increase the risk of lymphoedema development.
The bodily changes that can arise as a result of cancer-related lymphoedema, such as swelling of the limbs, pain and increased susceptibility to skin infections, have the potential to negatively impact the body image of individuals with the condition.
The research will be carried out under the supervision of Prof Pamela Gallagher and Dr Simon Dunne in the recently opened School of Psychology at DCU.
Emma from Glasnevin in Dublin previously completed a BSc in Psychology at DCU, returning to education following her own cancer diagnosis.
During her time at DCU, she developed a strong interest in understanding how psychology can help in comprehending how people respond to illness; what influences respective reactions and how lives might be improved.
Speaking about the new study Emma said:

"There is an increasing number of people living with and beyond cancer. Following cancer treatment, it is estimated that 25% of people who have experienced cancer will also experience one or more physical or psychological repercussions every day.

Cancer-related (secondary) lymphoedema and its effects are one of the most common consequences. Despite its prevalence it is often overlooked, under- or late-diagnosed and under-treated".

Dr Simon Dunne, DCU School of Psychology said:

"Health professionals often recognise that the physical symptoms of cancer-related lymphoedema, such as swollen limbs, can lead those with the condition to experience feelings of shame about their bodies, decreased self-confidence and even social isolation.

Such experiences may also worsen over time as physical symptoms of the condition themselves become more severe. However, we currently have little evidence about how exactly body image in cancer-related lymphoedema affects individuals with the condition over time.

This important research study will fill this gap in our knowledge, and may allow us to improve the lives of those affected by cancer-related lymphoedema in the future".