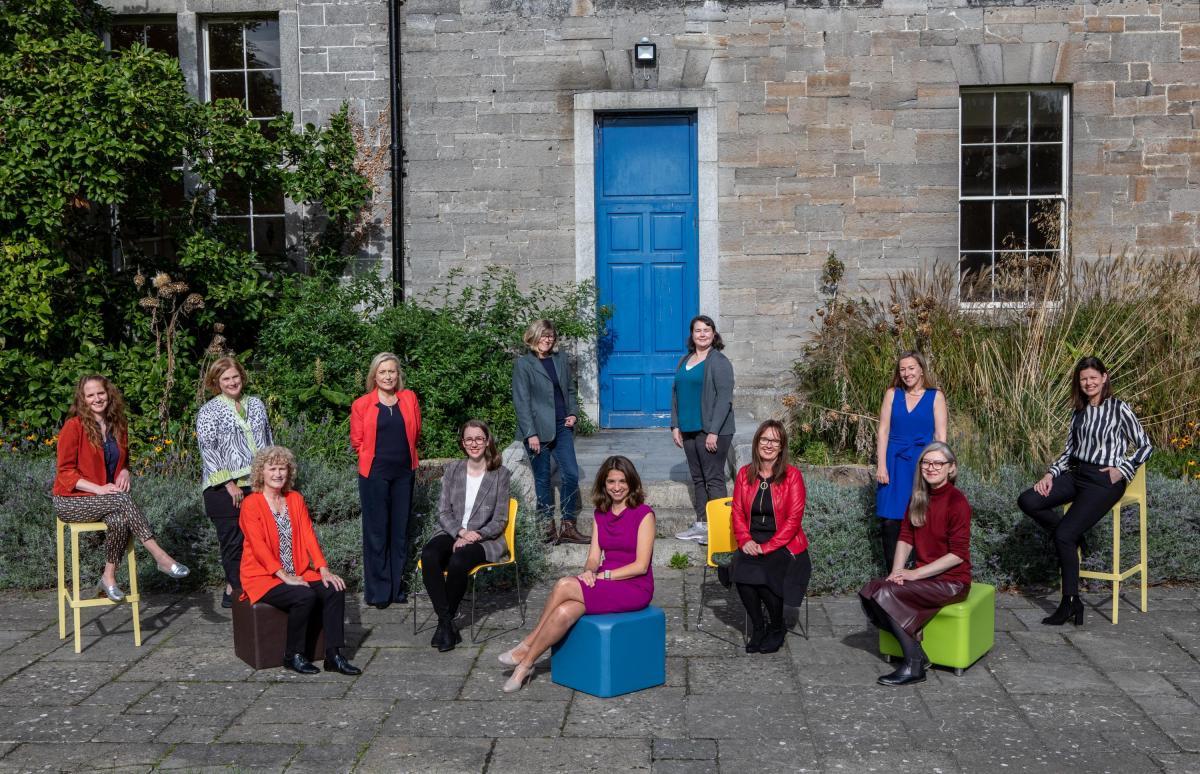 Inspirational female leaders at DCU highlighted as part of Accenture's Women on Walls
Fifteen inspiring female DCU academics from the world of science, technology, engineering and mathematics (STEM) and STEM adjacent fields have been highlighted as part of the Accenture Women on Walls campaign.   
The collection of fifteen inspiring stories have been launched on the Women on Walls interactive hub. Written by science writer Dr Claire O'Connell, each piece gives an insight into the lives of each academic and demonstrating the energy, passion, enthusiasm and drive behind each individual – traits which resonate from the stories of each of the subjects in the Women on Walls commissioned portraits unveiled earlier this year.
It is hoped that the profiles will inform and inspire readers - especially children and young girls - that the possibilities and opportunities within the world of STEM are endless, and by virtue of reading and becoming aware of the female academics in these areas, it will encourage others to pursue their own path in this area. 
The featured academics were chosen by the university from all five DCU faculties based on their research excellence, impact and leadership to date. They were launched at a reception hosted by DCU earlier today to celebrate this chapter of the campaign, with Managing Director and Head of Inclusion & Diversity at Accenture in Ireland Dr Michelle D. Cullen and Chief Executive of Business to Arts Andrew Hetherington in attendance. 
The 15 profiles across DCU's five faculties include:
Faculty of Engineering and Computing: Jennifer Bruton; Dr Lorna Fitzsimons; Dr Suzanne Little
Faculty of Science and Health: Prof Christine Loscher; Dr Stella Vlachou; Dr Jennifer Gaughran
DCU Institute of Education: Prof Deirdre Butler; Prof Cliona Murphy; Dr Orla Kelly
DCU Business School: Prof Edel Conway; Prof Yseult Freeney; Prof Regina Connolly 
Humanities and Social Sciences: Prof Jane Suiter; Prof Maura Conway; Dr Tanya Lokot
Women on Walls
The Women on Walls campaign seeks to make women leaders visible through a series of commissioned portraits that will create a lasting cultural legacy for Ireland. The campaign commenced in 2016 with the Royal Irish Academy, and a second chapter with RCSI was unveiled in 2019.
The DCU chapter was completed by five award-winning and renowned artists last year, and in the midst of COVID-19 which has impacted significantly on all sections of society, including the arts. DCU, renowned for its commitment to gender equality, is particularly pleased to support the initiative, to publicly commit to programming of the arts across the university and to pledge support to the arts sector as it charts its way through this global pandemic.
The commissioned portraits have been temporarily installed in the Stokes Building at DCU before eventually moving to the Future-Tech building, under construction at the university's Glasnevin Campus. This flagship building will be at the forefront of DCU's international reputation for excellence in science, computing and engineering disciplines.
Pictured are 12 of the 15 DCU trailblazers. Visit www.womenonwalls.com to view the DCU Women in STEM profiles.