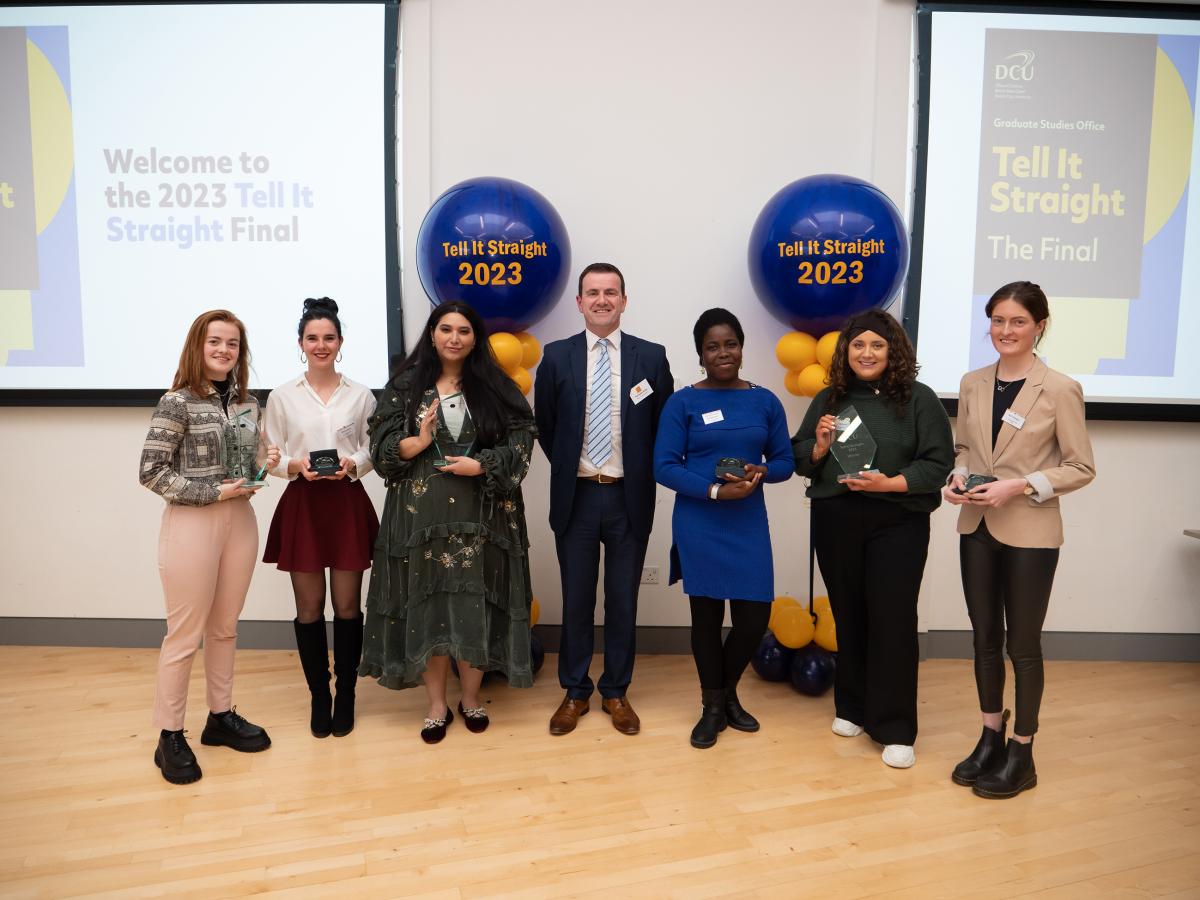 Winners of DCU's Tell It Straight competition 2023 announced
The annual competition challenges and enables DCU's research student body to showcase their research and its potential impact to a non-specialist audience, without the use of jargon. 'Tell It Straight' is now in its tenth and is an important event in the DCU Research Student calendar. 
The initial number of submissions to this year's competition was the highest ever, with 15 students making the shortlist to yesterday's final. Due to the globalised competitiveness of the job market, transferrable skills are paramount to the future workforce and none more so than, communication skills. 
Speaking about the importance of the competition and congratulating all of this year's finalists, Professor Joseph Stokes, Dean of Graduate Studies, said:
'Tell It Straight 2023' was a great opportunity to celebrate the variety of research topics being conducted across DCU, by our research students. The competition affords research students the opportunity to consolidate their ideas, crystallise their research discoveries, all the time communicating their research to a non-specialist audience whilst challenging them to think in a fresh way about their ideas. A huge amount of work and preparation was conducted by each of the 15 finalists ahead of the final and this made for a highly competitive event.

Sincere congratulations to all winners and runners-up, from across the three categories, and a heartfelt thank you to all finalists, who made the event very diverse. Many thanks to all those who attended and to our external judging panel Anthony McCauley (Skillnet Ireland), Dr Claire O'Connell (The Irish Times) and Lewis Purser (Irish Universities Association) who felt the competition this year was of a very high standard. 

Graduate Studies Office received the highest number of submissions to this competition, than in any previous year and I would like to thank all of those students who applied and expressed their interest. I want to encourage you to do the same in 2024 and hopefully you may be successful.
This year's winners and runners-up were selected in the following three categories:
Category 1: Oral Presentations (from Year 1 only)
Winner: Orla McGovern - School of Psychology
'"Asking the Algorithm": Understanding the Help-seeking Behaviours of Young People on TikTok – A Mixed Methods Co-design Approach to Optimise Mental Health and Wellbeing' (Supervisors: Dr Darragh McCashin and Prof Pamela Gallagher)
Runner-Up: Osatohanmwen Idelegbagbon - School of Biotechnology
'Next generation on-site biomonitoring for conservation management: coupling environmental DNA with CRISPR-Cas based technology' (Supervisor: Prof Anne Parle-McDermott)
Category 2: Oral Presentations (from Year 2 onwards)
Winner: Meabh Kennedy - School of Chemical Sciences
'Mechanobactericidal surfaces that target antimicrobial resistant bacteria; the key influencing factors for maximum antimicrobial activity (MechanoBac)' (Supervisor: Dr Susan Kelleher)
Runner-Up: Myra Castel - School of Biotechnology
'New indications and novel combinations for neratinib in non-breast, HER-driven cancers' (Supervisors: Dr Denis Collins, Prof John Crown (SVUH), Dr Neil Conlon and Dr Naomi Walsh)
Category 3: Video Presentations (from all Years)
Winner: Dalal Alsultan - School of Biotechnology
'Tracking Tumour Evolution in HER2-positive Breast Cancer' (Supervisors: Dr Alex Eustace Dr Stephen Madden (RCSI))
Runner-Up: Avril Deegan - School of Psychology
'A Longitudinal, Mixed Methods Study Investigating Resilience, Social Support and Quality of Life Amongst Childhood Leukaemia Survivors and their Parents' (Supervisors: Dr Simon Dunne, Prof Pamela Gallagher and Prof Veronica Lambert)