Centre for Religion, Human Values, and International Relations
Mughal emperor Jahangir with Jesus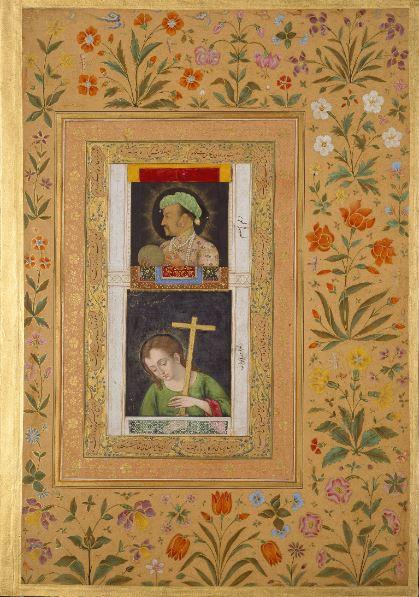 The image is a folio from the Minto Album, one of the treasures of the Chester Beatty Library in Dublin. 
In the upper register is a portrait of the Mughal Emperor Jahangir (r.1605-27), and in the lower register, a painting of Jesus by an Indian artist. The folio was originally part of a bound album compiled under Jahangir and his son Shah Jahan (r.1628-57). Throughout the album, images are surrounded by brightly coloured flowering plants all carefully outlined in gold. The images alternate with calligraphy, usually short verses of Persian poetry, often love poems. 
The Persian inscription in the upper left corner above Jesus states, 'Hail, O helper of the poor.' This is intended to apply both to Jesus and to Jahangir – to Jahangir in his guise as the traditional justice-dispensing monarch, who holds the world in his hands. In Persian, Jahangir literally means 'the one who holds/rules the world' (as portrayed in the painting).
The religiously tolerant policies of Akbar and Jahangir have their ultimate origin in Central Asia, in such centres as Samarkand and Bukhara.
The present image suggests a respectful encounter between Islam and Christianity. At the same time, it can be understood as a meditation on the purpose of politics and the need to exercise political responsibility in favour of those who are too weak to protect themselves.