Centre for Religion, Human Values, and International Relations
Publications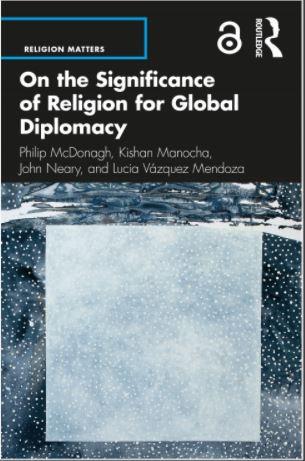 In this ground-breaking volume it is argued that international organisations, backed by governments, can and should use their convening power to initiate new, multi-layered frameworks of engagement. Engaging the religions within a culture of dialogue or encounter can transform our understanding of effective action and give us the courage to undertake the difficult journey into the future in shared hope.
The book is divided into an introduction and six chapters
Towards a culture of encounter inclusive of the world's religious traditions
Structural questions in 21st-century diplomacy
Knowing what we ought to know: the issues that face 21st-century diplomacy
Towards the global objective of a common peace for humanity
Understanding how change happens
The diplomacy of the two standards
The development of new frameworks of engagement
Book published by Routledge.  20% discount available - enter the code FLR40 at checkout. 
Article, 'It's time to talk' As the Pope calls for negotiations to end the war in Ukraine, a former Irish diplomat considers what steps could be taken towards peace, by Philip McDonagh
Address by Philip McDonagh 'Pathways To Positive Change' on 12th October 2022 to the Plenary Assembly of COMECE, the Commission of the Bishops' Conferences of the European Union