Education and Campaigns
Education and campaigns allow us to bring the ethos of student policies into practice.  It is important that we create a culture of safety and allow students to engage in a positive student experience.  A policy is not a document to be written and forgotten about. In order to prevent and respond to incidents, we first need to communicate what behaviours are acceptable and unacceptable by bringing a policy to life.  Secondly, outline the pathway for a victim to report an incident, and thirdly for students to know what the consequences are for a breach of a policy. We also need to provide resources and support in order to deal with incidents. 
Below you will find a wide range of campaigns, resources, and initiatives to support all students during their time at DCU.
Bullying, Harassment, and Discrimination
Be Safe Online is the government's campaign to highlight ways to help you stay safe online. Their webpage provides access to a wide range of Online Safety resources, to support online safety for all. 
If you find yourself being targeted online by bullies, trolls or anonymous users, you may find the below information useful to protect yourself. 
How to Respond to Cyberbullying
(Ref - National Youth Council of Ireland)
| | |
| --- | --- |
| Don't Reply | You may really want to but do not rise to it and don't reply to messages from someone who is bullying you. They may move on if they don't get a reaction. |
| Save the Evidence | Take a screenshot as proof and save it. |
| Report or Block | You can block people from contacting you. You can also report the person. Phone companies, social media companies, and internet service providers provide advice on how to block and report.  If the content is illegal, the Gardai also receives reports and can assist with the response.  |
| Get Help | Get help from a student support professional. There are dedicated Dignity and Respect Allies to advise you on your options for reporting incidents or seeking support.  |
| Go Offline | Switch off or take a break from being online and talk to someone who can help. |
| Change Contact Details | Changing the phone number, passwords or contact details can be a big step but sometimes it can be an effective way to stop the behaviour. Restricting who has access to them can be useful for a period of time particularly if they are trying to identify who is the perpetrator. |
| Update Settings | Ensure security settings are private on all platforms. |
10 THINGS WE CAN ALL DO ABOUT RACISM IN IRELAND
Recognise OUR privilege and its meaning.
Explore and address OUR prejudice.
Educate ourselves.
Educate others.
Be an active anti-racist ally.
Respond to racism in your community.
Support those affected by racism.
Report racism.
Be an anti-racism advocate in your organisation, work, and school.
Pressure leaders.
Reference: Irish Network Against Racism, inar.ie (October, 2023)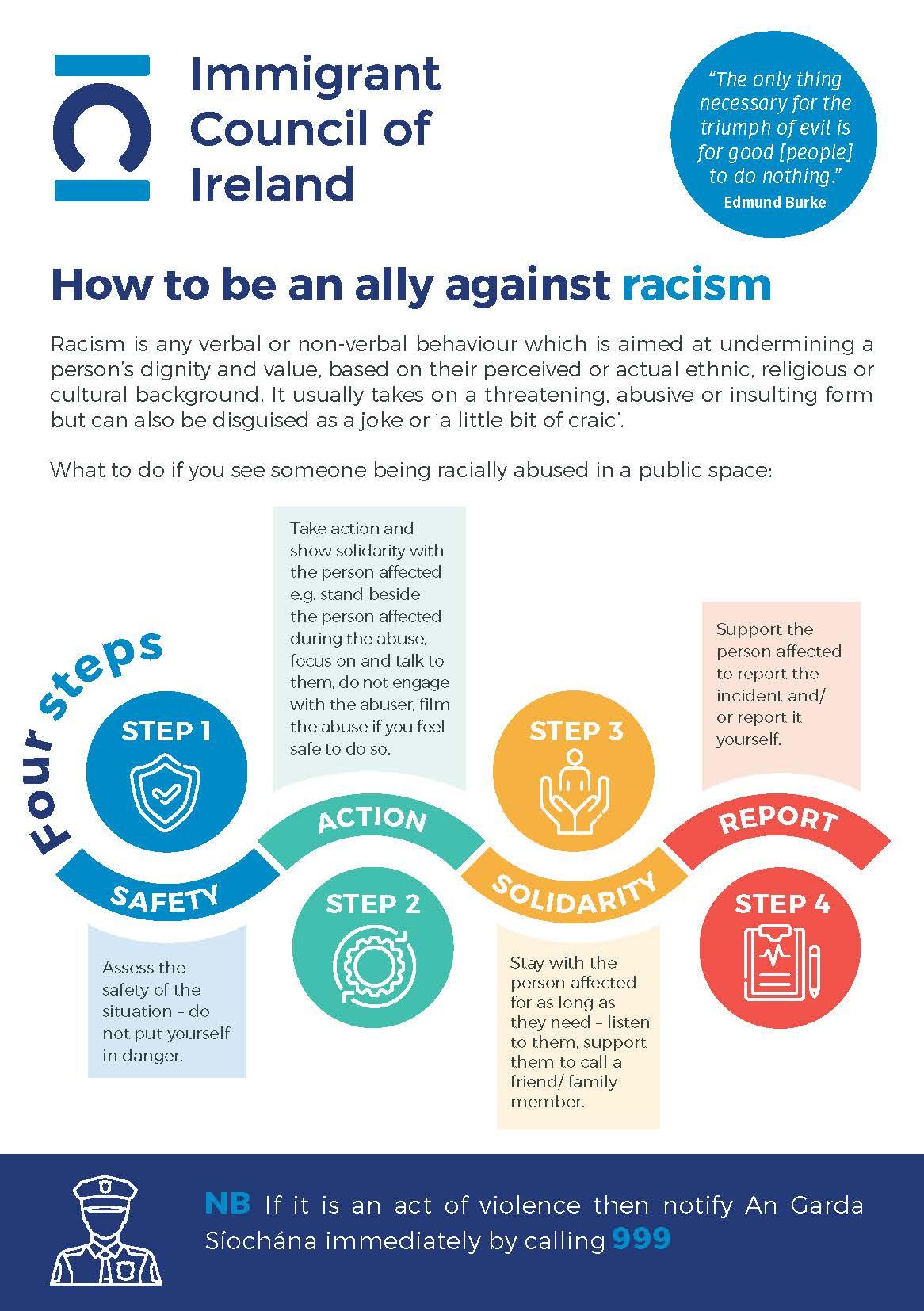 DCU Bystander Intervention Programme
The DCU Student Bystander Intervention Programme builds on your knowledge of consent and teaches you the skills to know when and how to intervene in a situation of sexual violence or harassment. Likewise, the same skills can be used to intervene in any inappropriate situation including racism, harassment, discrimination and bullying.
Delivered online through Loop, the four workshops will teach you how to recognise unacceptable behaviour, what the barriers to intervention are how to overcome them, and how to safely and effectively intervene.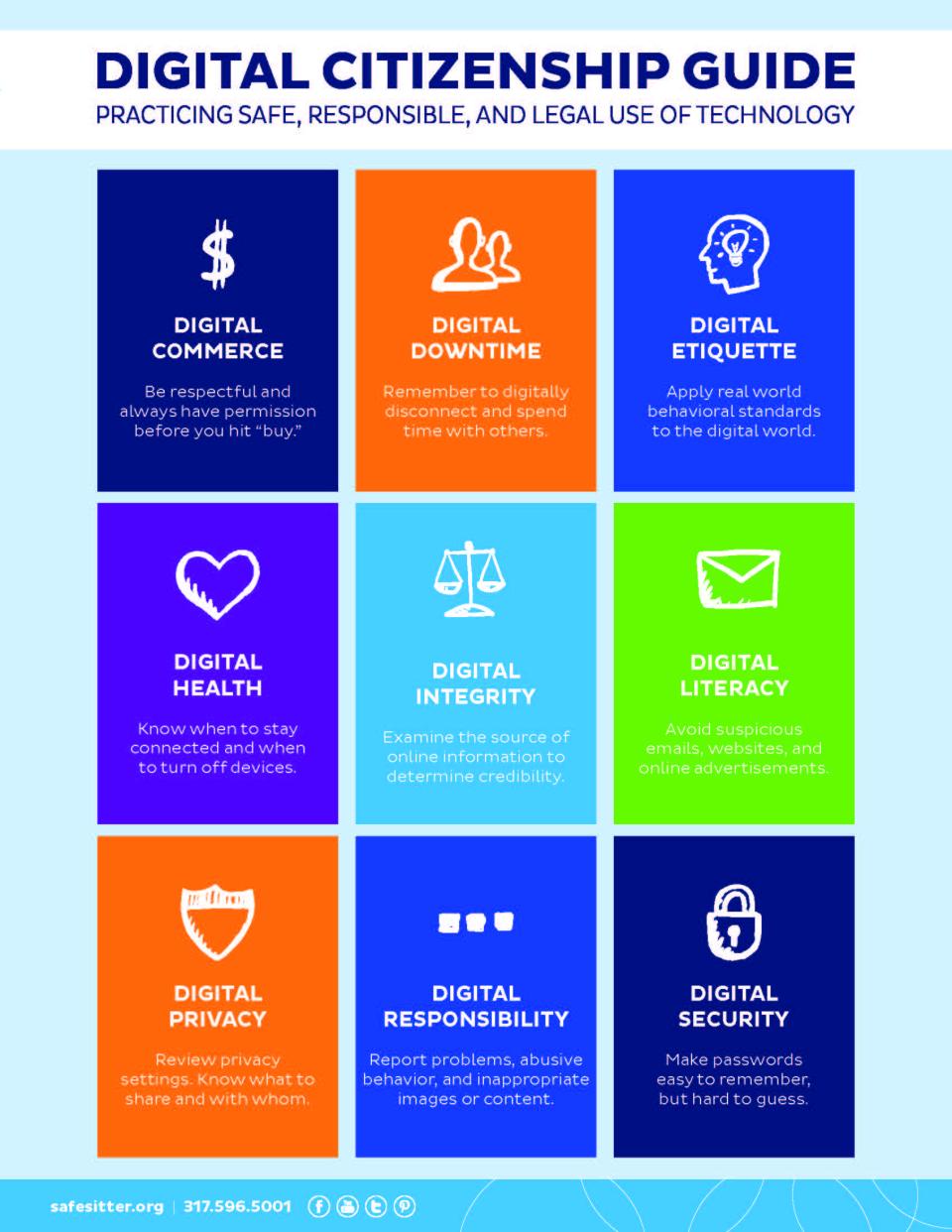 Digital citizenship includes knowledge, skills, and practices to engage safely and responsibly in a digital environment. This is considered an important skill for students to protect them from harmful content, cyberbullying, privacy risks, scams, viruses, and more. Digital Etiquette, Digital Responsibility, and Digital Integrity are important aspects of being good digital citizens.  In the context of being a university student, being a good digital citizen involves respecting others when commenting online and in group chats, standing up for others online, or reporting inappropriate behaviour.  
Reference - safesitter.org (October, 2023)
Report on a National Survey of Student Experiences of Bullying in Higher Education Institutions in Ireland
This report presents the findings of an anonymous online survey examining the prevalence and impact of bullying and related negative experiences among students across higher education institutions (HEIs) in Ireland. This survey was commissioned by The Department for Further and Higher Education, Innovation and Science. The survey included five areas
Demographic variables, including gender, age, ethnicity, and sexual orientation;
Respondents' awareness of bullying in Higher Education; c) Exposure to online/offline bullying in the institution, as targets, witnesses (i.e., bystanders) and perpetrators;
Individual variables that - based on previous literature - may be related to bullying in higher education, such as prejudice towards minority groups;
Contextual variables, including institutional culture and implementation of anti-bullying policies.
Sexual Health, Wellbeing and Relationships
Relationships and dating can be really exciting but it can get complicated and confusing around sex and intimacy. At times it can be unclear how the other person feels, and messages can be confusing and read wrong.  When it comes to sex it is always important that you both give permission for sex or intimacy, which basically is consent. Sex without consent can mean sexual assault or rape. Below are some tips on navigating this complex area. Here is a great video that explains consent - Consent it's as simple as Tea. 
The only way to know for sure whether someone has consented to sex is if they tell you. It can be hard to let people know you're not interested. People might look happy about doing something, but on the inside, they might not be and don't know how to tell you they're uncomfortable. To be absolutely clear, you should ask them. Here are some suggestions on how to ask:
Are you happy?
Are you comfortable?
Is there anything you don't want to do?
Do you want to stop?
Do you want to have sex?
Examples of body language that can mean someone isn't comfortable with what's going on include:
Not responding to your touch
Pushing you away
Holding their arms tightly around their bodies
Turning away from you or hiding their face
Stiffening muscles
If you get a negative or non-committal answer to any of your questions, or if your partner's body language is negative, stop what you are doing and talk to them about it.
It's okay at any stage to want to stop. You do not have to continue, even if you've consented previously in your interaction. Communicate with your partner that you'd like to stop. Equally, pay attention to your partner, too. Consent is all about an ongoing and enthusiastic 'yes'. Here are some ways you can communicate you'd like to stop:
I'd like to stop now.
No, I'm not comfortable with this.
This isn't working for me.
Consent is not about the absence of 'no'. It's about the presence of an ongoing 'yes'. 
Holding hands, sending flirty texts, kissing, hugging, and touching are all ways of being intimate without having sex. You might enjoy kissing, but not feel ready to have sex or you might have had sex before, but not feel like it every time you kiss, or get intimate. It's really important to make sure both of you are comfortable with what's happening. Everyone has the right to say no. Equally, everyone has the right to change their mind at any time, regardless of their past experiences.
Developed by the University of Galway, the Active* Consent workshop called Sexual Violence, and Harassment: How to Support Yourself and Your Peers, builds on topics explored and runs during Orientation, to introduce a more nuanced understanding of sexual violence, harassment, and support services available to students who have had negative sexual experiences. 
Through participation and engagement, participants will have gained greater awareness and understanding of:
Consent vs. non-consent
The definition of sexual violence and the means by which it is committed: verbal coercion, intoxication, and/or force
The impact of factors like relationship status and gender on how we perceive conditions for sexual violence
Legal definitions of sexual assault, rape, harassment, and consent in Irish law
How to support our peers if they disclose a negative sexual experience to us
To complete Active Consent, go to your dashboard on Loop and complete the e-module. 
The ESHTE (Ending Sexual Harassment and Violence in Third-Level Education) project aims to prevent and combat sexual violence and harassment (SVH) and build a culture of zero tolerance in third-level education throughout Europe. The project is funded by the European Commission. The 'It Stops Now' campaign is running as an integral part of the ESHTE project.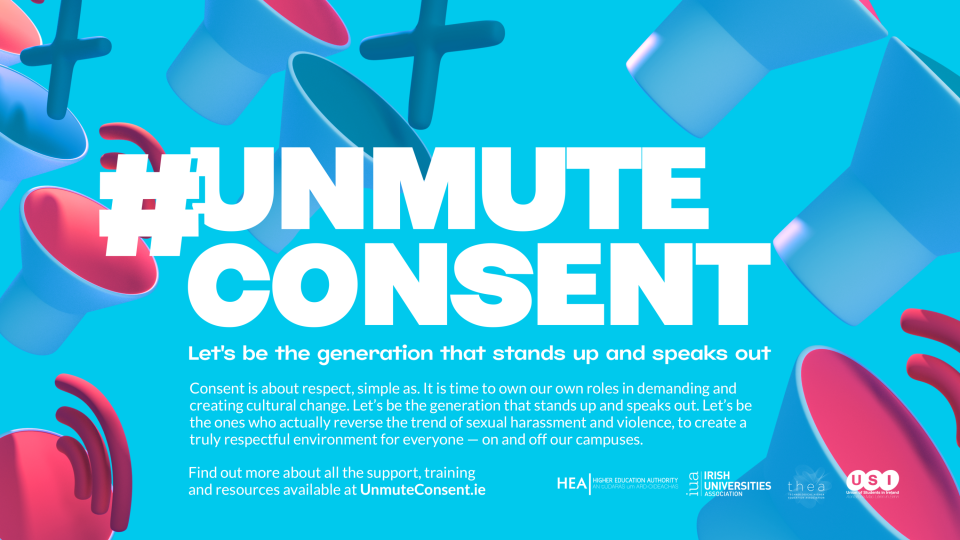 The #unmuteconsent campaign recognises the power of the student voice to drive change.
Be the generation that stands up and speaks out. Be the ones who actually reverse the trend of sexual harassment and violence, to create a truly respectful environment for everyone — on and off our campuses.
Consent is about respect, simple as.
It's time to take responsibility for our own roles in demanding and creating cultural change.
This campaign will mobilise students to learn more about consent, about personal responsibility, and about how they can make a difference. By engaging with the support and training available in every institution, we hope that over time students will be more comfortable in:
Speaking out/reporting unacceptable behaviour and accessing support.
Being active and challenging perceived norms of unacceptable behaviour.
Talking about consent and relationships in a positive and confident way.
Practising consent in their relationships and interactions.
The Irish Government is committed to providing a safe environment for students and staff, and regards as completely unacceptable any form of sexual misconduct.  The National Framework for Consent is aimed at 'Ending Sexual Violence and Harassment in Irish Higher Education Institutions.  DCU's Sexual Misconduct Policy further outlines the University's position in this regard. DCU is committed to tackling sexual assault and harassment and has developed an Action Plan to support the national framework for consent.