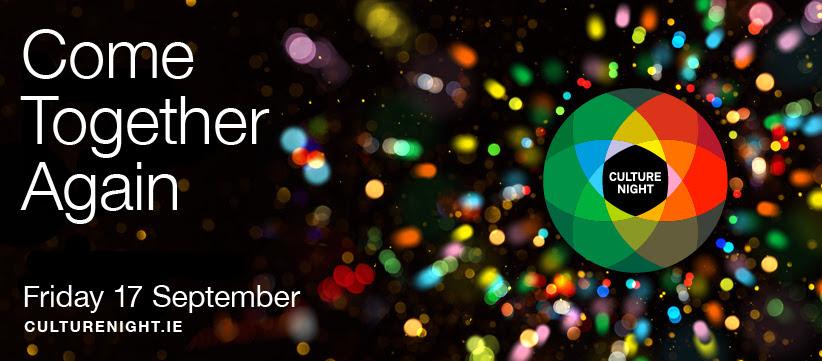 Culture Night 2021 at DCU
to
Target Audience
All Welcome
Is registration required?
Yes
Free of charge or ticket price
Free of charge
For more information contact
marcella.bannon@dcu.ie
'Come Together Again' is the theme for Culture Night 2021 programme, which seems fitting as we prepare for the return of students to our campuses.
Culture Night is a national celebration of culture, creativity and the arts that takes place on Friday, 17th September. DCU is delighted to open its doors late to present a series of specifically programmed events, connecting people to cultural activities locally.
A timetable of events is available below. For further information about individual events or to register visit www.dcu.ie/dcuartsandculture/culture-night-2021-dcu 
Most of the activity will take place on DCU's St. Patrick's campus this year. Please note, access to St Patrick's campus on Culture Night is via the Cregan Library Pedestrian Gate entrance only.
1.00pm    An Introduction to Accenture Women on Walls Portraits at DCU
1.00pm & 1.30pm Screening of a short film - How Are You? by Cian Brennan
4.00pm Screening of a short film -  My Dreams Won't Resist by Ann Maria Healy 
4.00pm An Introduction to Accenture Women on Walls Portraits at DCU
4.45pm Screening of a short film - My Dreams Won't Resist by Ann Maria Healy 
5-8.00pm Pop up Craft Tent for children
5-9.00pm Light Projection on the facade of Cregan Library
5.00pm Guided Tour of the Cregan Library
5.15pm Guided Tour of St. Patrick's Campus
5.30pm Screening of a short film - My Dreams Won't Resist by Ann Maria Healy 
6.00pm Live Music Code of Behaviour at the Library forecourt
6.15pm Guided Tour of the Cregan Library
6.30pm Guided Tour of St. Patrick's Campus
7.00pm Live Music, Code of Behaviour, Lime Tree Avenue outside the library 
7.00pm Guided Tour of the Cregan Library 
8.00pm Live Music from the balcony with Code of Behaviour