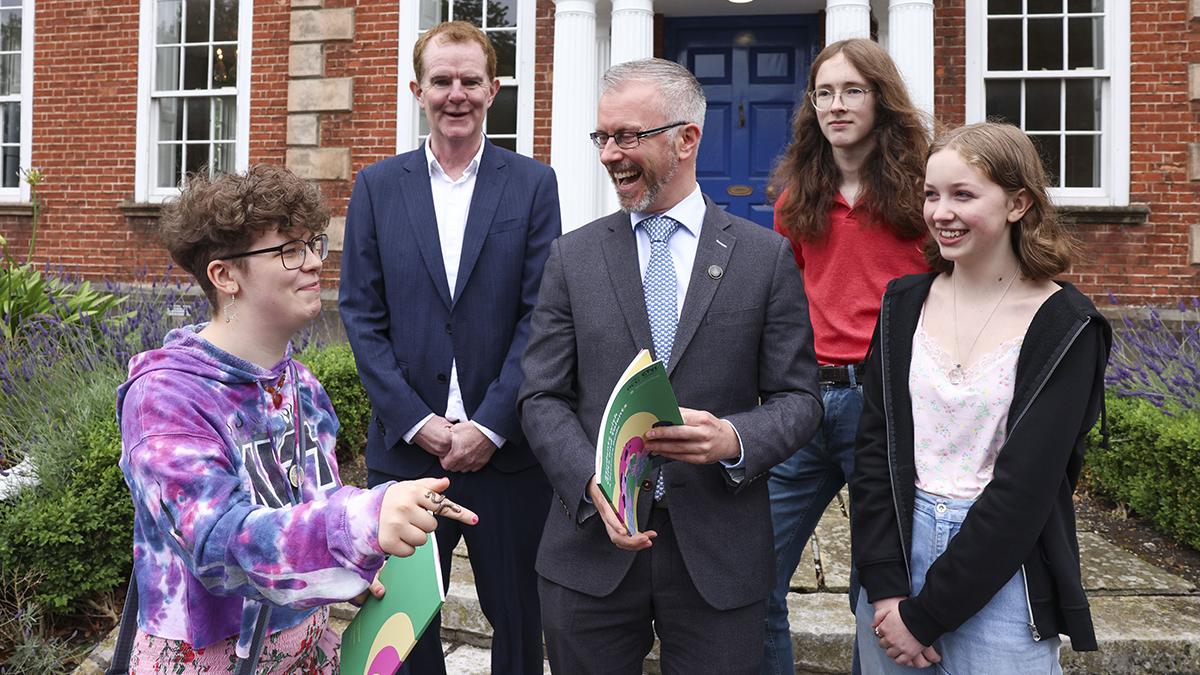 CTYI launch resource guide for working with academically talented students
The Centre for Talented Youth Ireland (CTYI) at Dublin City University today published Students with Gifts and Talents: A Resource Guide, a best practice booklet for gifted education aimed at students, parents, educators and policymakers. The booklet was launched by Roderic O'Gorman TD, Minister for Children, Equality, Disability, Integration and Youth at DCU's Seamus Heaney Lecture Theatre on St Patrick's campus.
The culmination of ten years of research conducted jointly by CTYI and the Center for Gifted Education (CFGE) at American research university William & Mary, the report details the experiences of gifted students, highlighting and celebrating the diversity of this group and showcasing working strategies to connect with students in challenging situations. 
Speaking at the launch, Minister O'Gorman said: 
"I'm delighted to launch this comprehensive resource guide, a first for Irish education and for academically talented Irish students. The advice within this booklet draws on the experience of thousands of gifted students, and provides a timely pathway towards understanding how we can best create environments that support the wellbeing of these unique students."
Each chapter in the resource guide ends with to-the-point advice for students, parents, teachers and policymakers. Speaking ahead of the launch, DCU President Daire Keogh said: 
"This excellent publication is the outcome of intensive research by world-leading experts and is informed by the CTYI experience of delivering programmes for talented youth at DCU for more than three decades. I have no doubt that the guide will be invaluable resource for educators and will have a positive impact on the learning experience of gifted students around Ireland and internationally." 
CTYI Director Colm O'Reilly explained more about the book's aims:
"Gifted education is often left out of conversations about students with special needs and many policymakers seem to rely on long since disproved myths that these students will all thrive without any intervention. The model that one size fits all for gifted students is long outdated and hopefully this guide will help people to understand the diversity and heterogeneity in the group."
Chapters in the resource guide deal with students' psychology, social beliefs and experiences. Dr Catriona Ledwith, Associate Director of CTYI, supplied a chapter on twice-exceptional students (those whose exceptional cognitive ability exists alongside a special need, including students with autism, adhd and dyslexia) and Dr Leeanne Hinch contributed a chapter outlining particular needs for students who are academically gifted coming from socio-economically disadvantaged backgrounds who traditionally are not identified for these types of programmes. 
The final chapter in the resource guide, by Dr Orla Dunne, explores the experiences of gifted LGBTQ young people in Ireland:
"Although gifted students can generally face difficulties with stigmas and stereotypes, these stereotypes are mixed and typically less overwhelmingly hostile than those encountered by LGBTQ students. All gifted students face issues surrounding identity formation and healthy psychosocial development and may engage in social coping strategies designed to avoid being stigmatised in social or academic situations. Being different in two ways, sometimes more, can be a uniquely isolating experience."
CTYI is a not-for-profit organisation that works with high-ability students aged 6 to 17. In the academic year 2022-23, CTYI catered for over 5,000 students. The Centre was established at DCU in 1992 and since the first summer programme, over 60,000 students have participated in its programmes.