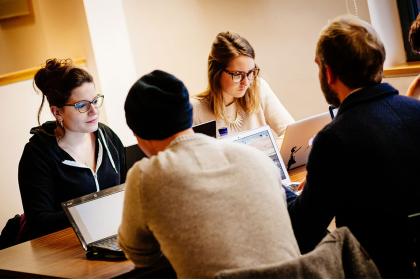 Course Type:
Postgraduate

+353 (0) 1

paul.mcnamara@dcu.ie
The University has launched a new student application portal. For applications to this programme see the Make an Application section below.
We are happy to announce that we will be delivering this programme as a blended online/in-classroom experience in 2020-2021. See further details under the Programme Tab.
Introduction
The Masters in Journalism provides wide-ranging training and education for those interested in the profession of journalism and related fields. It balances practical, theoretical, technical and analytical elements to address the changing media environment and the new, and increasingly diverse, demands being made on entrants to journalism. Upon completion you will have the in-depth knowledge and aptitude to pursue a successful journalism career. 
This programme is being offered as a blended online/in-classroom experience for the 2020-2021 academic year. Most lectures will be delivered in on-campus classrooms equipped with live-streaming technology or via the Zoom video platform. These will be supplemented with online discussions and on-campus small group seminars, as well as individual and group assignments. Teaching will be facilitated through DCU's online learning environment, LOOP, the Zoom video platform, and other tools.
Most practice-based modules and hands-on workshops will be delivered in on-campus classrooms or labs. For these modules, students should be able to access the necessary hardware and software available at DCU to participate in practice-based learning.
In order to join the programme, students are required to either be on campus or be able to participate remotely via online means, and all students must have access to a desktop or laptop computer and a reliable internet connection. Prospective students may avail of the blended offering from the beginning, or alternatively have the option to begin their study in Semester 1 through online engagement and, pending the lifting of health, travel and visa restrictions, join activities on campus in Semester 2, or continue to access classes online if necessary.
Dissertations/final projects can be supported remotely where necessary, but certain components of the programme, such as work placements/internships, are less likely to be available to students who could only do them remotely and may have to be replaced with other options.
Subject to public health advice, should the restrictions around on-campus delivery of teaching change, some components of the programme could take place entirely online or in a mixed mode combining in-class and online engagement. However, students who are unable to join on-campus activity in Semester 1, will be able to complete their degree fully only if they are able to come on campus in Semester 2 and able to participate in all required learning and research activities.
The blended programme is delivered by the same high quality and experienced staff who traditionally delivered on campus. Lecturers will provide feedback on your assignments and you will have access to staff via email or Zoom video calls to discuss your work.
The above conditions are subject to government and public health advice with regard to restrictions and social distancing measures and may be modified or adapted as the situation changes.
Programme Aims and Objectives
The programme provides training and education for those interested in the journalism profession and its related fields. It balances practical, theoretical, technical and analytical elements to address the changing media environment and the new and increasingly diverse demands being made on entrants to journalism. Upon completion, graduates will have the skills, in-depth knowledge and understanding to begin to pursue a successful journalism career, whether in newspapers, magazines, online or in television or radio.
Programme Structure and Content
This one-year, full-time programme includes taught modules for two semesters, with a project or dissertation and an internship. The project/dissertation is a significant journalistic project or a piece of research focused on journalism. Students receive training in print, online and broadcast journalism. Students learn to work both on their own initiative and in teams. Modules are marked, in part or in whole, by continuous assessment, namely simulated newsroom exercises, preparation of features and news stories, online activities, broadcast packages, seminar presentations, and essays. Examinations and in-class tests are set in some modules. In the work placement which takes place in July and August, students gain experience and have the opportunity to practise their skills.
SCHOLARSHIP DETAILS: VERONICA GUERIN MEMORIAL SCHOLARSHIP
Deadline for applications: Noon, Monday, December 9, 2019
DCU's School of Communications have announced the 2019 Veronica Guerin Memorial Bursary details at Dublin City University. It is awarded in memory of investigative journalist Veronica Guerin, who was murdered on June 26, 1996, and who served as a member of the governing body of NIHE/DCU from 1982 to 1992.
The bursary is for a sum of €8,000 and is intended to meet the fees of a prospective or current student on the MA in Journalism programme at the School of Communications, Dublin City University who wishes to specialize in investigative journalism in the 2019-2020 academic year. The scholarship was initiated in 2007 and is funded by INM.
Applicants should provide an outline of their major project/dissertation on a topic or in a format relevant to the memory of Veronica Guerin. This, for example, might be a series of five investigative features, a single long-form feature, a radio documentary or an academic study of the practice of investigative journalism.
The panel of assessors, including representatives of Independent News & Media and DCU's School of Communications, will make its selection on the overall quality of applications, taking account of 
The rationale and clarity of the proposal;
Its proposed methodology;
The investigation/research plan, including possible sources;
Academic and/or professional performance to date;
For proposals in journalism formats, the suggested place of publication
Candidates may refer to journalism or research they have done that is relevant to their proposal. Applications are invited from individuals who have worked in some capacity as journalists and who wish to be registered on DCU's Masters in Journalism programme (PAC code DC600) in the academic year 2019-2020. Programme entry requirements are available on the DCU website.
The scholarship will be awarded to the candidate who demonstrates s/he has the required qualifications, motivation and/or journalism experience. Where s/he has secured additional scholarship funding from another source, this may be taken into account in determining the final level of the Veronica Guerin Memorial Scholarship award.
Applications should reach Paul McNamara, chairperson, MA in Journalism programme, assistant professor of journalism, School of Communications, Faculty of Humanities and Social Sciences, Dublin City University, Glasnevin campus, Dublin 9 by noon on Monday, December 9, 2019. 
Applications should include: 
A concise curriculum vitae; 
A statement of motivation and suitability for the scholarship (maximum 250 words); 
A descriptor of the investigative journalism project or academic dissertation to be undertaken as part of the MA in Journalism programme (maximum 500 words);
Canvassing will disqualify.
View the current course structure
DCU has been a leader in journalism education in Ireland for over three decades. DCU lecturers, with extensive experience in journalism practice across all media, have excellent industry links and are active in researching and analysing news media nationally and internationally.
Why Do this programme?
While strong writing ability is a prerequisite for entry, the programme is open to committed applicants from all academic backgrounds, from science and technology, through business and economics, to the humanities. Entry to the programme is competitive.
The longest-established Masters in Journalism programme in Ireland.
Lecturers with a wealth of experience in journalism practice.
A broad mix of professional and theoretical training.
Excellent working relations with media organisations, ensuring relevant and up-to-date course content.
A commitment to the continuing need for serious professional journalism across all media platforms.
"Returning to study for a Masters in Journalism as a mature student in DCU proved to be an excellent experience. The course itself was well organised. Technology has moved on considerably since I was last in full-time education. DCU uses technology to make the student's experience as straightforward as possible. The content was interesting and the lecturers were engaging. The modules training me to prepare content for print, radio, TV and digital media were well delivered. The more theoretical subjects, such as the examination of the future of journalism and ethics, proved to be very interesting. One of the reasons I chose this programme over other journalism schools was the promise of an internship. My two-month work placement at the Sunday Times newspaper delivered on that promise."  Tim Madigan, Graduate, MA in Journalism
Graduates work in a wide range of areas, including mainstream journalism across all media, nationally and internationally, and in organisational representation and lobbying and general communication roles.
Potential Careers
News Reporter (print, online, broadcast)
Sub-editor
Feature Writer
Sports Reporter
Columnist
Producer
Researcher
Lobbyist
Editor
Advocate
Public Communication Specialist
Media Entrepreneur
Requirements
General Entry Requirements
For admission to the MA in Journalism programme, successful applicants will have - 
A degree at the level of an Irish or UK Honours undergraduate degree (H2.2 or above) or equivalent
Applicants with appropriate combinations of professional qualifications and experience may also be considered. This includes discipline-specific knowledge and know-how; transferable skills; basic research competency; personal effectiveness.
International candidates who are non-native speakers of English must satisfy the University of their competency in the English language.  More information about the English language requirements of DCU School of Communications can be found 

here

.
Fees