School of Electronic Engineering
MEng in Electronic and Computer Engineering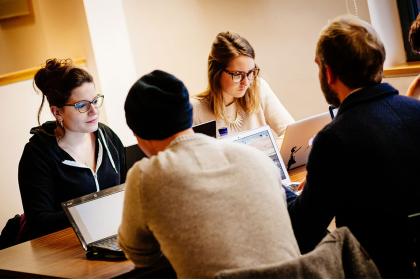 Course Code:
DC883 September & January Intake
Course Type:
Postgraduate
Delivery Modes
Full-Time
Part-Time
Modular
Duration
1 Year Full-Time, 2 Years Part-Time

+353 (0) 1
7006857

ee.queries@dcu.ie
Introduction
This 90-credit programme, delivered by the School of Electronic Engineering, is at the highest European Masters degree level. It provides advanced engineering courses in the theory, analysis, design, implementation, and manufacture of electronic and computer systems.
With 30 taught modules to select from, the programme is highly flexible and allows participants to design their Masters programme to match their chosen career specialisation.
Students may opt for the General Masters programme, offering maximum flexibility of module choice, or take the option of specialising in one of the following Majors:
Major in the Internet of Things (IoT): Specialise in Connected Embedded Systems, Network Programming, Real-time Digital Signal Processing, Data Analysis and Machine Learning
Major in Image Processing & Analysis (IPA): Specialise in advanced Computer Vision systems, Digital Signal Processing, Machine Learning and Deep Learning
Major in Future Network Technologies (FNT): Specialise in advanced Radio and Optical Technologies, and the network architectures they support, including next-generation Access, Edge and Data Centre networks
Major in Advanced Data Networks (ADN): Specialise in next-generation Wireless Networking, Sensor Networks, Internet protocols and architectures, network engineering and performance analysis and network simulation methods
Major in Nanotechnology (Nano): Specialise in Nanoelectronics Devices - physics and engineering, Photonics Devices and Systems, Semiconductor Manufacturing practices, methodologies, and technologies
Major in Semiconductor & Plasma Technology (SPT): Specialise in Industrial Plasma applications, Solid-State Electronics, Semiconductor Nanoelectronics manufacturing
Along with four core Majors modules and a major-specific masters project, students choose four complementary modules. This allows additional skillsets to be developed to enhance, or diversify, their chosen Major speciality. See Programme section below for links to module options.
There are two intakes on to the programme per academic year (September and January). Full-time students beginning in September may complete the programme in 12 months. Full-time students beginning their studies in January may complete in 18 months. Flexible study options are also provided for part-time students.
An alternative Masters Qualifier entry path is available for EU-status students who do not meet the Masters programme entry requirements. Note: Non-EU students, who require a visa to study in Ireland, cannot take the Masters Qualifier.
Why Choose this Programme?
Established: Longest-running engineering Masters in Ireland with a high demand for graduates
Modern: The programme is continually renewed and updated to reflect current and emerging technological advances in industry and research
Relevant: Our students acquire knowledge and skills that are highly sought after in industry, both in Ireland and internationally 
Flexible Access: The programme offers the choice of full or part-time study combined with the option of two starting times per academic year (September, January)
Flexible Study: Modules can be taken on-campus or remotely from a very wide suite of module choices
Rewarding: Students work on an extensive Masters project in some of the top research labs in the country
About This Course
Students take a total of eight taught modules plus a year-long masters project. Taught modules are taken in Semester 1 (Sept-Dec) and Semester 2 (Jan-Apr). The masters project runs from October to August of the following calendar year, so students beginning their programme in September can complete in a total of 12 months.
Students may opt to begin their programme in January (Semester 2), in which case they start their project the following October, completing the programme in a total of 18 months. 
Part-time students have the flexibility of taking the programme over multiple years (up to a maximum of four years).
Note: The part-time study option is available to EU-status students only. Non-EU students who require a visa to study in Ireland must take the programme on a full-time basis.
Module and Major Choices
The MEng in Electronic and Computer Engineering programme structure and module choices may be viewed  HERE
An introduction to each Major topic is available HERE
Please note that module and major offerings are renewed on a regular basis. Available modules are confirmed in advance of each academic year, in April/May.
The Masters Project
The masters project is a 12-month, 30-credit module that allows students to put theoretical knowledge of engineering to use in a practical project related to their major topic. Students will develop skills in planning and managing their engineering project, researching leading-edge methods and technologies, designing and implementing an engineering solution, and documenting and presenting outcomes of their key findings at a professional standard. Each student works individually with an academic member of staff acting as their project supervisor.
Key Programme Objectives
To obtain a systematic understanding of the theory, concepts and methods at the forefront of knowledge pertaining to selected topics chosen from a wide set within Electronic and Computer Engineering
To form a critical awareness of the present-day state-of-the-art and current developments and research at the forefront of a range of selected specialised areas in Electronic and Computer Engineering together with a knowledge and understanding of specialised Electronic and Computer Engineering practice, methods and techniques
To develop the ability to identify, formulate, analyse and solve engineering problems and to integrate knowledge, handle complexity and formulate judgements related to Electronic and Computer Engineering problems
To develop the skills to design components, systems or processes to meet specific needs and the knowledge and understanding of analysis and design processes and techniques and the ability to apply them in unfamiliar situations
To allow a more intensive exposure to modern, industry-relevant technologies through specialised Majors topics
View the programme structures HERE
Why do this course?
Study part-time or full-time for maximum flexibility.
A modern, state of the art building with excellent teaching, laboratory, workshop and computing facilities.
High graduate employment rate.
Provides an excellent preparation ground for Ph.D research.
Life on Campus
We have three academic campuses close to Dublin City centre - they are located in Glasnevin and Drumcondra, and can be reached by public transport (Dublin Bus).
Each campus has libraries, study spaces, restaurants, and on-campus residencies. Sports facilities are located on two of the academic campuses. We also have a dedicated sports campus in the form of St Claire's. 
Exceptional facilities
DCU students have access to exceptional teaching and learning facilities across our three academic campuses. 
These include modern learning theatres, research centres, television and radio/podcast studios, classrooms, computer suites and advanced labs in the areas of languages, engineering, physics, chemistry and biotechnology, as well as a sports performance centre and training hospital ward. In 2021, we opened our first virtual reality 'Leadership Lab', which is located in our Business School.
Construction on our FutureTech building on the Glasnevin campus will get underway in 2022. Once completed, this facility will advance DCU's international reputation for excellence in science, computing and engineering disciplines. It will have the capacity to accommodate an additional 3,000 STEM students on the university's Glasnevin campus.
Campus life
Among the student facilities in DCU are a sports complex with a 25 metre pool, three libraries and The Helix, our renowned performing arts centre.
In 2018, a purpose-built state-of-the-art new student centre - The U - was opened. This centre serves the needs of a rapidly growing student body of 18,500 and is home to the Student Leadership and Lifeskills Centre, performing arts and cultural spaces for students and the wider community, and an Entrepreneurship and Innovation Hub.
There are more than 140 clubs and societies for students in DCU, with 'Clubs & Socs' days taking place on both the Glasnevin and Drumcondra campuses at the start of the academic year.
Student Supports
We have a number of academic, professional and social supports for students.
Student Advice Centre: Offers a wide range of supports and services to students
The Writing Centre - drop-in writing workshops for students through the academic year 
Maths Learning Centre - provides maths support for students of all ability levels with maths modules 
Student Learning: facilitate the transition from passive to active learning for students at DCU, by teaching study skills, nurturing critical thinking and building student confidence. 
Careers work with students to help them on their professional journey into graduate employment.
Our student support team offers a comprehensive support programme, helping students make that all important transition into university life and focusing on building confidence and skills which are key to success at third level.
Careers
Since its inception over 30 years ago, graduates from this programme have been in high demand in the engineering and computing industry and research sectors. The masters project greatly improves the graduate's employment potential and, alongside specialized engineering skills, the fundamental knowledge gained from our taught modules is widely applicable to many other disciplines.
Opportunities will arise in Irish and International high-tech industry roles, including:
Research and Development Engineer
Design Engineer
Production Engineer
Sales Engineer
Management Engineer
Software Engineer
Previous graduates have been employed across the technology sectors, including Google, Apple, Intel, Oracle, IBM, Amazon, Accenture, Analog Devices, Maxim, Boston Scientific.
Requirements
General Entry Requirements:
• A Primary Honours degree, Level 8 with an award of H2.2 or higher in Electronic/Electrical/Computer Engineering, Applied Physics, Computer Sciences or other Engineering Disciplines
• International candidates who are non-native speakers of English must satisfy the University of their competency in the English language.  More information about DCU's English language requirements can be found here: http://www.dcu.ie/registry/english.shtml.
Please note if you are a non EU student and require a study visa, you are not eligible to apply for part-time programmes as study visas are only granted for full-time programmes.
Fees
Full time
Part time
EU Status Fee Part-time
See Modular Fees