School of Electronic Engineering
MEng in Electronic and Computer Engineering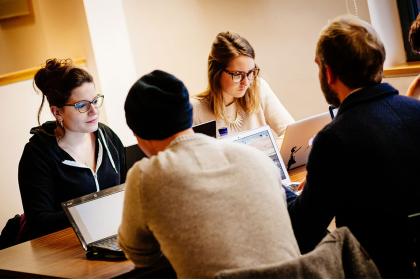 Course Code:
Sep DC883 (FT) DC884 (PT) / Feb DC891 (FT) DC892 (PT)
Course Type:
Postgraduate
Delivery Modes
Full-Time
Part-Time
Modular
Duration
FT-1 Year, PT-2 Years

+353 (0) 1

ee.queries@dcu.ie
The University has launched a new student application portal. Link to apply can be found under the 'Introduction' section and the 'Requirements' section
Introduction
This programme offers advanced-level courses in the theory, analysis, design, modelling and manufacture of electronic and computer systems. It's highly flexible and allows participants to customise a taught Masters programme based on preferred focus areas. With a range of over twenty modules to choose from, this Masters programme is highly customisable by the individual student.
With our new pre-defined Majors, students have the option of specialising in one of four areas: Nanotechnology, Advanced Data Networks, Internet of Things (IoT), and Image Processing and Analysis.
There are two intakes on to the programme per academic year (February and September) and flexible study options are provided. An alternative entry path is provided for some students who do not meet the Master's programme entry requirements. Graduate Diploma and Graduate Certificate exit awards are also available.
*Internet of Things (IOT). Please note, the school also offers a full time specialised MSc in Electronic and Computer Technology (IoT).  Find out more here.
About This Course
This newly revised offering combines the expertise of Electronic Systems and Telecommunications Engineering in an updated, industry-relevant modern programme: 
To obtain a systematic understanding of the theory, concepts and methods at the forefront of knowledge pertaining to selected topics chosen from a wide set within Electronic & Computer Engineering.
To form a critical awareness of present-day, state-of-the-art and current developments and research at the forefront of a range of specialised areas in Electronic & Computer 

Engineering

  together with a knowledge and understanding of engineering practice, methods and techniques
To develop the ability to identify, formulate, analyse and solve engineering problems and to integrate knowledge, handle complexity and formulate judgements related to Electronic & Computer problems.
To allow a more intensive exposure to modern, industry relevant technologies through optional Majors in the Internet of Things (IoT), Nanotechnology, Image Processing and Analysis or Advanced Data Networks.
Our Master is worth 90 ECTS Credits and for a full-time student registered in September, the duration of the Master is 12 months.
For further information including the possibility of scholarship, please visit: http://ece.eeng.dcu.ie/postgraduate/meng-electronic-and-computer-engineering/
View the current course structure
Why do this course?
Established: with more than 20 modules available, there is great scope to tailor the programme to specific needs and interests in the largest and longest-running Masters offering of its type in the country.

Flexible: the course combines full-time/part-time, on-campus/remote and a choice of two starting times each year.

Modern: the course is continually kept up-to-date to reflect changing technological advances in industry and research.
Relevant: our students acquire knowledge and skills that are in high demand in industry.
Rewarding: our students work on a Masters project in some of the top research labs in the country.
International Students
Non-EU students are only recruited onto the Masters Programme (not onto the Qualifier programme which is only available to EU students). Entry will be considered on the basis of meeting or exceeding the recognised equivalent of the stated entry requirements and of meeting the DCU English language requirements. 
Careers
Opportunities will arise in Irish and International high-tech industry roles, including:
Research and Development Engineer
Design Engineer
Production Engineer
Sales Engineer
Management Engineer
Software Engineer
Graduates have been employed by companies including Google, Intel, Oracle, IBM and Boston Scientific.
The skills learned, however, are fundamental and can also be applied to many other disciplines. In addition, the Masters Project will also greatly improve the graduate's employment potential.
Requirements
General Entry Requirements
A Primary Honours degree, Level 8 with an award of H2.2 or higher in Electronic/Electrical/Computer Engineering, Applied Physics, Computer Sciences or other Engineering Disciplines

International candidates who are non-native speakers of English must satisfy the University of their competancy in the English language.  More information about DCU's English language requirements can be found 

here

.
Fees
Full time
Part time
EU Status Fee Part-time
See Modular Fees