School of Law and Government
MSc in Climate Change: Policy, Media and Society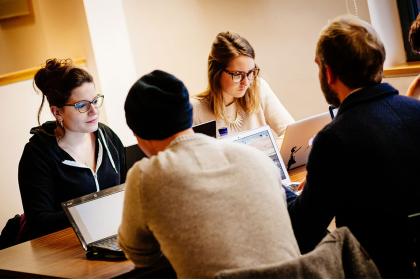 PAC Code:
DC669 (Full Time) DC679 (Part Time)
Course Type:
Postgraduate
Duration
(FT - 1 Year) (PT - 2 Years)

+353 (0) 1
700 5440

pat.brereton@dcu.ie
We are happy to announce that we will be delivering this programme as a blended online/in-classroom experience in 2020-2021. See further details under the Programme Tab.
Introduction
The challenges posed by climate change are hugely complex and require a broad range of responses from many sectors of society. We currently lack many of the appropriate policies, institutions, and societal responses.
DCU's MSc in Climate Change: Policy, Media and Society interrogates how societies are responding to climate change, and how that response can be strengthened. It examines the roles played by politics, regulation, law, education and the media in creating the broad societal response demanded by climate change.
This pioneering programme will equip students with critical insights and analytical skills to enable them to play a part in shaping the transition to a decarbonised and climate resilient future. Most postgraduate courses focused on climate change are concerned with the science of climate change. DCU's new MSc. in Climate Change: Policy, Media & Society is unique in Ireland in its focus on the social sciences and humanities, on media, policy, law, governance, regulation and politics.
This programme is being offered as a blended online/in-classroom experience for the 2020-2021 academic year. Most lectures will be delivered in on-campus classrooms equipped with live-streaming technology or via the Zoom video platform. All lectures will be recorded and made available online. These will be supplemented with online discussions and on-campus small group seminars, as well as individual and group assignments. 
Teaching will be facilitated through DCU's online learning environment, LOOP, the Zoom video platform, and other tools.
In order to join the programme, students are required to either be on campus or be able to participate remotely via online means, and all students must have access to a desktop or laptop computer and a reliable internet connection. Prospective students may avail of the blended offering from the beginning, or alternatively have the option to begin their study in Semester 1 through online engagement and, pending the lifting of health, travel and visa restrictions, join activities on campus in Semester 2, or continue to access classes online if necessary.
Subject to public health advice, should the restrictions around on-campus delivery of teaching change, some components of the programme could take place entirely online or in a mixed mode combining in-class and online engagement. However, students who are unable to join on-campus activity will be able to complete their degree fully online.
The blended programme is delivered by the same high quality and experienced staff who traditionally delivered on campus. Lecturers will provide feedback on your assignments and you will have access to staff via email or Zoom video calls to discuss your work.
The above conditions are subject to government and public health advice with regard to restrictions and social distancing measures and may be modified or adapted as the situation changes.
Programme Structure and Content
Climate change is growing ever more central to politics, policymaking, planning, business, and civil society, both in terms of mitigating our impact on the climate, and building resilience to current and future climate impacts through adaptation. At a global level, the Paris Agreement on climate change, agreed at COP21 in Paris in December 2015, set a pathway towards full decarbonisation of the global economy in the second half of this century.
The challenges posed by climate change are partly technical and scientific, but they are also profoundly political, institutional, and societal. According to Dr. Youba Sokona, former Vice-Chair of the UN-sponsored Intergovernmental Panel on Climate Change, "It is technically feasible to transition to a low-carbon economy … but what is lacking are appropriate policies and institutions".
The MSc in Climate Change: Policy, Media and Society interrogates how societies are responding to climate change, and how that response can be strengthened. It is the only master's programme in Ireland focused on climate change that adopts a social science and humanities perspective on this challenge. It brings together DCU's unique strengths in the study of climate change governance and law, communications and media, societal transitions, and education.
Students take core modules on climate change policy and governance, EU and national climate change law, climate change and the media, the physical science basis of climate change, and climate change and societal transition, as well as choosing from a range of optional modules. Students also undertake research methods training and write a dissertation.
The programme is open to both full-time and part-time applicants. Full time students take the programme over one year, while part time students take the programme over two years. Classes are scheduled one day a week from 14:00 onwards to facilitate part time students.
View the current course structure for Full-time, Year 1
View the current course structure for Part-time, Year 1
View the current course structure for Part-time, Year 2
This information is provisional & subject to change.
DCU's record in communications scholarship and in legal and political science research means this course is delivered by teachers and scholars with a deep expertise in key areas.
DCU's School of Law and Government has been ranked in the top 150 globally for Politics and International Studies as well as in the top 300 globally for Law. DCU's School of Communications has been ranked in the top 200 globally for Communication and Media Studies.
Participants will experience interactive, participatory and innovative teaching styles. Lecturers are accessible to students, and are currently involved in cutting edge research in their fields.
They will be able to critically evaluate climate change policies, governance, regulatory and legal regimes, and develop skills and critical awareness to evaluate the response of the media and other sectors of society to climate change.
They will also gain a contextual understanding of the science of climate change while placing this scientific understanding in a broader political, economic, and social context.
This programme will open doors to further postgraduate studies in climate change policy, law, media, communications, education and science.
The MSc in Climate Change: Policy, Media and Society will be particularly attractive to recent graduates of science, engineering, communications, social & political science degrees, current civil and public servants working in central government and the wider civil service dealing with climate change policies; those working in industry who need a thorough grasp of the regulatory and legal landscape as it pertains to climate change; educators who wish to contribute to or initiate primary or second level courses concerning climate change; and employees of unions and NGOs who may be asked to become involved in advocacy concerning climate policy.
Graduates of this pioneering programme will have acquired the advanced knowledge and skills to develop careers in the environmental or climate section of public bodies and organisations, both in national and local government; the environment, climate or Corporate Social Responsibility departments of businesses; or in civil society, either in Ireland or internationally.
The programme will enable students currently employed to found, lead or contribute to climate action and emissions monitoring/reduction efforts of their organisations. The dissertation element will allow students to focus on their organisation as a case study.
Fees
Requirements
General Entry Requirements
For admission to the MSc in Climate Change programme, successful applicants will have - 
A degree at the level of an Irish or UK Honours undergraduate degree (H2.2 or above) or equivalent.
If the applicant has not yet completed their degree than a conditional offer may be made on the basis of most recent grades and pending the achievement of a H2.2 degree.
Applicants with appropriate combinations of professional qualifications and experience may also be considered. This includes discipline-specific knowledge and know-how; transferable skills; basic research competency; personal effectiveness.
International candidates who are non-native speakers of English must satisfy the University of their competency in the English language.  More information about DCU's English language requirements can be found here

.
Make an Application
To apply for this programme:
All applicants should apply through www.pac.ie

. 

Search for

course code DC669 for Full-Time and DC679 for Part-Time.

Provide Academic Transcripts for each and every year of study with English translation if applicable.
Provide a 500-750 word (max) personal statement including:
  (i)  Why you wish to study the programme;
  (ii)  What in your record and experience makes you suitable for the MSc programme;
  (iii)  The impact which you expect the MSc programme would have on your future careers.
Please also include your CV.
If applicable, provide evidence of competence in the English language as per DCU entry requirements.  Please see link http://www.dcu.ie/registry/english.shtml.
Please note if you are a non EU student and require a study visa, you are not eligible to apply for part-time programmes as study visas are only granted for full-time programmes.
Application Deadlines
Applications will be accepted on a rolling basis until the programme is full or until the following dates:
Closing date for non EU applicants is 17th July 2020.

Closing date for EU applicants is 30

th September 2020

.
Note applicants who require a study visa for the purposes of studying at DCU, are advised to apply as early as possible.
Queries
Queries from EU applicants should be directed to postgraduateadmissions@dcu.ie.
Queries from non EU applicants should be directed to international.office@dcu.ie.
Commencement of Programme
The programme commences in October 2020.